4 Tips for a Gorgeous Bathroom Remodel That Won't Leave You Broke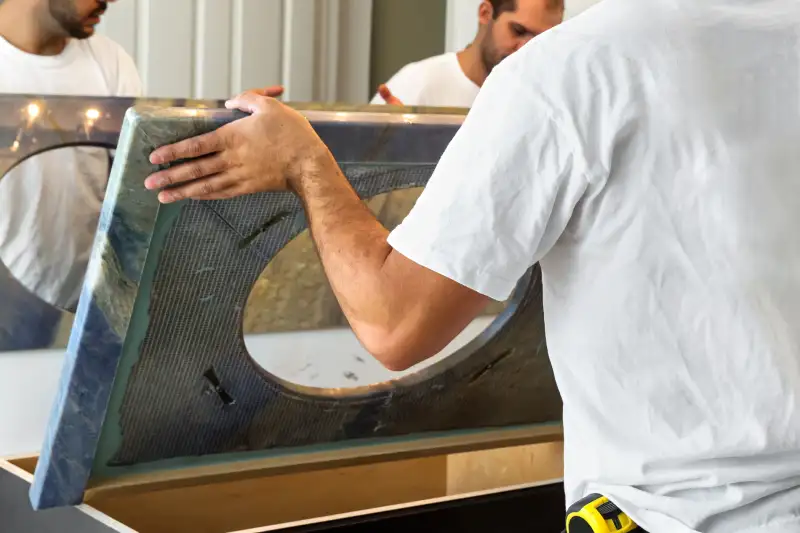 JodiJacobson—Getty Images
A full-scale bathroom remodel—even a midrange one—recoups only about 55% to 65% of its cost at resale, so it pays to keep your spending in check. Limit your budget to 5% of your home's value for a powder room or guest bath and 10% for a master bathroom, says Omaha appraiser John Bredemeyer, a spokesman for the Appraisal Institute.
Nationally, a midrange remodel averages about $18,000, while an upscale job comes in at around $57,000. Use these tips to stay sane and keep your renovation from blowing your budget.
To Save the Most, Don't Move the Pipes
Keep costs down by installing a new sink, tub, or toilet in the same location as the old one. In a second-floor bathroom, that could save $200 to $500 on each fixture, says design-build contractor Mark Mackmiller of Eden Prairie, Minn., because you won't have to pay to run new supply lines and drainpipes.
One caveat: On a first floor, the savings aren't as big, provided you have a crawl space or basement access.
Know Which Splurges Are Worth It ...
There are three features that add luxury and efficiency to a master bath, Mackmiller says. Dual sinks allow you and your spouse to get ready for work or play at the same time. (Figure an added $500 to $2,500, depending on whether you need to steal space from adjacent closets or rooms by moving walls.)
A separate walk-in shower and soaking tub are more comfortable than a tub-shower combo ($2,000 to $8,000, again depending on available space). And a toilet room creates privacy while allowing the overall bathroom to be a truly shared space ($1,000 to $5,000).
... And Which Aren't
You'll likely fall in love with all sorts of natural-stone tile options for floors and shower walls. But you can save $500 to $1,500 on the average job by going with a stone-look porcelain tile instead. You'll get nearly the same variety of color and texture but with less cost, easy upkeep, and no sealing required.
You'll Never Regret a Heated Floor
Anyone who has ever set a bare foot on cold tile will appreciate a radiant floor, which is heated by an electric element installed under the finished tile. Set it on a programmable thermostat, and you'll have warm tootsies when you wake up.
Radiant heat adds about $500 to $1,000 to the bill, but it will make you feel warm all over.