What to Know Before You Finish Your Basement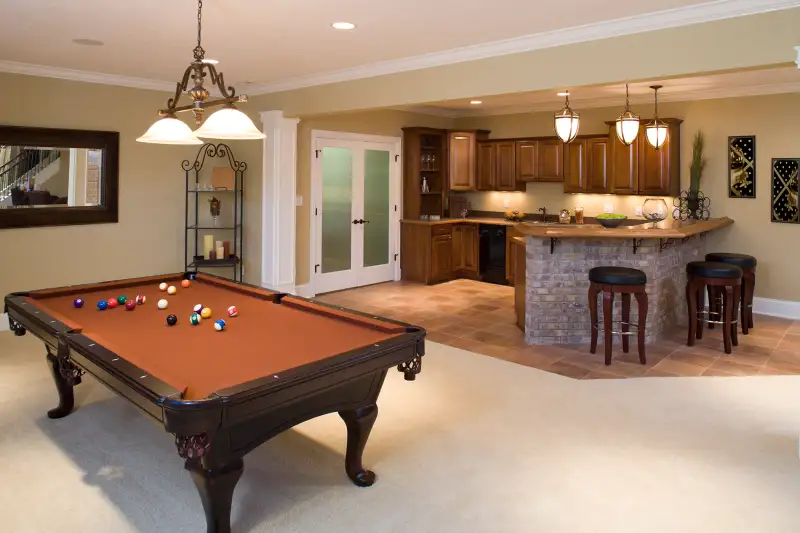 Sometimes the cure for an undersized house is right underneath you. If you're lucky enough to have a basement, transforming the underutilized space into a playroom, home theater, in-law apartment, office, gym, or some combination of these will likely cost about $20,000 to $50,000, says Highland Park, Ill. architect Christopher Turley—perhaps half the price of creating an equivalent addition upstairs. Here are four things you need to know if you're considering this project.
Skipping a permit can be costly.
Refinishing the basement is one of those jobs that people often do without a building permit. Since the work isn't visible from the street, the thinking goes, why not save the time and cost of the permitting process—and the tax increase that comes with an officially expanded living space?
Read next: 5 Things to Know Before Your Wood Floors
This is a mistake. If you get caught (and the pickup trucks and dumpster are dead giveaways something is going on), the building department can force you to tear apart the project and rebuild it. And even if you don't, when you go to sell your house, buyers may balk—and penalize you on price—because you don't have a certificate of occupancy for the project. Plus, you miss out on the chance to have an expert with your best interests in mind double-check your contractor's work, providing you with a level of technical oversight you won't otherwise get. The permit paperwork costs only a few hundred dollars. And here's the clincher: Tax assessors don't count finished basements as full-fledged living space. So in most cases the project won't have a large effect on your tax bill.
It's smart to invest in noise control.
One nice thing about putting a playroom or recreation room in the basement is that it cuts down on foot-traffic noise in the main living space. But you can certainly still hear rowdy voices—and loud music and movies. So plan ahead by insulating the ceiling above the basement (using fiberglass or stone wool insulation without a moisture barrier), which might cost $500 to $1,000, according to Woodcliff Lake, New Jersey, contractor Rob Wennersten. Some "drop ceilings" (the kind that hang off metal frames) offer noise control—hence the name "acoustic tiles"—or, if you're using drywall, consider sound deadening attachment clips, which contain neoprene rubber gaskets that help to prevent sound from carrying through the ceiling and add only a few dollars to the cost of your project.
Read Next: 5 Things to Know Before You Renovate Your Kitchen
Budget for more headroom.
Building codes typically require around seven feet of ceiling space (check with your building department for local requirements). That may mean relocating pipes or ducts higher up into the ceiling or away from the center of the room, which could cost anywhere from $500 to $2,000 depending on what you're moving. In some cases, you can get an exemption for something that would be cost prohibitive to move, such as a beam.
You need to dry it out first.
Some 60% of basements are wet, according to the American Society of Home Inspectors, and that moisture can lead to mold and rot if you don't dry things out before you refinish. Solutions include repairing damaged, clogged or poorly aligned gutters ($200 to $1,000); sealing foundation cracks ($500); putting in a sump pump—plus a battery backup to protect you in the likely event that the power goes out during a flood ($2,000 to $3,000); and/or installing floor drainage ($3,000 to $5,000).
With those safeguards in place, however, moisture can still infiltrate. "Since mold grows on even damp organic material, avoid using any organic products to finish your basement," says Tom Matthews of the international basement waterproofing and refinishing company Basement Systems. "That means no wood studs, no plywood subflooring, and no drywall." Look for a waterproof basement refinishing system. Also ask your contractor to install heavy-gauge plastic sheeting before finishing walls and floors to prevent any moisture that migrates through the concrete to cause excessive humidity.
Read Next: 5 Things to Know Before You Add Central Air Conditioning
Here are a few basement-refinishing products to consider as you plan your project:
InSoFast Wall System: These Styrofoam wall panels have interlocking channels that slide together like so many Legos to instantly create insulated, moisture-proof, structural walls that are ready for paneling (or moisture-resistant drywall) and contain precut channels for electrical wiring. You'll pay about $2,000 for a typical basement.
ThermalDry Flooring: These 12-inch plastic squares snap together into a floor with a tile, laminate, carpet, or parquet look. But they're made of 100% polyvinyl chloride (PVC plastic), so they'll never rot or grow mold. Plus the tiles have tiny nubs underneath that keep a small air gap above the concrete floor, which allows any moisture that collects to simply flow to the basement drain—and keeps the floor warmer underfoot.
Tin drop ceiling: Instead of the standard office-park look of a drop ceiling, consider using a faux tin-ceiling panel. Designed to look like traditional metal ceilings that originated in the 1880s, this brings visual appeal to your basement while still allowing easy access to wiring, plumbing, and other essentials up above. You get good looks and convenience—the goal for any finished basement project.