5 Things to Know Before You Refinish Your Wood Floors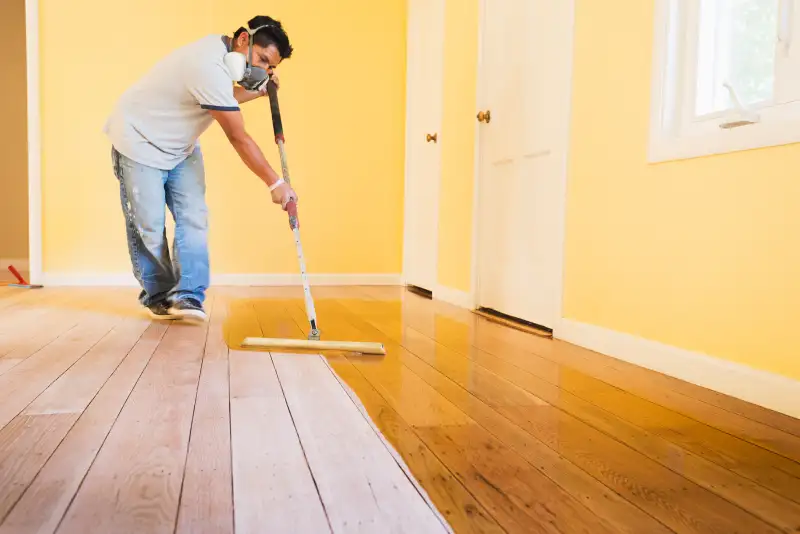 Sollina Images—Getty Images
As tough and beautiful as a wood floor is, it's really no match for a family. Every generation wears down the finish with spills, drops, grit tracked in on shoes, shifting furniture, and worst of all, the scrabbling claws of family pets. The good news is that the damage usually isn't permanent. Most wood floors can be refinished, which involves sanding away a paper-thin layer off the top and then mopping on three coats of clear polyurethane finish. The job typically costs about $3 to $7 per square foot. So, refinishing the first floor of a two-story 2,000-square-foot Colonial (in other words, the floor that gets the highest wear) would cost $3,000 to $7,000. Here are five ways to get the best job for the bucks.
Choose your floor guy very carefully
"You don't want a crew learning the job on your floor," says Brett Miller, of the National Wood Flooring Association. An industrial grade drum sander is a powerful tool, and if it's not kept moving at just the right pace and in just the right pattern, it can remove too much material, creating an uneven surface, reducing the number of times the surface can be refinished in the future, and possibly even weakening the floor. So, as with any home improvement contractor, get referrals from trusted friends and tradesmen, check references, and go see their previous work. You can also look for a contractor with the NWFA Certified Sand and Finisher designation, which requires passing a hands-on test and at least two years of experience.
Ask whether you need a full refinishing
If your floor doesn't have deep gouges and the finish hasn't completely worn through anywhere, you may be able to get away without a full refinishing job. Instead, the floor guy will lightly sand the existing finish (a process called screening) and then apply the new finish (polyurethane) right over the top. This is sometimes called a "screen and poly" job, or sometimes a "maintenance coat," and it might save you about 50% off the cost of full refinishing. Plus, since it doesn't remove any wood, there is no limit to how many times it can be done to a floor.
Think about color
If your floors have a deep, rich color (darker than, say, corrugated cardboard), it's probably not the natural color of the wood. More likely, a stain was applied when the floor was originally installed or the last time it was finished. Having your floors screened and polyed won't affect the stain, but if you're doing a full refinishing, the stain will be removed during the process. So your floor will be a much lighter color after the job is done—unless you ask to have it stained it to match the original color. Or you can choose a new color. Grey, white, and chocolate brown are popular choices today, according to Miller. Adding stain will increase your project costs by about 50%.
Make plans to move out
You will need to vacate the premises for several days while the project happens because you cannot walk on the finish while it's wet. Sanding will likely take only a day or two, but the stain (if you use one) and each of the three coats of finish will need to dry before the next coat can go on. Depending on the product used, and the current weather conditions, each coat could take either hours or days. Figure at least two days for the "sand and poly" job or three to seven days for a full refinishing project, plus at least one day if you're adding color.
Mind the baseboard
Even the best floor guy will ding the baseboard (the wood trim at where the wall meets the floor) here and there with the sanders—and get a little stain and polyurethane on it too. In other words, you're going to need to touch up the paint. Hiring a painter to come out for a small-and-annoying job like this is difficult, but might only add a few hundred bucks to your bill if he's coming anyway to do some other painting job—and he might not charge you at all if he's touching up a large painting he did just before the floors got refinished (and you agreed at the outset that he'd come back to do so).