What You Need to Know Before You Renovate Your Bathroom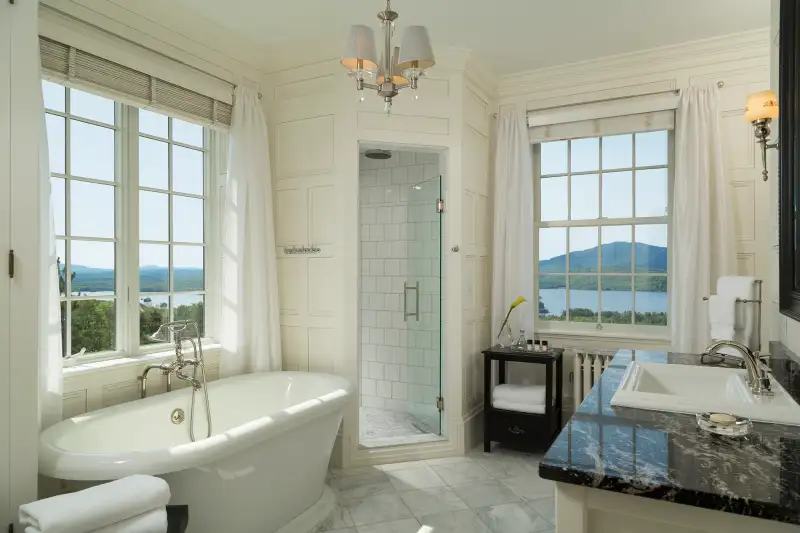 Although bathrooms are the smallest rooms in the house, fully renovating one is anything but a small project: In some cases, removing what's there may require smashing up tons of dusty plaster, concrete, and cast iron. And the rebuild will require nearly as many aesthetic and functional decisions as redoing the kitchen—not to mention a host of construction tradesman, from electricians to plumbers to tile guys. Here are five affordable ways to get great results.
How to keep your spending in check
Limit your bathroom reno budget to 5% of your house value for a powder room or guest bath and 10% for your master bathroom, says Omaha, Neb., appraiser John Bredemeyer, a spokesman for the Appraisal Institute, a trade association. And that's only if the existing bathroom is severely out of date or style. Redoing a "perfectly fine" bathroom (or any space) is never a worthwhile investment. So, assuming the space is functionally or aesthetically obsolete, check your municipal tax records—or an online appraisal site. If your house is worth $300,000, let's say, figure a max of $15,000 for a powder room or guest bathroom and $30,000 for a master bathroom. And for a $500,000 house, don't go over $25,000 and $50,000 respectively.
Worthwhile splurges for the master bathroom
If you want a master bathroom that feels luxurious and relaxing, says design-and-build contractor Mark Mackmiller, of Eden Prairie, Minn., consider these three features: 1) Dual sinks allow you and your spouse to get ready for work or a night out on the town at the same time--with your own work and storage spaces. This adds $500 to $2,500 to the job, depending on whether you need to steal space from adjacent closets or rooms by reconfiguring walls. 2) Installing a separate walk-in shower and soaking tub make both showering and bathing more efficient and enjoyable than the standard combo tub-and-shower setup. If you have the space, or can steal it, this might add $2,000 to $8,000 to your project cost. 3) Adding a toilet room creates privacy where it's needed while allowing the overall bathroom to be a truly shared space. Figure $1,000 to $5,000 in added cost, again depending on whether you need to grab the space from an adjacent room.
Avoid reinventing the layout
You can make up some of those costs by keeping as many of your new plumbing fixtures (toilet, sink, tub) as possible in the same locations as the old ones. In a second-floor bathroom, each fixture you put back where its predecessor stood could save you $200 to $500 because you won't need to run new supply and drain pipes. On the first floor, the savings aren't significant, as long as you have a crawlspace or basement access underneath; however if your house is on slab foundation (a solid concrete pad), moving plumbing locations is likely at least as costly as moving it on a second story.
Go for porcelain, not stone
You'll likely fall in love with all sorts of natural stone tile options for your floors and shower-enclosure walls. But you can save about $500 to $1,500 for the average bathroom (in material and labor costs) by going with porcelain tile. Opt for a stone-look porcelain tile and you'll get nearly as much variety of natural color and texture as real stone provides, but a much easier bathroom to maintain: Porcelain tile is almost indestructible. Ask for "urethane" grout—which is also impervious to staining—and your tile floor and walls will neither require sealing nor ever be at risk for discoloring.
Warm up your floors
To avoid a cold tile floor, consider adding radiant heat, which is simply an electric heating element that the tile installer puts underneath your finished floor. Set it on a programmable thermostat, and it'll have the floor warm to the toe when your alarm goes off in the morning. That adds about $500 to $1,000 to your project costs, depending on the room size, but it'll make your new bathroom a comforting and peaceful place.