See the Luxury Golf Resort Where Donald Trump Is Staying for the Next 17 Days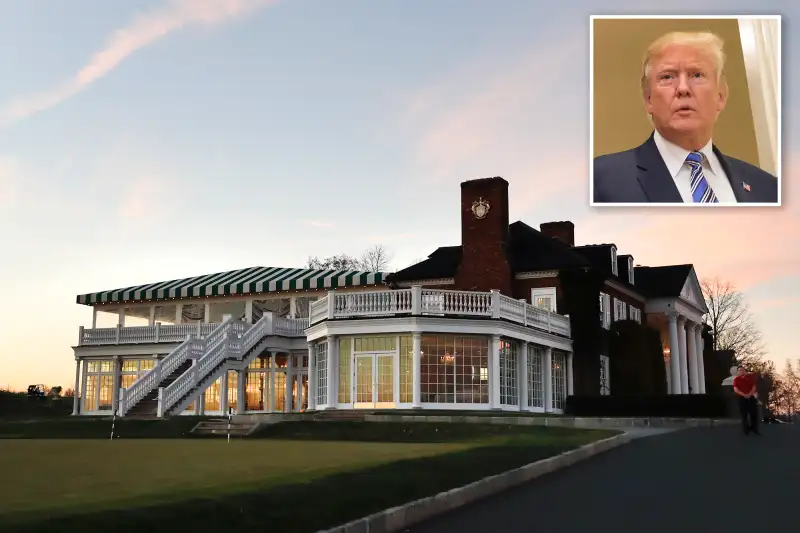 Carolyn Kaster—AP; (inset) Getty Images
Donald Trump is leaving the White House for a while, but this time he's not going to Mar-a-Lago.
The Associated Press reports President Trump will leave on Friday to spend nearly three weeks at the golf club and resort he owns in Bedminster, New Jersey. According to the AP's count, Trump has been president for 28 weekends, and he has spent 13 of them away from the White House—most often at the clubs he owns in Florida (Mar-a-Lago, in Palm Beach) and New Jersey (Trump National).
Trump's 17-day visit to Trump National in Bedminster will be his first extended vacation as president, and it's at least partially due to necessity: The White House's cooling and heating systems are set to be replaced. Aides are calling the New Jersey stay a "working vacation."
The Trump National Golf Club occupies 535 acres of rambling countryside in central New Jersey, 45 minutes away from New York City. Most of the property was once the private estate of John DeLorean, the auto industry playboy whose stainless-steel car is remembered best in its role as a time machine in Back to the Future. Trump purchased the property in 2002 for about $35 million, and it opened as a golf club in 2004.
DeLorean's mansion has been repurposed as the resort's clubhouse, and the property's garage has been converted into the golf shop, according to NJ.com. The club also has two 18-hole golf courses, a helipad, a 25-meter pool with two Jacuzzis, and a few luxury cottages and rooms for overnight guests, as well as a private villa saved for Trump himself during his visits (and vacations). There is also a herd of goats on the property, because their presence allows the club to lower its tax bill according to an agricultural provision in New Jersey.
Trump National hosts weddings, corporate outings, and other special events, and has roughly 425 members, who reportedly pay an initiation fee of $200,000 to $350,000 to join.
Members must also cough up annual dues of $22,100, according to a recent Sports Illustrated story. "And they nickel and dime us to death on everything!!!" one club member texted to SI. (This same story attracted the attention of media around the world because it quoted club members saying Trump referred to the White House as "a real dump." Trump denied ever saying such a thing.)
In 2009, Trump National played host to the wedding of Trump's daughter Ivanka to Jared Kushner, both of whom are now influential advisers to the president.
During the presidential campaign, and in the weeks after the 2016 election, Trump National served as one of the candidate's headquarters. In November, Trump used Bedminster to interview potential Cabinet members, including former New York City Mayor Rudy Giuliani, New Jersey Governor Chris Christie, and John Kelly. The latter served as Secretary of the Department of Homeland Security in the administration, and recently became White House Chief of Staff.
The Washington Post—The Washington Post/Getty Images
Trump made his first visit as president to Bedminster in May. The president Tweeted that he was staying in New Jersey because going to New York City for the weekend would have been "much more expensive and disruptive." (Bedminster estimated it will pay over $250,000 per year in overtime to guard the president during visits.) It's obviously much easier to golf in New Jersey than it is in Manhattan too. Here's the president golfing at his club during the visit, away from the press.
On one of the weekends in June that Trump stayed at the club in Bedminster, he crashed a couple's wedding and posed for pictures with the bride and groom.
Trump National hosted the U.S. Women's Open in mid-July, and the president and multiple members of the family were on hand throughout the event.
SAUL LOEB—AFP/Getty Images
Several members of the Trump family are buried at a cemetery in Queens, the New York City borough where Donald Trump grew up. But the real estate mogul and reality TV star has said that he wants to be buried at Bedminster, behind the first tee of one of the club's golf courses.
Beginning in 2007, Trump filed several applications to build a family cemetery at Trump National, including a "19-foot-tall, classical stone mausoleum with four obelisks, an altar and six vaults," according to NJ.com. He eventually received approval and broke ground on the private cemetery in 2015, leading to the inevitable quips that "Trump is digging his own grave."
BRENDAN SMIALOWSKI—AFP/Getty Images