The Best Air Fryer Toaster Ovens for Your Money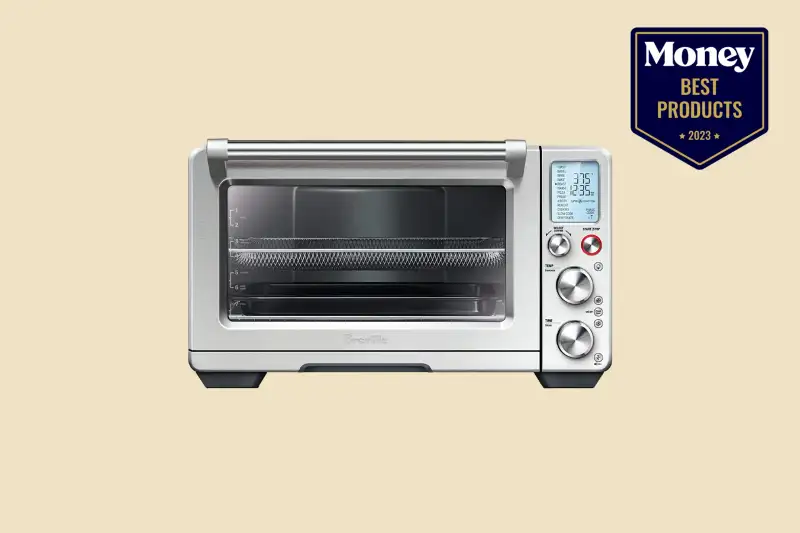 I had known air fryers existed for a while, but I still didn't understand the hype surrounding them until I got one myself. Truly, you get the best of both worlds with toasting and air frying in one convenient package. Whether you're a fan of crispy French fries, perfectly toasted bread, or roasted veggies, this device can transform the way you cook. And speaking from experience, this is no exaggeration.
But like anything that garners a lot of attention, every brand comes up with its own version, and the consumer ends up with too many options to sift through. We get how overwhelming the search can be, and that's why I worked with our experts to choose and review the best air fryer toaster ovens of 2023. No matter what size or features you need, I've got a pick for you.
Best Overall: Ninja SP101 Digital Air Fry Countertop Oven
Best Smart Features: COSORI Air Fryer Toaster Oven
Most Functions: Breville Smart Oven Air Fryer Pro
Best Features: Instant Omni Air Fryer Toaster
Most Affordable: Black+Decker Extra Wide Air Fry Toaster
Comparing the Leading Air Fryer Toaster Ovens of 2023
List Price: $239.99
As the best overall product on this list, the Ninja SP101 Digital Air Fry Countertop Oven is the ultimate all-in-one kitchen appliance when it comes to ease of use and cooking functionality! It also just so happens to sit on my very own countertop and is by far my favorite addition to my collection of kitchen appliances. I could probably count on my fingers the number of times I've used my oven since my mom gifted this air fryer to me. Whether it's toasting my morning waffle exactly the way I like it or making my favorite panko-crusted shrimp possible, I've used this appliance nearly every day since I got it. It also saved my relationship with chicken nuggets, reheated pizza and tator tots.
Of course, I use it for more than just the relatively unhealthy food I listed above. It's also my go-to for roasting broccoli, chicken and any other kind of meat or vegetables that I would usually cook in the oven. One of the biggest reasons I use it so frequently is how quickly it heats up and how quickly it actually cooks the food. If I'm coming home from work, I don't want to wait 20 minutes for the oven to heat up and then another 40 minutes for the meat to actually cook. This air fryer heats within minutes and cooks most things within 20 minutes.
There are 8 cooking functions, including air fryer, bake, toast and even bagel. I've never actually used the other settings, but I imagine they could be helpful if you're making a more complicated dish. With a large capacity of 169 cubic inches, this air fryer fits up to a 13-inch pizza or six chicken breasts at a time! There's a basket for air frying, a sheet pan for baking, and a wire rack for toasting. The removable crumb tray makes it easy to clean the air fryer out, and the back panel also opens up for deeper cleaning of the appliance's interior, which is something my air fryer is just about due for.
The digital display and control panel are user-friendly, and the oven alerts you when your food is ready. This model has a flip-away function that I just started using this last weekend — and I'm wondering why I hadn't started using the feature sooner. You can lift the body of the air fryer on a hinge until it points upward, keeping your counter clear while the air fryer isn't in use. If you choose to leave it un-flipped, you can store things that won't melt easily on top since it has a compact design; this is what I did for the first 6 months I had it. This air fryer toaster oven is the top option on my list thanks to its range of cooking modes, user-friendly design and large capacity. And I have over six months of experience using it multiple times a week, so I know it's built to withstand heavy use over time.
Pros
Pre-heats and cooks quickly
Cooks with up to 75% less fat
Saves counter space with its foldable design
Includes multiple functions and accessories
Cons
Higher price compared to traditional toaster ovens
Can only put one rack in the toaster oven at a time
List Price: $149.99
Smart home junkies, your air fryer toaster oven is right in front of you: The COSORI Air Fryer Toaster Oven. It can connect to your Wi-Fi and be controlled through the VeSync smartphone app, making cooking even more convenient! You can also use it hands-free with Amazon Alexa or Google Assistant, which means you can adjust settings while cooking something else, dancing with your partner or taking care of kids and pets. This oven features has 12 distinct functions, which is a few more than the first pick, but it's a bit smaller. The difference is negligible, though; the device can easily accommodate a 12-inch pizza, six slices of bread or a whole 5-pound chicken, which provides plenty of room for large meals. It uses six heating elements and a powerful two-speed fan to cook your food up to 30% faster than a traditional convection oven. The temperature can reach up to 450 degrees Fahrenheit, which is necessary to properly roast most vegetables and some potatoes.
This air fry countertop oven also has a non-stick food tray for quick and easy cleaning, as well as an external removable crumb tray for the same convenient cleaning as the Ninja above. The wire rack, food tray and fry basket are included for any method of cooking. As a nice bonus, this option also comes with a book of 30 chef-made recipes, as well as access to a digital recipe library. In my experience, most online recipes don't have specific air fryer instructions, so I wish my air fryer had something like this. Overall, this is another great air fryer toaster oven for those who want to cook delicious meals quickly and easily.
Pros
Easy-to-clean design with removable tray
Super versatile unit and highly efficient
Precise temperature control to heat food evenly
Recipe book and smartphone app
Cons
Steep learning curve for some users
Timer has a maximum of 25 minutes
List Price: $499.95
In search of a premium model that can do it all? The Breville Smart Oven Air Fryer Pro is one of the more expensive options on my list, but it comes with plenty of accessories, an extra-large capacity and 13 cooking functions so you can prepare any kind of meal. The Element iQ system, super convection capabilities and smart algorithms ensure even cooking by adjusting the power distribution where it's needed the most. With its extra-large 30-quart capacity, you can fit up to nine slices of bread or a 14-pound turkey, which is what I would look for if I'm throwing a party or if I had a whole family to feed.
The interior oven light turns on automatically when cooking is complete and can be manually turned on at any time during cooking cycles if you want to check on your food's progress. The LCD display, similar to my air fryer, makes it easy to switch between cooking functions, and indicates when preheating is complete. This model comes with an impressive set of accessories, including a 13-inch pizza pan, two oven racks, a broil rack, a mesh basket rack and an enamel roasting pan. The brushed stainless steel material is sure to last for years to come, but if it doesn't, a two-year limited product warranty keeps you covered. Its output is 1800 watts, which is the same as mine and sure to be able to handle any type of cooking you would want to do. With its powerful motor and impressive number of cooking functions, this air fryer toaster oven is a worthwhile and versatile investment.
Pros
Easy to clean and use
Ideal for large dishes and meal prep
Auto-eject middle rack feature
Digital precision temperature control
Smart app with voice control
Cons
No manual convection fan control option
Takes up a lot of counter space
List Price: $199.99
Designed with safety and user-friendliness in mind, the Instant Omni Air Fryer Toaster is an innovative and convenient kitchen appliance that can help simplify your cooking process while limiting cooking hazards. While it has fewer functions than some of the other options on my list, this air fryer still offers air frying, broiling, baking, roasting, toasting, warming and convection capabilities, making sure you get all of the essentials. The even-crisp technology provides top-down airflow for golden and crispy results every time. This air fryer's 19-quart capacity is much larger than mine, but it's also less expensive than the Breville pick, making it great for a family on a budget. It can accommodate a 12-inch pizza, six slices of toast, or a whole chicken. You can also choose from three different toasting levels, ensuring that bread, bagels and other breakfast pastries achieve the ideal color and texture.
This air fryer toaster oven includes safety features like overheating protection and automatic shut-off, keeping you from making my perpetual mistake of leaving the oven on. You also get a durable enamel baking tray, stainless-steel oven rack and air fry basket, all of which are dishwasher safe easy cleaning. Additionally, the Instant Pot app, which is available on both iOS and Android, provides access to an array of recipes and cooking tips. The temperature range is 170 to 450 degrees Fahrenheit. A highly versatile and convenient appliance, this air fryer toaster oven can help simplify your cooking process with numerous accessories while offering a crispy finish to your food.
Pros
Dishwasher-safe accessories for easy cleaning
Accurate time and temperature settings
Safety features to protect users
App provides access to over 100 recipes
Cons
The timer only shows whole minutes
Manual is unclear and lacks detailed instructions
List Price: $111.99
Looking for a budget-friendly option? My fiance and his housemates went in together on an air fryer toaster oven very similar to this Black+Decker Extra Wide Air Fry Toaster, and I've heard nothing but good things about their experience with it. With five different cooking functions, this product is capable of preparing a range of meals. The air fry technology circulates hot air around your food, creating browned and crisped bites comparable to deep frying but without as much oil. Its 18-quart capacity offers ample space for your cooking needs and can fit a 9x13-inch pan, which can hold eight slices of bread as well as a 12-inch pizza with ease. My fiance mainly uses theirs for grilled cheese sandwiches and toast, but his housemates have used it for a lot of other things too.
Ideal for both quick and time-consuming dishes, the 60-minute precision timer has a nice vintage look as it tracks how long your food needs to cook. There is a built-in crumb tray for easy cleaning and several accessories, including an air fry basket, bake/broil rack and pan. With its innovative technology, ample space and versatile cooking functions and tools, this air fryer toaster oven is available at an affordable price without sacrificing quality or ease of use.
Pros
Efficient and easy to use
Wide design for countertop baking
Precise 60-minute timer
No toxic Teflon coating
Cons
Timer knob is unidirectional
Motor could be more powerful
Buying Guide: Air Fryer Toaster Ovens
I was blessed to not be tasked with trying to pick out an air fryer, but after writing this review, I can see exactly why this choice can be so tough. Many models have similar features or similar advantages: how do you decide which will best suit your situation? Below, I listed what my top considerations would be if I were to re-enter the air freyr toaster oven market. Whether you're looking for a high-capacity appliance or one with special cooking functions, this guide will provide all the information you need to make an informed decision.
Size
This one probably seems obvious, but you need to make sure the appliance will fit in your kitchen without reducing functionalities that matter to you. You might want to take a measuring tape to your counters and cupboards, especially if you want a taller air fryer or one that flips up to conserve space. Most product description pages do designate the dimensions of the appliance, so these measurements will definitely be useful for a decision made online. If there are additional accessories or even just the standard pans, think about where you would want to store them. Personally, I keep mine in the drawer underneath my oven where I keep the rest of my sheet pans. I've also stored them on top of the air fryer before, but that wasn't as convenient since I had nowhere to put them after I flipped the air fryer up. If you have very little counter space, storing the pans elsewhere and flipping the air fryer might be the ideal route. Kitchens with more space have more flexibility in this area.
Controls
No one has time to sort through complicated controls, and even air fryers with a lot of functions should be easy to use. My air fryer has eight functions, but you just scroll the dial to the desired function, and then you can use the time and temperature buttons to adjust these settings. That said, some controls may seem confusing at first, but a quick skim of the directions may help you see how to easily use them.
Capacity
Size determines your capacity, so you will want to keep your counter space in mind as you consider what capacity you want. Of course, it would be great to cook an entire meal in your air fryer, but if you don't have a lot of space, you may need to get an air fryer that only fits one rack. My air fryer only has space for one rack, and while I sometimes wish I could cook more simultaneously, it's not worth how much I would lose on my countertops. On the other hand, if I had kids and a whole family to feed, the lack of countertop space might be worth the convenience of cooking more at once.
Wattage
A higher wattage often means more power, resulting in faster cooking times. While a higher wattage may also lead to energy savings, other factors like insulation, frequency of use, and type of food cooked also play a role. Consider all these factors before making your choice. My air fryer's wattage is on the higher end, and it works for me, but this is really a more personal decision partially based on your finances.
Temperature range
Temperature range is also an important thing to think about. Typically, I don't need anything higher than 425 degrees for what I cook, but sometimes up to at least 450 can be necessary. Most air fryer toaster ovens can accommodate this very easily, but just double-check to make sure you'll have the range you need before purchasing. The wider the temperature range, the more dishes you'll be able to prepare.
Safety features
Safety features may seem like a strange consideration, but things like auto shut-off and cool-down are important. I am notorious for forgetting to turn off the oven, so auto shut-off has saved me more than a few times and also kept my food from burning.
Accessory options
Take a look at what accessories come with the appliance or if additional ones are available for purchase. These may include handy extras like shelves or racks for multi-dish cooking and specially designed trays for your specific air fryer. I like having the pans and baskets specific to the air fryer because they fit perfectly in the grooves inside the air fryer.
Brand reputation
Finding a known brand isn't always necessary, but for an appliance like this, it can be a good way to figure out if the product is going to be trustworthy. Many well-known brands also have established warranty programs and customer service departments that are used to dealing with a variety of claims. Overall, more resources and documentation, as well as helpful videos from other consumers, will be at your disposal.
Warranty coverage
Check out the warranty options available when choosing an air fryer toaster oven as well. It's always a good idea to have some coverage, just in case something goes wrong down the line. Make sure to carefully read through the warranty, so you know exactly what's covered and for how long. This can give you peace of mind and ensure you're fully protected in the event of any malfunctions or defects.
Price range
As you shop for an air fryer toaster oven, keep in mind that you don't have to break the bank to get a great appliance! There are plenty of affordable options available that offer solid power and functionality. By weighing the price range and functionality of different models and brands, you'll be able to find the ideal air fryer toaster oven that meets all your cooking needs and still fits within your budget.
People Also Ask
Does an air fryer toaster oven require a lot of maintenance?
Air fryer toaster ovens don't require much maintenance, though regular cleaning and proper storage can keep the appliance in good condition for longer. Typically, they have removable parts that can be cleaned easily in a dishwasher and the exterior surfaces can be wiped clean. I was struggling with smoke coming out of my air fryer, and as soon as I washed the drip tray, I stopped having the problem. The drip tray slid out super easily and washed off right away.
Is it easy to use an air fryer toaster oven?
Using an air fryer toaster oven is generally considered easy. The appliance usually has intuitive controls and a digital display, making it simple to set cooking temperatures and times. Some models also come with recipe guides or access to recipe databases, making it even easier to get started with cooking a variety of dishes. Personally, I find using mine a lot easier than using the oven.
What types of food can I cook with an air fryer toaster oven?
An air fryer toaster oven can be used to cook a wide range of dishes, including but not limited to fried foods, roasted meats and vegetables, baked goods, and toasted bread. Depending on its size, the versatility of an air fryer toaster oven allows you to cook anything from a 12-inch pizza to a whole chicken. There are very few things I don't put in my air fryer at this point.
How long does it take to cook food in an air fryer toaster oven?
On average, it takes about 10 to 20 minutes to cook most foods in an air fryer toaster oven. The cooking time varies depending on the type of food and the desired internal temperature of your food. Generally, however, cooking times in an air fryer toaster oven are faster than in conventional ovens due to the rapid circulation of hot air. The exact cooking time can be determined through experimentation or by referring to cookbooks and recipes specifically designed for air fryer toaster ovens. I find I can cut almost 10 minutes off of the time I would put most things in the oven, but this definitely depends on what exactly you're making. Tator tots and chicken nuggets, for example, require about the same amount of time.
How much power does an air fryer toaster oven use?
The power consumption of an air fryer toaster oven varies depending on the size and model. On average, they use between 1,200 and 1,800 watts. It's important to check the specifications before purchasing to make sure it fits your energy needs.
Do air fryer toaster ovens come with any accessories?
Yes, air fryer toaster ovens often come with accessories, including baking trays, racks, and air fry baskets. Some models may also come with additional accessories such as rotisserie attachments and drip pans. These can all be used to enhance the cooking capabilities of the appliance and make it easier to use.
Do I need any special cookware for an air fryer toaster oven?
Air fryer toaster ovens usually come with cooking accessories like trays and rack to place food on while it bakes or toasts. Some models may have specialized attachments, like a rotisserie, but this varies. When cooking with your air fryer toaster oven, use heat-resistant, non-abrasive utensils to avoid damaging the cooking basket or tray; wooden or silicone utensils are a good alternative as well to prevent the non-stick coating from getting scratched.
Why Trust Us
Our commitment to the consumer begins with product selection and ends with the last word we write in each article. Each air fryer toaster oven is carefully vetted quantitatively through star ratings and a number of reviews qualitatively through careful examination of reviews and the features each one has to offer. Leveraging our team of bargain hunters, we're also always sure to keep your budget in mind while we find the best air fryer toaster ovens on the market. Our team of experts is dedicated to accurately depicting the pros and cons of each air fryer toaster oven, translating technical product specifications into information you can understand. Our goal is to make sure you get the most bang for your buck.
More From Money
The Best Compact Air Fryers for Your Money
The Best Large Air Fryers for Your Money
All the Different Types of Air Fryers and What You Can Make in Them