4 Ways to Score a Deal Every Time You Shop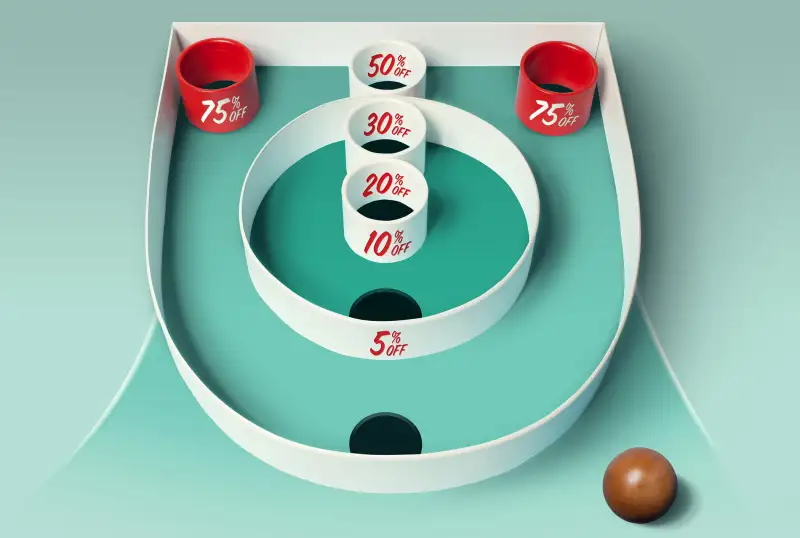 Photo illustration by David Schwen
Seen any great discounts lately? Of course you have. In our digital world, deals are like dandelions in springtime—they pop up everywhere. The good news is that there are also some great tools to help you weed out the junk. The best new savings apps and online coupon finders will even locate the deals you want, redeem them for you, and send you a check. But be warned: Retailer incentives are also marketing tools, designed to get you to spend on stuff you don't really need. These tips will help you take advantage of the deals without being taken advantage of yourself.
Become a Discount Magnet
Tool: Coupon Sherpa
What's the deal: Using your phone's GPS and other technologies, some coupon apps can pinpoint where you're shopping, then shoot you the store's discounts automatically. You can download an app for individual outlets or cast a wider savings net with an app like Coupon Sherpa. It's connected to hundreds of retailers, and some shoppers might find the home screen, with its "stores" tab, more convenient than competitor RetailMeNot's. Some recent Coupon Sherpa finds: 40% off one item at Lands' End and $10 off $30 in packing and shipping supplies at Staples.
Keep in mind: Not every deal is as juicy as it seems. Focus on the price, not the markdown. "When you see 80% off, your emotions take over," says Alok Gupta, a professor of information management at the University of Minnesota. Not sure if the discount is worthwhile? Apps like CamelCamelCamel and Price Zombie will show you an item's price history, and ShopSavvy will help you compare prices so you can see if today's sale is really all that.
Save on Autopilot
Tool: Piggy
What's the deal: If you don't have the time or the patience to bother with a coupon, try a browser add-on such as Piggy. When you're ready to click the checkout button on a retailer's website, the app will automatically hunt for available coupons and apply them against your bill. Even better, Piggy features one of the best cash-back programs: 3% on your Macys.com purchases, 7% on Overstock.com, 15% on a Groupon buy. Once you've racked up $50 in savings, Piggy will send you the cash-back bonus (mailed quarterly).
Keep in mind: Retailer apps can save you money, but they also entice you to spend it. "They are optimized to help you buy stuff more easily," says Lakshman Krishnamurthi, a marketing professor at Northwestern University. One solution: Use the Wunderlist app or the built-in notes app on your phone to build a shopping list. "You're less likely to browse if you go in knowing exactly what you're looking for," says Matt Schulz, senior industry analyst at CreditCards.com.
Profit From Price Drops
Tool: Paribus
What's the deal: Online retailers such as Amazon and BestBuy.com will give you a refund if the price drops after you buy an item, but you have to file for the rebate, and you've got only a narrow window (usually within a week or so) to do so. Paribus automates the process. It scans all your online receipts, remembers to check for future price drops, then applies for eligible rebates automatically. Paribus credits the money to your card, minus a 25% commission.
Keep in mind: For Paribus to work, you have to give it access to your email. The company says it encrypts users' passwords and will only track emails from retailers, but allowing this kind of access could be a privacy concern for many people. One possible solution: Set up a separate email account for your online shopping.
Request a Discount
Tool: Your favorite retailers' social media feeds
What's the deal: You know the old saying "It never hurts to ask"? That can work online too. "It's amazing how many stores have people who will shoot you a coupon if you ask on Facebook or Twitter," says Kyle James, founder of Rather-Be-Shopping.com. "Or you can use live chat to ask for a coupon or even negotiate a deal."
Keep in mind: Requesting a discount works best if you find a great bargain elsewhere, then see if the competing retailer will beat the cost. But sometimes all you have to do is inquire about "wiggle room" on the price. James says he did that when he was shopping on Kohls.com for a $150 Keurig 2.0 K250 coffeemaker. His deal: $120, a 20% savings. Bet that morning cup of joe tastes even sweeter.