Why There Is No Single 'Best College' in Money's Brand New Rating System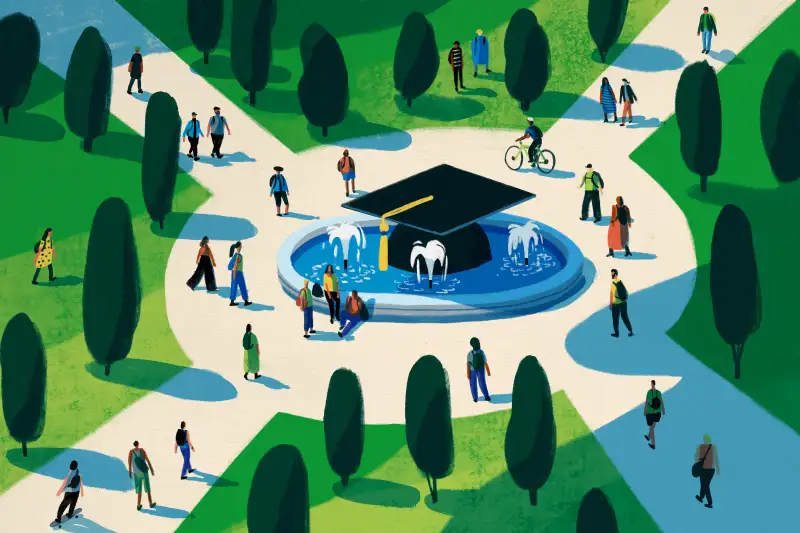 A college education is one of the biggest financial investments you'll make — and it's one often made with heightened emotions and muddied information about the true costs and payoffs of what you're getting.
After years of rising prices, tuition rates have started to plateau (for now), but the damage is done: College costs rose faster than wages for so long that, with the price of a degree regularly topping six figures, paying for college is a struggle for most middle-class families. And with roughly two-thirds of students borrowing to pay for their education, it's a struggle that continues long after they leave the campus quad.
How can you make sure it's money (and time) well spent? Money's latest Best Colleges list is designed to help. Our analysis of the country's four-year colleges considers 26 data points, including graduation rates, cost of attendance and alumni salaries, to help students find a campus where they can get on a great career path without crippling debt.
This year, we've revamped our analysis to introduce a new rating system. Instead of a ranked list, we've assigned the 736 schools in our Best Colleges a rating out of 5 stars — a process that sets our list apart from other publications. Money's new system recognizes that there are multiple ways for a school to provide value, and multiple "best" colleges, depending on your goals and priorities.
Case in point: The 34 colleges that earned our first-ever 5-star rating include public universities, Ivy League schools, liberal arts colleges, a work college and a maritime academy. Alongside some of the most prestigious universities in the world, you'll find schools where a wider variety of students can a) actually get in and b) afford to attend. See the full list of ratings here.
Skepticism about the value of a college education is nothing new. But survey after survey show just how worried students are about tuition prices and getting their money's worth: A recent Gallup-Lumina poll found that the cost of college is the top reason students choose not to attend. A new survey from enrollment consultant EAB, meanwhile, found that the share of high school students who don't expect to attend college because they think a degree isn't worth the cost more than doubled in the past four years — from 8% in 2019 to 20% this year.
"Everybody's interested in the ROI on their education because college education is very expensive," says Sue Harbour, associate dean and executive director of the career center at University of California, Berkeley, one of our 5-star schools. "People want to know: Is it worth my time and my money?"
Money's new rating system can help families answer that question — whether they want a college with 30,000 students and roaring tailgates or 3,000 and cozy libraries, a campus in a city, in the woods or on the coast, a degree in Arabic or aerospace engineering.
Why we shifted to a rating system
At their best, college rankings highlight successful schools and give families easy access to critical consumer information, like the earnings of a college's graduates and the typical amount of student debt owed by alums. At their worst, they perpetuate a belief that measuring colleges is an exact science and take families' attention away from what they should actually be looking for in a college.
"There becomes this notion that, 'I have to get into one of these, otherwise I won't be a successful person, I'm not a successful student, others will look down on me,'" says University of Southern California professor Jerome Lucido, who's also executive director of USC's Center for Enrollment Research, Policy and Practice.
Instead, he says, finding the right college should be about academic fit, social fit, college outcomes and affordability.
Jenny Nagaoka, deputy director of the UChicago Consortium on School Research, agrees, noting that traditional rankings fail to communicate that the best college for one student isn't necessarily the best one for someone else.
"You're not definitely going to get a better education if you go to No. 1 versus No. 5," she says. "In many ways, college No. 5 could be a better choice for you." A rating system, she adds, could make it clearer to families that there are a variety of high-value schools where students can find success.
Rankings have long faced such criticism, but the scrutiny has only mounted in recent years. Even U.S. Secretary of Education Miguel Cardona has raised concern about schools chasing higher positions in flawed rankings, saying last summer that a rankings system is a "joke" if it doesn't emphasize "college completion, economic mobility, [and] narrowing gaps in access to opportunity for all Americans."
Money's Best Colleges have focused on those elements for years: We've never considered acceptance rates or a college's reputation in our analysis, graduation rates have always been one of our highest-weighted metrics and we've used a measure of economic mobility since 2017.
All of that remains the case this year, but with our new ratings system, we show that there are many colleges where your tuition dollars will pay off, encouraging students and families to look deeper on the list.
In fact, college counselors tell us they often don't have to recommend schools ranked in the top 20 by U.S. News and World Report — the biggest (and most criticized) college ranking — because families come into the search with their eyes already on the nation's most prestigious colleges. Where families need more guidance is toward schools that lack the big name reputation yet still compete in terms of value.
While Money's rankings have never aimed to highlight selectivity, it's true that most of those top-20 schools routinely score well on our analysis, too. That's partly because colleges like Stanford University and Massachusetts Institute of Technology have the resources to deeply discount their prices for many of the students who get in. At both schools, for example, most families earning up to $150,000 get the equivalent of a full-tuition scholarship.
But the top of our list is also always peppered with lesser-known schools, like Elmhurst University (4.5 stars), a small private school in Illinois that outperforms on graduation rates compared to colleges enrolling students from similar backgrounds, and St. Olaf College (4.5 stars), a liberal arts school in Minnesota where 98% of students receive grants.
What makes a 5-star college
Money's Best Colleges are evaluated on data that relates to quality, affordability and outcomes. We use "value-added" metrics in all three major categories to take into account the economic and academic profile of the students schools admit. (You can read a full explanation of all the data we weighed and how we scored colleges here.)
The estimated cost of a degree remains key, and we continue to include data on net prices by income-level and Pell Grant recipient outcomes to assess how well schools help lower-income students.
"The places that are accepting Pell recipients and then helping them graduate and moving into better jobs — that's a school that's really doing a lot for its students, for society at large," Nagaoka says.
This year we also added four-year graduation rates alongside our existing six-year graduation rate measure, which gives a bump to schools that graduate students without delay, like Colgate University (4.5 stars) in New York and the University of Virginia (5 stars).
In Money's new ratings, colleges like the University of Wisconsin-Madison, which admits 60% of its applicants, can earn the same 5-star rating as Dartmouth College, which admits 6%.
Despite a hefty price tag, Dartmouth performs well in our ratings because it offers a clear value proposition: 94% of students graduate in six years and their early career earnings, meaning how much they earn ten years after enrolling, are about $95,000.
At UW-Madison, where Money estimates a degree for in-state students costs $102,000, median early earnings are still very impressive at $70,000, and 85% of alumni are earning more than the typical high school graduate six years after enrolling.
The upshot: Two very different schools can provide bang for your buck.
One characteristic many of Money's 5-star colleges share is that they get their students into good jobs.
Berkeley is a fine example: With the strength of its academics and its location in the Bay Area, computer science, electrical engineering and data science majors are uniquely positioned to network and intern with tech companies like Amazon, the top employer of Berkeley graduates last year. Students in these majors often graduate into six-figure jobs, but the university's median early career earnings — what the typical student makes — are also exceptional, coming in at about $88,000.
How does Berkeley place students on the path to great careers? Harbour says even a highly-regarded school can't just rely on its name and laurels to bring in companies for recruiting. Universities have to go after the companies they want to go after their students, she says, especially the humanities, arts and social sciences majors who aren't as heavily recruited.
To help on that front, Berkeley created a new position for a career center staff member to focus on internship opportunities for Letters and Science majors. The university also slashed fees for certain employers to participate in campus recruiting fairs, recognizing that nonprofits and social-based organizations — like the Chinatown Community Development Center and the Alliance for a Sustainable Amazon — don't have huge recruiting budgets.
How to use Money's college ratings
You can use our Best Colleges ratings to compare the schools you're considering to see how they stack up in terms of value. You can also use our list for inspiration: All the colleges in our rating demonstrate some amount of value for your tuition dollars, so you can discover new colleges you may be interested in applying to.
What's more, you can borrow from the core tenets of our methodology when researching colleges. Graduation rates are one of the main factors in our analysis, for example, and they should be in yours, too.
"Graduation rates have to enter into the picture," Lucido says. "The biggest failure is if a student begins college, incurs debt and then doesn't graduate and achieve the benefits of having a college degree."
You can look at the government's College Navigator for graduation rates broken down by race, and ask colleges about rates for other populations to see how well students like you typically fare.
Cost is one of the biggest factors driving where students end up enrolling, which is why prices carry such a heavy weight in our analysis. Still, Money only considers average prices, which may not be representative of your circumstances.
To add to our research, you should get an individualized estimate early on in your college search by using colleges' net price calculators, which tell you how much a college is likely to cost after factoring in scholarships and need-based financial aid. Whatever you do, don't rule out a schoool based on its sticker price alone: On average, 79% of students at colleges rated by Money receive some type of grant or scholarship to reduce the price.
Lucido also recommends families look at affordability beyond costs, like how much students (and parents) typically borrow. That's why our ratings reward schools like Rice University, which doesn't include loans in its financial aid packages, and the University of Florida, where low tuition for residents and a popular statewide scholarship program reduce students' need to borrow. At both 5-star colleges, fewer than a third of students graduate with debt. (The burden of debt has been in the spotlight recently, thanks to President Joe Biden's loan forgiveness plan, but that plan — if it survives legal challenges — won't help future students.)
In your search, pay attention to what share of students borrow, the average amount borrowed and how well alumni are managing to pay back their loans. All three numbers are available at the federal College Scorecard site.
Finally, keep in mind that our ratings, and all the data that goes into them, can help build your college list, but you'll need to go beyond the statistics to get a real understanding of a college. Look into schools' initiatives regarding mentoring, internships, financial aid or other things that matter to you.
Visit the schools and stay longer than the tour. Wander and ask questions. Lydia McNeiley, college and career coordinator for a school district in Hammond, Indiana, recommends attending a sporting event or campus activity to get a feel for the culture: "Do you feel like you're welcome there? Do you feel that you could succeed there? Do you feel that you could thrive there?"'
More from Money:
These Are the Best Colleges in America