Here's the Best Day of the Week for the Stock Market So Far in 2023
Money is not a client of any investment adviser featured on this page. The information provided on this page is for educational purposes only and is not intended as investment advice. Money does not offer advisory services.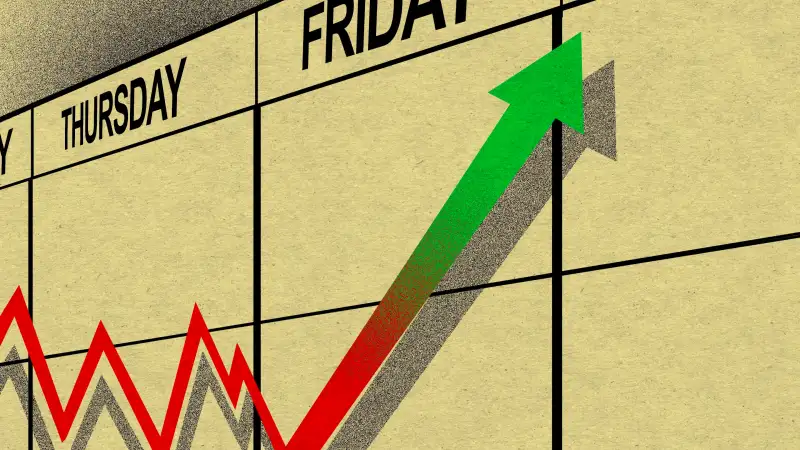 TGIF! The S&P 500 index is up about 9% so far this year, but not every stock market trading day is created equal.
A new analysis from Bespoke Investment Group finds that Fridays have been the best day so far this week, with an average daily gain of +0.34%.
Tuesdays, on average, were the worst. Here's how the rest of the days shake out so far in 2023 in terms of performance for the S&P 500, which is considered a benchmark for the market as a whole (remember that the stock market is not open on weekends):
Monday: +0.17%
Tuesday: -0.13%
Wednesday: -0.11%
Thursday: +0.16%
Friday: +0.34%
Bespoke's analysts note that this is a big change from 2021, when Wednesday was the best day of the week with an average 0.09% return. That's less than a third of the average return on a Friday this year.
And while Monday, Thursday and Friday have all averaged gains so far this year, they averaged declines in 2022, while Tuesday and Wednesday averaged only moderate gains last year.
Keep in mind: These weekly trends are an interesting look into the state of the market right now, but they can't be used to predict how stocks will perform next week, next month or next year.
Fridays are volatile market days
The analysts also look at market volatility — a measure of price swings — on Fridays. They found that over the past year, the market has moved 1% or more on a Friday 58% of the time.
That's almost the highest portion of volatile Fridays dating back to 1954, a milestone the market hit back in March when 59.6% of Fridays over the previous year saw swings of 1% or more.
Those numbers come on the heels of an extremely volatile year for the market: One analysis last fall found that more than 87% of trading days between January and September 2022 experienced swings of 1% or more.
What's ahead for the stock market?
An ongoing standoff over the debt ceiling and lingering uncertainty surrounding the health of the U.S. banking sector means that there's likely more volatility ahead, though Bespoke's analysis notes that "we may be past the peak."
Some level of volatility in the stock market is normal, and financial advisors generally recommend that everyday investors stick with a long-term plan that's aligned with their risk tolerance and goals rather than make decisions based on short-term price fluctuations.
More from Money:
Investors Should Brace for 'Significant Volatility' as the Debt Ceiling Standoff Continues
Stocks, Real Estate or Gold? Here's What People Think the Best Investment Is Now