9 Decadent Trader Joe's Desserts I Can Never Resist — And They're All Under $6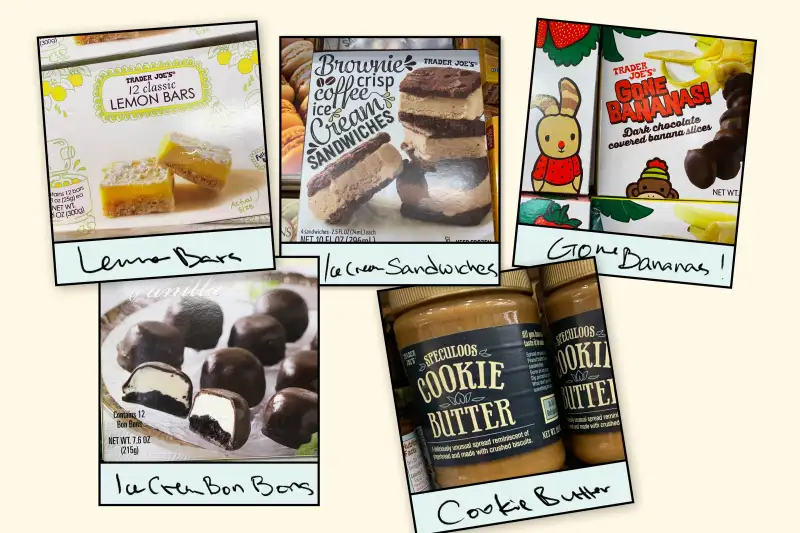 Trader Joe's has developed a fiendish cult following for good reason.
The supermarket chain has a track record of offering shockingly affordable food creations, many ready to eat, that are also smartly and stylishly packaged (not to mention cleverly named). I find myself regularly popping into the Trader Joe's a few blocks from my Los Angeles apartment just to see what new potential delights are on the shelves.
The desserts have developed a reputation all their own among fans who propel favorites into internet virality. I try to stay away from sugar-loaded food on most days, but Trader Joe's makes this very, very hard. The store has a knack for remixing comfort staples with a twist, and if you're going to indulge your sweet tooth, you might as well make it worthwhile.
Here's what I've found are the most blissful — alright, addictive — desserts at Trader Joe's.
(Note: Prices are for a Trader Joe's in Santa Monica, California, and may vary based on location.)
Dark Chocolate Peanut Butter Cups, $.99
When I was a kid, it was impossible to keep me away from Reese's Peanut Butter Cups. If one came into my line of sight...poof! Gone. But as I've gotten older, I now find them just a bit too sweet. Somehow, that's not the case with Trader Joe's phenomenal version, an improvement of several orders on the Hershey's classic. These are coated with thick and slightly bitter chocolate encasing rich peanut butter. Grab one (or several) out of the handy and very cheap bags of nine cups. (There's also a larger bucket size for $4.29 — perfect for Halloween or, um, a random Sunday afternoon.)
Speculoos Cookie Butter, $3.69
This one isn't really a dessert in and of itself, unless you feel like face-planting directly into a jar of the decadent spread on a quest to find the bottom. (Note: We do not recommend this.) The concoction made of pulverized spice cookies, oil, and sugar owes its roots to European culinary history and has rightfully become a blockbuster hit for Trader Joe's. Knife it onto something not so sweet like toast and throw some fruit or nuts on top for a layered treat.
Chocolate Brooklyn Babka, $4.99
Baked goods at Trader Joe's can be more hit-or-miss than the frozen items, but you're still safe with this version of a chocolate babka. As a former New Yorker, I can be a babka snob, and if you're near a great Jewish bakery, you should head there first. But this Trader Joe's version is soft enough and moist enough and, most importantly, dotted with so much chocolate that you'll have no complaints.
Salted Caramel Gelato, $5.49
Salted caramel ice cream and gelato seem to be everywhere now, and some versions can be overpriced, but Trader Joe's salty-sweet gelato is nicely creamy and comes at a fair price for a jumbo quart size rather than the usual pint. You'd probably pay the same for a single scoop at a gelateria. The bigger size might also help with moderation (because who doesn't eat the entire pint?).
Vanilla Bon-Bons, $3.99
"What's so special about chocolate-covered vanilla ice cream?" you might ask. Fair enough, but what sets apart these bon bons is the fact that they're ingeniously constructed with a layer of chocolate cookie crust. They're also cute enough to bring out for a small dinner party — if you can convince yourself to share.
Lemon Bars, $4.49
These frozen bars are a perfect execution of a classic. The lemon filling is properly tart, while the crust is so buttery it basically melts upon contact with your tongue. And you get 12 bars for less than $5. Just remember to let them defrost before enjoying.
Mango Sticky Rice Spring Rolls, $2.99
Trader Joe's twists on Asian cuisine are a hallmark of its aisles, and while not exactly traditional, some of their surprises are exceedingly good. Case in point: These sweet-savory frozen spring rolls, which get a bright tropical filling of mango and sticky rice. Throw them in the oven — please not the microwave — to crisp them up.
Brownie Crisp Coffee Ice Cream Sandwiches, $3.99
If you're a coffee dessert fiend (you know who you are), make your way to these ice cream sandwiches, a vast improvement over the usual bland vanilla kind. Sweet yet slightly bitter coffee ice cream sneaks between two pieces of crisp, rich brownie, which is really all the description anyone should need. And at $3.99 for four sandwiches, they're less than a buck apiece.
Gone Bananas!, $1.99
The adorable packaging is enough to make these chocolate-covered banana slices worth an impulse purchase. But they also happen to be a semi-healthy sweet snack you don't have to feel bad about giving your kid (or yourself). Plus, if bananas aren't on your favorite fruit list, Trader Joe's recently debuted Gone Berry Crazy! dark chocolate-covered strawberry pieces. Tell your dentist I'm sorry — and also, you're welcome.