Peak Bubble? 11 Crazy Bitcoin-Related Gifts You Can Buy Before the Crash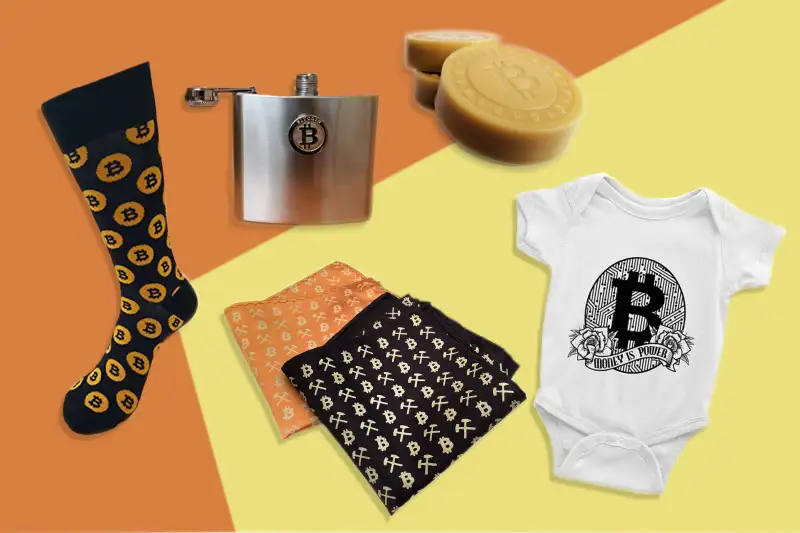 Admit it — at this point, either you have friends riding front row with their hands up on the bitcoin hype train, or you are that person. The price of Bitcoin surged over the last week and is now above $15,ooo, sparking outcry from traditional investment experts like Mark Cuban and analysts like Vanguard legend Jack Bogle, but widespread skepticism isn't stopping die-hard cryptocurrency nuts from buying into the market.
Since all rewards from Bitcoin remain in an intangible cloud, however, you may find yourself seeking a few real-life gifts for your beloved Bitcoin buff. If so, Money has done a little personal shopping for you. But be warned: Some of these objects may be just as ridiculous as the notion that cryptocurrency is actually a safe place to put your money.
Bitcoin Socks
Keep your toes warm with the heat from a million bitcoin mining rigs this winter.
Buy them on kimchisocks.com for $9.99.
Bitcoin Flask
What better way to celebrate free-market cryptocurrency than by sneaking cheap alcohol into expensive bars?
Buy it on btctrinkets.com for $24.99.
Bitcoin Soap
Here's how to scrub off that scent of freshly withdrawn bitcoin cash when you go all-digital.
Buy it on btctrinkets.com for $5.99.
Bitcoin Maternity Shirt
It's never too soon to teach your child-to-be about investing in Bitcoin. Don't even wait until they've exited the womb.
Buy it on cafepress.com for $24.99.
Bitcoin Pocket Square
Courtesy of Cyberoptix Tie Lab
Here's a stylish statement piece for your next company party—especially if you want that statement to be that that you've got money to burn on bitcoin.
Buy it on cyberoptix.com for $21.
Bitcoin Dog Bandana
Courtesy of Runs With Mutts
The decentralized currency revolution extends to animals, too.
Buy it on runswithmutts.shop for $5.99.
Bitcoin Cookie Cutters
What better icebreaker at your next dinner party than serving up a plate of fresh, hot takes on when the Bitcoin bubble's gonna pop?
Buy them on etsy.com for $5.60.
Bitcoin Flip-Flops
Wear them to the beach, listen to the ocean waves, and relax with thoughts of how the Bitcoin price will probably have surged $2,000 by the time you get home.
Buy them on cafepress.com for $17.99.
Bitcoin Baby Onesie
Kind of like the maternity shirt, except for an actual child.
Buy it on etsy.com for $26.25.
Bitcoin Duvet Cover
Sleep peacefully knowing the government has yet to stake its claim in your online bitcoin fortunes.
Buy it on redbubble.com for $95.
Bitcoin Leggings
If you're one of the few women who own Bitcoin, you can flaunt your knowledge of cryptocurrency, right down to your toes.
Buy them on ebay.com for $45.