7 Adorable Halloween Costumes for Your Dog – for $20 or Less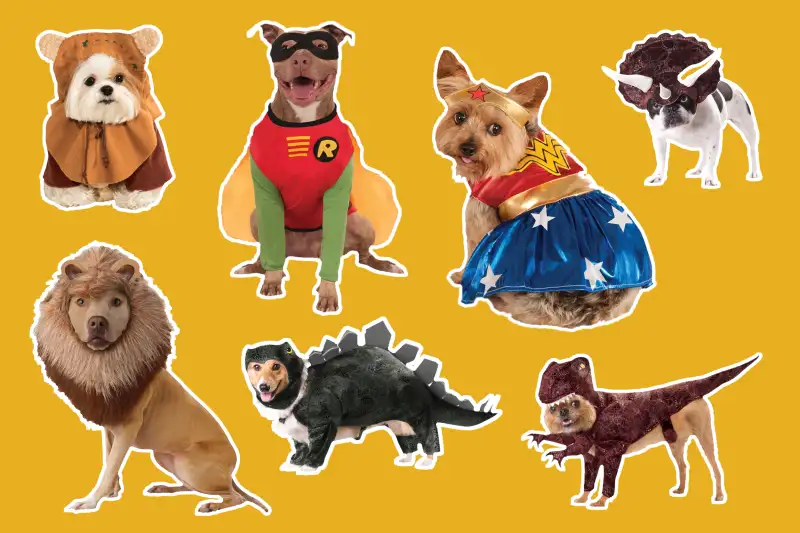 Courtesy of Animal Planet and Rubies Costume Company
We sure do love our pets: We let them sleep in the bed, serve them gourmet chef-worthy meals, and give them new toys as fast as they can shred them.
Especially when it comes to man's best friend, America has a serious spending weakness. We spend an average of nearly $50 a year on dog toys and almost $270 on food — and that's to say nothing of our doggies' expensive habits like chewing through socks or the kids' stuffed animals.
So of course, when Halloween rolls around, we can't resist letting our furry friends in on the fun. According to the latest National Retail Federation survey, 16% of those celebrating Halloween will dress their pets in costumes, with owners spending well over $350 million on Halloween outfits for dogs and other pets.
The good news is that it's entirely possible to get the canines in your life an on-trend Halloween look that won't break the bank. Here are some of the top pet costume sellers right now on Amazon that clock in at $20 or less. Be warned — once they're wearing these, you probably won't be able to resist giving them a (trick or) treat or three. Just make sure they don't get into the candy stash, or you may be using your pet insurance coverage for an emergency.
Costume prices vary based on size, so we're listing prices for specific sizes below.
You've probably already seen the Amazon ad about the little kid who bonds with his family's Golden Retriever once the pooch is wearing a Simba-like mane. (If you haven't, go watch the commercial here — it'll give you all the feels.) So it's probably no surprise that lion's manes are one of the hottest Halloween get-ups for dogs this year.
Courtesy of Animal Planet
It's really not a stretch: Your pup is cute, Ewoks are cute, and this is the easiest costume ever to coordinate with your pet. Just grab a bathrobe and a Yoda mask for yourself and call it a day.
Courtesy of Rubies Costume Company
Turn your terrier into a triceratops? Why not? Animal Planet's fun line of dino costumes will let your little beast channel his or her inner wild thing. This one is also a good option if your dog isn't one to take kindly to being wrestled into a coat, cape, or carrier.
Courtesy of Animal Planet
Wonder Woman: $18 (Extra-Large)
Given that dogs are pros at rescuing a bad day (even if they do need a little help retrieving their favorite bone from underneath the couch), it's no surprise that superhero costumes like Wonder Woman are popular for pups.
Courtesy of Rubies Costume Company
Trusty sidekick Robin is another one of Amazon's most popular Halloween dog disguises this year, perhaps with the owner serving as the other half of the dynamic duo. (Personally, I think my rescue Doberman Pinscher would be terrific as Batman; sadly, he has other opinions.)
Courtesy of Rubies Costume Company
Stegosaurus: $20 (Extra-Small), Raptor: $14 (Small)
This Jurassic Park-worthy costume is everything — and yes, we know these guys were vegetarians, but don't you want to see your dog in this costume, going to town on a big, meaty bone?
Courtesy of Animal Planet
If you really want to be a paleontological stickler, you could go for the raptor costume instead.
Courtesy of Animal Planet
We've included affiliate links into this article. Click here to learn what those are.