The Best High-Yield Checking Account Has an Amazing 3% Interest Rate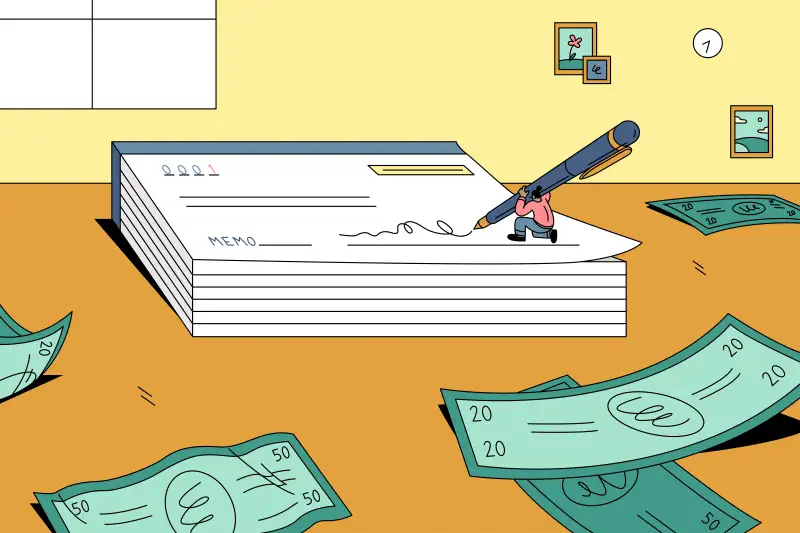 Illustration by Jared Oriel
When it comes to choosing a checking account, few of us give much thought to the interest rate a bank offers — usually because there is nothing to consider.
Illustration by Tim Boelaars
The majority of brick-and-mortar banks in the U.S. skip offering interest on checking accounts, and if they do, it's a payout just barely above zero — think 0.06%, which is the current national average, according to the FDIC.
But you don't have to resign yourself to earning next to nothing on the money you keep in your checking account. Some online banks, credit unions, and smaller regional banks are offering rates of 0.65% or higher — more than 10 times that 0.06% average.
To find the best high-interest checking account, Money reviewed data provided by our partner MagnifyMoney.com for accounts at more than 40 different financial institutions, offering an annual interest rate of at least 0.2%. We also heavily weighed whether a checking account had a monthly fee, outside ATM fees, and minimum balance or other requirements.
Best High-Yield Checking Account: Lake Michigan Credit Union
Why it wins: At 3%, Lake Michigan Credit Union's high-yield checking account pays more than almost all the savings accounts Money reviewed and more than double the rate of its closest checking-account competitor in this category.
There is a small catch: you can only earn interest on balances up to $15,000, meaning your maximum annual earnings top out at $450. But even if you did want to park more in your checking account, you'd be hard-pressed to do better at another bank, needing $36,000 in a checking account that pays 1.25% to break even.
This high-interest checking account also comes with comes with no monthly fees, access to more than 55,000 free ATMs across the country and no minimum balance requirements. To open an LMCU account, you must join the credit union. If you live outside Florida or Michigan, you can still become a member with a one-time $5 donation to the ALS Association.
Caveat: To get the 3% interest rate, you must receive a direct deposit into the account each month, sign up for e-statements, log in to your account online at least four times a month and use your affiliated debit or credit card to make at least 10 purchases a month.
Where you can find it: Fla., Mich.
Key account: Max Checking
Monthly service fee: $0
Interest rate: 3%
Outside ATM fee: $1, with $10 in ATM rebates
Methodology:
Money partnered with MagnifyMoney.com to produce this year's Best Banks rankings. MagnifyMoney.com provided account terms for more than 40 financial institutions offering high-interest checking accounts with an annual interest rate of at least 0.02%. Our team reviewed account minimums and qualifications, interest rates, monthly service fees, ATM fees, overdraft fees, overdraft protection fees, insufficient funds fees, debit card replacement fees, domestic wire transfer fees, and online banking capabilities. When selecting finalists, priority was given to checking accounts with no or easily waived monthly fees, free ATMs, and higher interest rates. In naming free accounts, we assumed customers would be okay with receiving e-statements to avoid a monthly fee. Money's edit team independently fact-checked information in September and October.