The Best Hitch Bike Racks for Your Money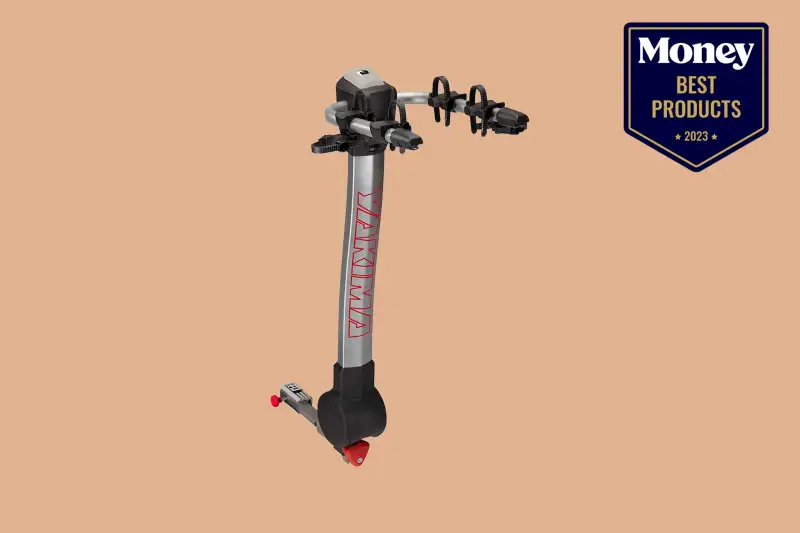 If you're an avid cyclist or have a family that enjoys biking together, it may be worthwhile to invest in a bike rack for your car. Hitch bike racks are the perfect way to securely mount your bike to your vehicle to take your cycling hobby on the go, regardless of what adventure awaits you.
In this article, we'll share our handpicked selection of the top hitch bike racks of 2023. By considering factors like design, weight capacity, and ease of installation, we aim to help you find the ideal transport and storage rack for your needs. We'll also provide valuable tips for selecting a hitch bike rack so you can make an informed purchase. So, read on and get your bicycle ready for safe and enjoyable journeys on the road.
Reviewing the Finest Hitch Bike Racks of 2023
The KAC Hitch Bike Rack is the perfect solution for any bike rider who wants to keep their bike securely attached to their vehicle's hitch. This platform-style, hitch-mounted bike rack fits any 2-inch hitch receiver and can transport one or two bikes weighing up to 120 pounds. With adjustable padded frame hooks and locking anti-wobble hitch system, your bikes are safe from bumps, bangs, and theft.
The no-sweat setup process saves you time and energy, with quick assembly and easy installation. All necessary assembly and installation hardware comes included in the package, as do easy-to-follow assembly instructions. Plus, the convenient quick-release tilt lever provides easy access to your vehicle's rear cargo area without having to unload your bike rack. And when you are done riding for the day, the compact folding design allows for a low profile while also storing easily when not in use. All these features make this the best overall on our list.
Pros:
Compact folding design
Easy to use
Includes adjustable padded frame hooks
Cons:
Difficult to install for some users
List Price: $159.99
The Allen Sports Deluxe Hitch Mount Rack took our top spot for its quality build, versatile use, and reliability. The bike rack has a hitch insert fitting 1¼ and 2-inch receivers for two to three bikes and 2-inch receivers for up to four bikes for maximum versatility and storage capacity. With 22-inch carry arms, this deluxe product secures each bike individually using the manufacturer's patented tie-down system. This unique system secures your bikes with adjustable tie-downs to accommodate various frame sizes and styles. This bike hitch rack also has an impressive weight capacity of 140 pounds and will not shift when transporting bicycles.
This pick can be installed in under five minutes for your convenience. When not in use, the carry arms conveniently tuck away, offering a low-profile design. Its sleek, black color is perfect for those who appreciate stylish vehicle accessories. This bike hitch rack is the best overall option on the market thanks to its outstanding features, large capacity, and secure tie-down system, making it an ideal match for families or friends who enjoy cycling adventures together.
Pros
Versatile design accommodates various frame sizes
Weight capacity supports 140 pounds without wobbling
Versatile, patented tie-down system for maximum security
Tuck-away feature for storage of carrying arms
Cons
Trunk access is limited when mounted
Car must have a hitch for installation
List Price: $79.99
Suitable for vans, RVs, SUVs, and pickup trucks with receiver hitches, the MaxxHaul Hitch Mount Bike Rack is a sturdy, solid rack designed to allow you to retain access to the rear of your vehicle while transporting bicycles. The swing-down mechanism provides easy access to the vehicle's hatch, trunk, or truck bed without compromising the secure positioning of the bikes. This makes it convenient for anyone who might want quick access to their vehicle while traveling.
Designed for 2 x 2-inch hitch receivers, this adjustable bike rack accommodates frames with its sturdy horizontal top bar. Thanks to its secure hook and loop straps, it safely holds up to four bicycles and supports up to 150 pounds. The versatile support arm features a secure hold-down strap for additional stability. Constructed with a robust all-steel design, this pick offers a reliable grip and is powder-coated to resist rust and corrosion. With its sturdy construction, adaptable support features, and easy rear vehicle access, this rack is an excellent option for biking enthusiasts who frequently take long road trips.
Pros
Swing-away design for access to vehicle's rear
Robust all-steel construction with a powder-coated finish
Sturdy, 150-pound capacity for four bikes
Secure hook and loop straps stabilize bikes
Cons
Receiver pins don't fit all vehicles
Hitch receiver may rattle on rough terrain
List Price: $224.49
The Swagman XC2 Hitch Mount Bike Rack is a sturdy, solid rack with a built-in anti-wobble system to ensure your bike stays in place, even during long trips or on rough terrain. This adaptable bike rack can hold two bikes effortlessly and its universal design fits both 1.25-inch and 2-inch hitch receivers, making it compatible with various vehicles. With a maximum weight capacity of 35 pounds for each bike and accommodations for tire sizes ranging from 20 to 29 inches, it's highly adaptable for transporting a wide variety of bicycles.
The adjustable ratchet arms can also easily accommodate frames up to 23.2 inches. Featuring a unique clamshell design, the assembly of this hitch bike rack takes just minutes and it can be easily folded up for storage when not in use for maximum convenience. Thanks to its ability to secure up to two bicycles and its integrated anti-wobble hitch mechanism, this premium bike rack is ideal for road trips, weekend getaways, and spur-of-the-moment adventures.
Pros
Built-in anti-wobble hitch mechanism
Durable, solid construction for long-term use
Sturdy 70-pound weight capacity
Compact design is ideal for different vehicles
Cons
Only transports two bikes at a time
Not suitable for electric bikes
List Price: $222.49
The Bell Right Up Platform Hitch Rack is ideal for cyclists who need to transport multiple bikes with wide tires. Its specially designed trays provide extra stability to accommodate tires up to 3 inches wide, making it perfect for fat bikes and other broad-tire bicycles. The wheel trays also offer ample padding for maximum protection of your bicycle's frame, ensuring your bike stays secure to prevent damage. With a capacity of 35 pounds for each bike and a total weight capacity of 105 pounds, this pick can easily carry three bicycles from 12 to 29 inches.
This hitch bike rack has a powder-coated steel frame for superior weather protection. Its patented anti-sway design cradles each bike to ensure stability during transport, while integrated hoops and an auto-lock design provide an additional layer of security to keep bikes safely secured in place. This model can also be conveniently folded up when not in use and tilted away to allow rear vehicle access when in use. Its well-thought-out design ensures your fat-tire bicycles remain secure and protected during travel, making it a reliable pick for any traveling cyclist.
Pros
Wide-tire bikes accommodated with ease
Anti-sway cradles prevent bike movement
Convenient to fold and tilt away
Auto-lock mechanism ensures an ideal fit
Cons
Anti-theft accessories not included
Installation instructions may be unclear
List Price: $289.00
The YAKIMA RidgeBack Tilt-Away Hitch Bike Rack is the ideal bike storage accessory to quickly get you on the road for your next cycling adventure. The sturdy rack comes fully assembled, ready to securely hold your bikes for transport in just a few minutes. To install, simply fold down the rack to extend the tongue and insert it into the hitch receiver. Once lined up, install the safety pin and turn the knob to tighten and securely lock it within the hitch.
The tilt-away design allows for the quick loading and unloading of up to two bicycles, ensuring a hassle-free experience. The anti-sway cradle feature ensures no bike-to-bike contact, effectively preventing damage from movement or vibrations during transportation. With the convenient ZipStrips, your bikes stay securely in place, protected from bumpy roads. The UpperHand lever allows easy pivoting and folding of the rack, enabling low-profile storage. All in all, this user-friendly hitch rack provides a secure and convenient bike transportation solution that's easy and quick to install and fold away when not in use, making it ideal for spontaneous adventures.
Pros
Quick setup with a hassle-free installation process
Anti-sway cradle prevents bike-to-bike contact
Easy-to-use ZipStrips hold bikes firmly in place
Conveniently folds up when not in use
Cons
Not compatible with accessories such as baskets
Not compatible with every bike size
Buying Guide: Hitch Bike Racks
Bike hitch racks provide a secure and convenient way to transport your bicycle with your car or truck for your next adventure. With a wide variety of models available, choosing the right one for your vehicle and needs can be overwhelming. Our detailed buying guide simplifies this process by covering everything you need to know to find a hitch bike rack that's suitable for your cycling habits and budget.
We've considered factors like size, weight capacity, material quality, and much more. Read on to find the ideal bike hitch rack to ensure you can confidently hit the road with your bikes securely in tow for your next adventure.
Vehicle compatibility
Before choosing any bike hitch rack, make sure it's compatible with your vehicle's make and model by double-checking the product specifications. Some racks may not fit certain models due to the different sizes or shapes of hitch receivers.
Quality of materials
Opt for a product made from high-quality materials, such as steel or aluminum, to withstand harsh weather while providing stability and strength during transportation. Ensure metal components are sturdy with minimal flex to avoid compromising security, rubber padding is thick enough to safeguard your car's paint, and screws and nuts are fastened securely to prevent excessive movement.
Ease of installation
Most bike hitch racks offer quick and simple installation to get you on the road quicker. Choose a model with clear instructions that don't require complicated tools or steps for mounting onto your vehicle's hitch receiver. Avoid options requiring custom drilling or complex assembly. Make sure to always read the instruction manual carefully before installation.
Number of bikes
When choosing the ideal bike hitch rack, take into account how many bikes you plan to transport. Hitch racks with the capacity for up to five bikes are perfect for larger groups or families, while other models designed for smaller-scale outings typically hold just two or three bikes.
Weather resistance
A high-quality bike hitch rack should be designed to endure harsh weather conditions and frequent use without compromising its structural integrity or appearance. Look for models crafted from materials such as steel or aluminum that feature powder coatings, providing enhanced durability and weather resistance to protect against rust and corrosion.
Easy removal
When choosing a bike hitch rack for seasonal or occasional use, opt for a model with simple-to-remove mounting hardware, saving time during disassembly. Look for bike racks with convenient quick-release straps or levers, as they make removal significantly easier.
Price
Finally, the cost is always important to consider, especially when buying a bike hitch rack as you want to make sure this investment can sufficiently protect your valuable bicycles. Affordable, high-quality bike racks are available if you're shopping on a budget, just make sure to choose a dependable hitch rack that doesn't sacrifice any safety features.
People Also Ask
What is the best bike hitch rack for my vehicle?
The best bike hitch rack for your vehicle will depend on your vehicle's type, make, and model. Before purchasing a bike hitch rack, check the manufacturer's specifications to ensure it's compatible with your vehicle.
How easy is it to install a bike hitch rack?
Installing a bike hitch rack is generally easy and often takes less than an hour. Most racks include a detailed guide and all the necessary components for assembly and installation.
How secure is a bike hitch rack?
Bike hitch racks, when properly installed, provide excellent security and sturdiness. Make sure to fasten all connections tightly to avoid bike movement or loosening during transport. Many hitch racks also include extra security features such as locks and straps for increased stability.
Which bikes are compatible with a bike hitch rack?
Most modern bikes, like mountain and road bikes, fit on standard hitch-mounted racks. Still, make sure to always check the manufacturer's instructions for compatibility information before storing bikes on a hitch bike rack.
Are hitch bike racks weatherproof?
Most hitch bicycle racks include features like rust-resistant coatings and UV protection to withstand the elements. Depending on the materials and design, some bike racks may require additional weatherproofing treatments when used in harsh weather conditions. Keeping an eye on your bike rack's condition over time and using waterproofing solutions can help protect against damage from extreme weather.
Why Trust Us
Our commitment to the consumer begins with product selection and ends with the last word we write in each article. Each hitch bike rack is carefully vetted quantitatively through star ratings and the number of reviews qualitatively through careful examination of reviews and the features each one has to offer. Leveraging our team of bargain hunters, we're also always sure to keep your budget in mind while we find the best hitch bike racks on the market. Our team of experts is dedicated to accurately depicting the pros and cons of each product, translating technical product specifications into information you can understand. We aim to offer unbeatable value on your biking journey by providing high-quality cycling gear, ensuring a remarkable riding experience with top-rated equipment.