10 Best Home Office Deals Under $100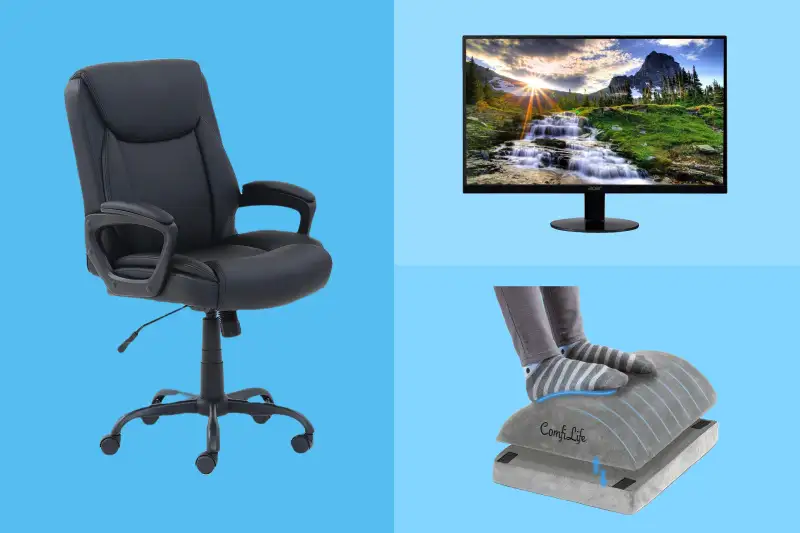 Are you looking to upgrade your home office? We've got you covered! We've rounded up the 10 best deals on home office products, all under $100! From monitors, to printers, to cushions, we've compiled a list for everything you might need to take your workspace to the next level. Whether you're a student looking for an an upgrade, or a professional wanting to give your work-from-home setup a modern look, these deals are sure to make your work days much more productive and comfortable. Check it out!
Acer 21.5 Inch Full HD Zero Frame Computer Monitor: $89.99 (was $99.99)
First up is this Acer Full HD computer monitor, featuring an ultra-thin frame design, 4 millisecond response time, HDMI & VGA ports, and a discounted price! If you already have a monitor, its perfect for use as secondary monitor as well. Keeping track of all those tabs can be pesky, and switching between them can be a hassle. So why not display the tabs you need on a second screen?
Shoppers say: This monitor is great as a office computer monitor and can handle games very well. The refresh rate is enough for decent gaming and advanced for office work. If you have modern lighting (CFL and the like) the higher refresh rate (60-75hz) will help. I was very impressed with what this monitor does for the money. It is thin and light weight.

iClever GK08 Wireless Keyboard and Mouse: $26.39 (was $42.99)
The iClever GK08 Wireless Keyboard and Mouse is great for those of us who prefer a wireless setup. With engineering-level construction, a rechargeable battery, and a cluster-free operation for a comfortable, precise typing experience, you're sure to think twice before going back to a wired keyboard!
Shoppers say: LOVE! If anything makes my work day better, this keyboard does. It's super quiet which I can appreciate. Battery life is so great. I work with numbers most of the day and having the 10 key on the side is always helpful. This is my favorite wireless keyboard I have ever bought and the last two were name brands and expensive but this one is far superior. Feels far more high end than the name brand ones.
Canon PIXMA TR4720 All-in-One Wireless Printer: $79.00 (was $119.99)
The Canon PIXMA TR4720 All-in-One Wireless Printer, with auto document feeder and mobile printing, is a true 4-in-1 printer that is compact, versatile and easy-to-use for printing, copying, scanning, and faxing. The setup is made simple through the Canon PRINT Inkjet/SELPHY app. Control and print everything you need without having to get up and being distracted from your work!
Shoppers say: That was the easiest product install I have done in a long time. Everything worked exactly as promised. All programs and drivers were auto installed and everything worked!! I would buy it again just for that. Print is clear and easy to accomplish. I liked everything about it.
USB-C Docking Station Multiport Adapter: $53.58 (was $66.99)
This USB-C docking station is perfect for efficient and reliable multi-monitor displays with its 14-in-1 features. The adapter has it all: 4K HDMI, VGA, Gigabit Ethernet, USB 2.0 and 3.0, USB-C, PD, SD, Micro SD, and audio ports. Great for someone working with any kind of equipment!
Shoppers say: Like a lot of us since Covid Quarantine, I get to work from home for a portion of my week. I work for a bank and so I've got to process some pretty heavy duty data and need two 24 inch monitors and my laptop screen to make it all work. This docking station was exactly what I needed to recreate my office at home. The extra USB-c port is perfect for my wireless headset. Talking to customers about sensitive personal data is never a worry with this port. My calls are clear and secure. I've tried cheaper docks and my monitors would cut in and out and I didn't have enough ports to support all of my gear. Now I have it all in one station. This is a quality purchase!
Puresoft Padded Office Chair with Armrests: $89.00
There's nothing worse than working in an uncomfortable chair. Your wellbeing and productivity are sure to be affected. But with this adjustable and well-padded desk chair, you'll be able to get the best positioning possible. Plus, its made with smooth bonded faux leather material, rolling caster wheels, and pneumatic controls for a modern, professional look and lasting comfort!
Shoppers say: Price was perfect for this chair! It looks so good in my husbands office. The color is a dark chocolate brown. We added a pillow behind the back where the parts were stored. You will have a hard time finding a chair of this quality for such a low price.
3 Tier Mesh Desk Organizer: $25.85 (was $52.99)
Organize your workspace with Marbrasses 3 Tier Mesh Desk Organizer. This multi-functional structure has 2 hanging pen holders, 3 drawers, and an open top compartment for maximum storage. Perfect for home and office use! Say goodbye to missing papers and messy desks.
Shoppers say: It's exactly as pictured and arrives assembled. The bottom drawer is larger than most and holds many items. Great versatile little organizer for small pads, pens, post-its, binder clips etc. Highly recommend!
Non-Slip Desk Pad: $7.19 (was $8.99)
Never worry about slipping and sliding with this Non-Slip Desk Pad. It features a suede material backside for slip resistance, an easy to clean surface, and a size large enough to accommodate your laptop, mouse and keyboard – plus it comes in lots of colors!
Shoppers say: Great mousepad, perfect size and very pretty color! Held up really well, considering I've used it for gaming, art and lots of crafting for about 3 years. Cleans up well, I've spilled paint and marker ink and most of it wipes away with just a little bit of water on a cloth.
ComfiLife Foot Rest: $28.79 (was $59.95)
Do you get back pain pretty regularly? Say no more. With the ComfiLife Foot Rest you can stay comfortable and supported for longer periods of time – it features an adjustable memory foam foot rest and an ergonomic design that provides relief from back and hip pain!
Shoppers say: As an author and a police dispatcher, I spend a lot of time behind a desk. I use this foot rest while at home working on my latest novel, and it has helped so much with the back pain that comes along with sitting in a desk chair for prolonged periods of time. I absolutely love it and won't sit at my desk without it anymore.
ComfiLife Gel Enhanced Seat Cushion: $36.76 (was $59.95)
Experience the comfort and relief of ComfiLife Gel Enhanced Seat Cushion. Its orthopedic gel and memory foam make it perfect for sciatica & back pain relief. With features such as a machine-washable zippered velour cover, built-in handle and non-slip rubber bottom, what's not to love? Your body will thank you!
Shoppers say: I just started a new job — full time at home and on the computer all day. My back and butt were so sore before getting this cushion. I was standing every 20 mins, sitting on random pillows in the house and nothing was helping. I got this cushion and it's been great! Spend the extra $$ and get it.
SOUNDANCE Laptop Stand: $36.99
The SOUNDANCE Laptop Stand is the perfect ergonomic solution for any laptop. Featuring a thickened aluminum alloy frame, its sturdy and portable design is made to reduce neck and shoulder pain while also providing better laptop cooling and improved desk organization! If you've never used a laptop stand before, its a game changer for sure.
Shoppers say: This 3 piece stand comes together to form such a simple solution to my home office. I'll admit to a little clutter being stored underneath, but it's also nice to have a little extra space on my desk too (the clutter is my own bad). This is a simple, sturdy solution to ensuring my screen eye level isn't what's my causing poor posture!