Get a Killer Home Office for Under $300 With These Tips from an Interior Designer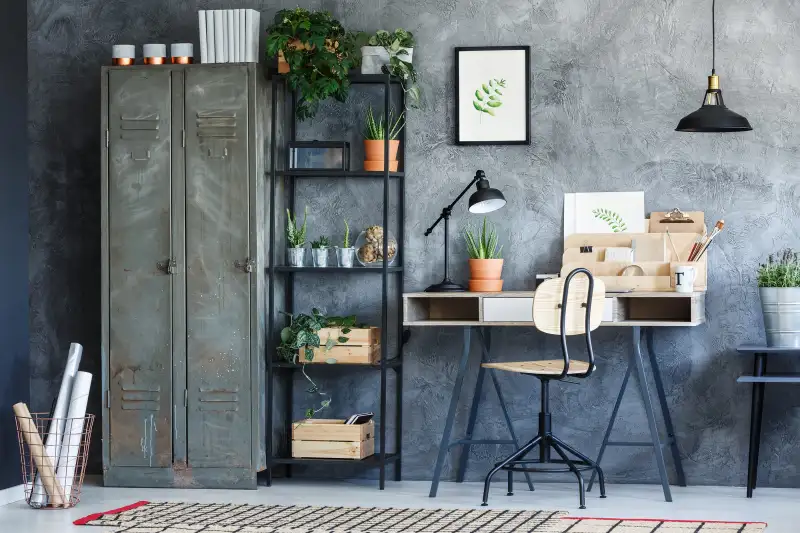 Photographee.eu—Shutterstock
Working from home has never been as easy or popular as it is today. So having a home office that feels organized and looks like an extension of the rest of your home won't just make your day brighter, it can even boost your productivity. And it doesn't have to be expensive. With a little creativity and some DIY ingenuity, here's how you can set yourself up for less than $300.
The Purge Is Real
It's free and necessary. Having a clutter-free workspace will do more for your home office than any design upgrade. Take everything out of your office and put it back together bringing in only the things that you absolutely need. Sitting on a pile of paper clutter? If you are unsure how long you should be holding onto certain documents, check out these retention schedules for papers related to your business, household and taxes.
Cost: $0
Organize With Character
Keep often referenced files in a desktop sorter with smart, colorful folders, such as Poppin's Fin File Sorter ($15.99), paired with Nate Berkus Black/Gold folders (12 for $5.99). Use glass canning jars—which can be found at second-hand shops for as low as a dollar, or buy a 4 pack of Ball's 16oz. Amber Glass Mason Jars ($9.39)—to store pens, paper clips, page flags and thumbtacks.
To arrange your books, you can make your own wall shelves using a couple of brackets and a single board, which most hardware stores will cut to your specifications. At Home Depot, a 1"x10"x12' board ($22.42), cut into thirds, gets you three, four-foot long shelves. Use six Everbilt 10" x 8" metal brackets ($4.78 each), to support them.
Cost: $82.47
Get a Vintage Desk
It might be hard to believe, but vintage office furniture can be an affordable and adds character. In addition to your standby second-hand stores, try a nearby university. Most state universities offer up their used—often fabulously retro office furniture—at insanely low prices. For example, at the University of Wisconsin-Madison's SWAP, sell various old-school desks for between $5 and $50. Pair one with a vintage chair, like this $25 metal stool from the University of Washington. If you're not close to a university, build your own desk, using two second-hand metal file cabinets (prices start under $5) and top them with a primed hardboard door slab ($28.57) from Home Depot. Spray paint the file cabinets and paint the desktop to match your decor for $10 to $15.
Cost: $75
Embrace the Power of Paint
Photographee.eu—Shutterstock
Freshen up your walls with a coat of Behr Premium Plus Ultra ($32.98/gallon), interior paint. It includes a primer, so unless you are painting over super dark walls with a light color, one coat of this paint should do the trick. You won't regret sticking to a warm, but full-bodied neutral, like Toasty Gray. If you're looking to add a little drama, try a deep, earthy green like Terrarium. You can also paint the backside of your office door with Rustoleum Chalkboard Paint ($10.47/quart), or any space with the clear version, to create space for to-do lists or ideas.
Cost: $43.45
Proper Lighting Is Everything
Overhead lighting is just not enough. Add lamps right where you need them to create a comfortable, inviting atmosphere. Clamping a couple of Bayco Incandescent Portable Work Lights ($8.47 each) to a wall shelf above your desk will spread ample light on your work surface. Spray paint them black for a sharp look. A modern tabletop lamp, like the Little Neck 21" Table Lamp ($27.99), brings in yet another layer of ambiance.
Cost: $44.93
Add Personality With Paper
Photographee.eu—Shutterstock
Hanging sheets of inexpensive specialty paper is a simple way to bring in personality and visual interest. Go for a bold hit of color with Brush Stroke Gold on Sea Green handmade paper ($6.95 at Paper Source). Express your personality through a vintage-esque Cavallini offering, like Phases of the Moon ($4.95 at Paper Source). Sized at about 20" x 30", they look great either framed — Ikea and JoAnn Fabrics has nice cheap frames for under $24. Or, unframed works too.
Cost: $30.94
Total Cost: $276.79
Visit paisleyandpine.com for more design inspiration by Betsy Kornelis.