Best Home Security Systems for 2021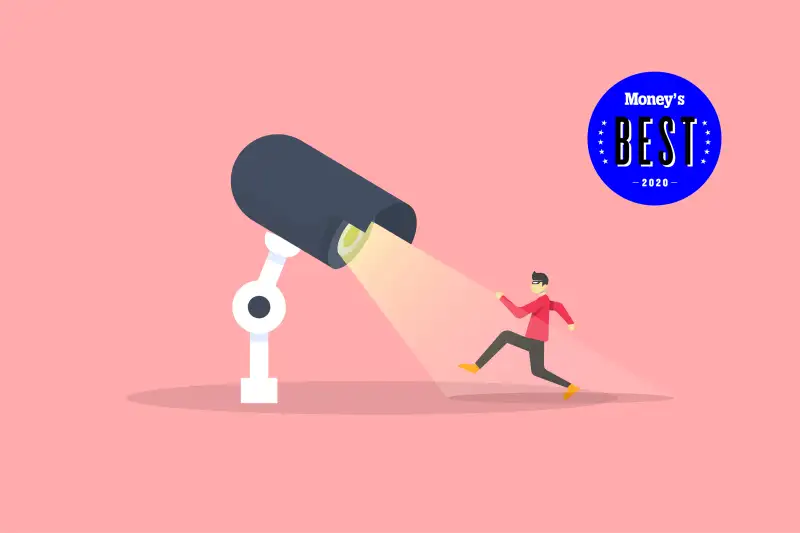 Among a homeowner's worst nightmares is coming home from a relaxing vacation or a long day at work to find their house has been broken into. It doesn't only mean dealing with the loss of property and damage to the home, but also with the feeling of insecurity that comes from knowing one's space and privacy have been violated. The house is no longer the safe haven it used to be. A home security system can help bring the loss of insecurity back.
According to the FBI's Crime Statistics, there were an estimated 7,196,045 property crimes (including burglary, larceny/theft, and motor vehicle theft) committed in the United States in 2018, which resulted in an estimated $16.4 billion in losses. That averages out to about 2,200 incidences of property crime per 100,000 inhabitants.
The good news is that the property crime rate fell 6.9% between 2017 and 2018. The bad news is that it still represents a huge loss of property and peace of mind for the homeowner unlucky enough to be a victim of any kind of theft.
With statistics like these, it's important to protect your home from break-ins. A home security system will help you do just that. A 2012 study conducted by the University of North Carolina at Charlotte, Department of Criminal Justice & Criminology, found that when planning a burglary, 60% of burglars would choose a different home if they found an alarm system was present at their intended target. If the alarm system was discovered while the burglary was in progress, about half of burglars would discontinue the attempt.
While a home security system can be a big investment, it can be a worthwhile one. "A lot of times homeowners wait until something happens in the home before they purchase security systems," says Merlin Gilbeau, CEO of the Electronic Security Association. "The first step should be an effort to prevent something from happening in advance."
The Best Home Security Systems of 2021
With technology continuously evolving and improving, home security systems today offer a wide range of protection and coverage options. Modern systems have features ranging from in-home motion and heat sensors to video doorbells, as well as apps and smart home integration that lets you monitor your home from any location.
If you're in the market for a home security system, here are seven different security systems to consider, from automated and professionally-installed systems to no-contract, self-monitored options.
ADT
As one of the oldest and largest home security companies in the nation, ADT offers a variety of systems that can be tailored to your needs, from the most basic entry point monitoring to full video surveillance.
All of ADT's security packages include door and window sensors, smoke detectors, flood sensors, carbon monoxide detectors, and 24/7 monitoring. Each system can be customized to meet your home security needs, from adding motion sensors to full inside/outside video surveillance.
If you're looking for home automation, you can incorporate those options through ADT's Control app, which lets you receive custom alerts on your smartphone and allows you to control your home's locks, garage door, lights, thermostat, and more. The app will seamlessly integrate with devices using Alexa, Kwikset, Z-Wave technology, and Google Assistant. You can even control your Sonos speakers with the app.
ADT will send an authorized representative to your home to evaluate your security needs and recommend the best system for you. Professional installation will have your system up and running quickly. ADT also offers a six-month guarantee and most installations have a required three-year minimum monitoring contract. ADT also offers a theft protection guarantee which can pay up to $500.00 of your insurance deductible if a burglary occurs while your alarm system is armed.
With services available for homes, commercial, and small business facilities, ADT is a versatile option with a wide variety of features.
Cost: Monitoring packages range from $36.99 per month to $52.99 per month and include the equipment rental fees. Equipment installation fees can range between $99.00 to $199.00, depending on the security system chosen.
SimpliSafe
SimpliSafe is a DIY option that you can customize for your home protection needs. The system's installation requires no drilling or tools and takes just minutes (though professional installation is available if you like). You can even try the system in your home for 60 days and return it (with shipping costs covered by SimpliSafe) for a full refund.
Choose from one of five home security systems packages SimpliSafe has available — from the most basic Foundation package, which includes only the base unit, keypad, one motion sensor, and one entry sensor, to the Haven package that includes the base unit, keypad, two motion sensors, four entry sensors, 105dB siren, and smoke and water damage detectors. Extra sensors and detectors can be added to each package as needed, or you can build your own system a la carte.
Optional equipment includes indoor HD video cameras (with the addition of a weatherized case they can be used outdoors), a video doorbell, and a Smart Lock. Each of these products can be purchased by themselves or integrated into any SimpliSafe home security system.
SimpliSafe actively monitors systems, calls to verify that alarms haven't been set off by accident, and can summon emergency help when needed. There is no monitoring contract to worry about, and coverage costs just $0.50 a day. You can also choose to discontinue monitoring for a period of time and reactivate it when you go on vacation or are going to be away from home for an extended period of time.
If automation is important to you, you can monitor any of the home security packages from your phone and the system can sync with Alexa and Google Assistant. However, to do so you will need to upgrade to Simplisafe's interactive monitoring plan ($24.99 monthly fee).
Cost: $14.99 a month for monitoring + no contract; equipment systems need to be purchased and range in price from $99 to almost $500. $24.99 monthly fee for remote monitoring and automation.
Frontpoint
Frontpoint also offers a practical DIY setup for homeowners right out of the box. Installation is easy and doesn't require the use of tools or scheduling a visit from a professional. Use the system and if it's not the right one for you, Frontpoint has a 30-day money-back guarantee, including return shipping.
There are four home security packages to choose from. For basic monitoring needs, you can go with the Safe Home Everyday package, which includes the Frontpoint Hub and Keypad, three door/window sensors, and two motion sensors.
If you need more coverage, Frontpoints' top of the line Safe Home Preferred package will provide the Hub and Keypad, five-door/window sensors, two motion sensors, one glass break sensor, one smoke and heat detector, and one indoor camera. The cost to purchase these home security packages will range between $99.00 and $599.00.
You also have the option of creating your own security system by purchasing individual items, or you can add pieces onto the existing packages. Additional equipment options include doorbell security cameras, carbon monoxide sensors, flood sensors, outdoor cameras, keychain remotes, and panic pendants.
You can choose from three different monitoring plans, from basic to highly interactive. All plans include 24/7 professional monitoring and a price-lock guarantee. Intrusion and environmental sensors monitor for break-ins, and cameras let you live-stream footage of your home from any location. Automated door locks, lights, and thermostats give you full remote control of your home no matter where you are. Motion-activated alerts, fire protection, crash and smash protection, and more, enhance these systems.
You can easily monitor your home security system from any computer or your mobile phone using the Frontpoint app. However, the ability to monitor your system remotely requires subscribing to one of Frontpoint's monitoring plans.
Cost: $99 and up; monthly monitoring starts at $45. No minimum contract length required.
Protect America
Protect America offers a thorough selection of features for everything from basic to the most comprehensive coverage for homeowners. Start with window, door, and glass sensors for home invasion protection, then upgrade with interior motion detection that also tracks heat to spot intruders. HD security cameras offer continuous monitoring, night vision, and two-way voice capability.
You can select one of three standard equipment packages, or you can customize your system with the help of a Protect America sales rep. Other features include monitored smoke and carbon monoxide detection equipment and (for an upgrade) there's smart home automation using Z-Wave technology to control lighting, climate, door locks, and even garage doors.
All of these devices are monitored 24/7 by Protect America, and if an alarm goes off, the company will call to verify it's real before sending emergency help. With the iOS or Android app, you have complete remote access and control of your security system.
Installation is simple and requires no tools. The process takes about an hour, and technical support is also available seven days a week. Protect America systems also work in homes of any size. Additionally, the company offers a price match guarantee and a locked-in rate.
Cost: Packages start at $19.99 a month and can go up to $50.00. The cost of equipment is included in the monthly fee at 0% interest. Requires a minimum contract length of 36 months.
Vivint
As opposed to most home security companies Vivint doesn't have pre-set equipment packages, opting instead to go with systems custom-built to the homeowners specifications and needs. In order to get a quote, you have to call and speak with one of the company's home security experts. Vivint offers three monitoring plans, from the most basic security monitoring to full automation and video monitoring.
Vivint's home security options include outdoor cameras, doorbell cameras, burglary protection, smoke alarms, carbon monoxide detectors, water sensors, and much more. Their indoor monitoring camera, the Ping, lets you speak to and check in with family members in the home with the touch of a button.
The company also offers extensive smart home options, all connected to and monitored by the Smart Hub. With this feature, you can control your home's lights, locks, garage doors, thermostats, and security systems through an integrated touchscreen. All of Vivint's security features can be accessed through their Smart Home app. However, if you want home automation or video you have to subscribe to either the Smart Home or Smart Video monitoring plans.
Vivint's home protection extends beyond your home — with Vivint Car Guard, you can protect your vehicle, too. You'll be able to monitor your vehicle in the same home security app and you'll receive alerts if your vehicle is being stolen, towed, or has been bumped.
Another cool feature: Because Car Guard is on the same platform as your home security, you can configure your settings to turn on your outdoor lights when a car disturbance is detected.
Like many home security system companies, your home will be monitored 24/7, and you'll be able to communicate with Vivint staff through a two-way talk option on the main panel. The Vivint home security system needs to be professionally installed. Homeowners will have the option of purchasing the equipment upfront and choosing a monitoring plan with no minimum contract requirements or selecting a contract and financing the equipment costs. This last option requires a contract that can vary in length from 36 up to 60 months, depending on the equipment chosen.
Cost: Varies depending on the system components chosen; $29.99 – $44.99 a month monitoring fee.
Ring
If you're a homeowner looking for a complete DIY option free of contracts and fees, Ring (owned by Amazon) has the solution. You can build a Ring Alarm kit to meet your specific needs, with options ranging from a basic 14 piece alarm security bundle or a custom-built security system with add-ons like flood and freeze sensors, motion detectors, smoke and carbon monoxide detectors, and more.
A video doorbell lets you know who's knocking whether you're home or out, thanks to the Ring app. All of the components of your security system can connect through the Ring Base Station, which also integrates with Amazon's Alexa devices. Additionally, Ring works with third-party accessories like smart locks, so you can create a larger, more comprehensive system completely controlled through the Ring app.
Ring's strong suit is cameras. You'll find an abundance of indoor and outdoor video surveillance options, including video and lighting combinations to monitor areas such as driveways and backyards. Lighting options include flood and spotlights, wired cameras and even solar-powered camera and lighting options. Complete deluxe home security bundles help you protect your home both inside and out.
With the Ring Alarm, you'll receive mobile and/or email alerts when Ring detects a security threat. If you would like the system to summon help, you can sign up for Ring's 24/7 professional monitoring. Every Ring Alarm comes with a free 30-day trial of the professional monitoring service, so you'll be able to test it before deciding whether you'd like to sign up for a contract.
Cost: Multiple pricing options for in-home cameras and monitoring equipment; $3.00 per month or $30.00 per year basic monitoring service; $10 per month monitoring or $100 per year for the Plus monitoring service. Professional installation is available.
Google Nest
Google's entry into the security field is built around their smart-home line of products that includes thermostats, smoke and carbon monoxide detectors, locks and cameras. The Nest Secure alarm system uses a central hub to act as a command center you can control via the Nest app from your phone, with your voice, or through a sensor that you can tap on as you're walking by.
Primarily a do it yourself system, you can customize your home security package or choose from one of the Nest Secure Alarm system bundles. You can talk to a home security expert if you need help deciding what equipment will work best for your home. If you choose a bundle with the Nest Hello video doorbell option, keep in mind that it's wired and will need to be professionally installed.
A neat feature of the Nest system is the Nest Tag, a key fob that can be used to arm or disarm the system with a simple tap. You can also give them to trusted family or friends that may need to access your home while you are away. If the Tag goes missing, you can always deactivate it from your Nest system, rendering it useless.
For an added fee, you can add 24/7 monitoring provided by Brinks Home Security — which will continue to watch your house if the WIFI is down via cellular. Like all Nest products, the expectation is that you're going to install it yourself — but you can opt for professional installation if you wish.
Cost: $399 for the system. Different equipment bundles are available or choose individual pieces. $29.99 a month monitoring fee, or $19.99 a month with a 3-year contract.
Important Things To Know About Home Security Systems
Home security systems can range from basic with just door sensors, to comprehensive with fire and smoke sensors, glass sensors, and much more.
Many home security systems now feature smart home integration, allowing you to control lights, door locks, and more from your smartphone.
Some systems require professional installation, while others offer user-friendly DIY installations. Before using a professional, make sure to find out any costs associated with the installations.
Your homeowner's insurance may offer a discount for having a home security system. Contact your insurance provider to see if you qualify.
How We Found the Best Home Security Systems
We evaluated the best home security systems of 2020 according to the following factors:
Selection of Security Features
Security systems can range from basic to highly complex. We selected companies that offer a wide variety of security options, including everything from door sensors to video cameras and more.
Professional Installation vs. DIY Options
We also made sure to include a selection of both professionally-monitored and installed options as well as systems that embrace a DIY approach. Some of these DIY systems require no tools and install in under an hour, while some offer optional professional installation help.
Contracts and Payment Options
While most security companies require contracts, we looked for some no-contract options as well. Most of the companies included that do require contracts offer at least a 30-day trial before commitment.
24/7 Monitoring and Assistance Availability
With 24/7 monitoring, a security company may summon help for you when you can't. The companies included in this ranking all offer 24/7 monitoring and emergency assistance.
Company Reputation
We weighed factors like the company's user reviews and satisfaction ratings and the company's reputation for providing responsive customer support.
Choose the Right System for Your Home
Do Your Research
The first step in selecting the right security system for your home is to do some research. "Probably the biggest mistake people make is rushing into a decision and not doing their homework," according to Gilbeau. Go online and read about home security options. Consider the type of protection that is most important to you, the more vulnerable areas of your home, and the major risk factors you need to address. Remember to include life safety monitors like smoke, carbon monoxide, and flood detectors in your research as well.
Check with your neighbors to see if they have any experience with home security companies and their products. It's a great way of getting feedback on a system from someone who has actually used it and not from a salesperson. You can also ask your insurance agent or your realtor for referrals for local home security companies they may have experience with.
Know the Different Ways Alarm Systems Communicate
Get Professional Estimates
Gilbeau recommends having a security system professional come to your home to help guide you through the process. Make sure to get at least three companies to provide written cost estimates, and make sure they detail the equipment they recommend and why they are recommending it. That way you can easily compare plans and costs and make a better decision as to what system will work best for you.
Even if you decide to do it yourself and purchase a system online, you can still work with an expert to get different quotes. Online home security system vendors like SimpliSafe and Ring have security professionals available to talk you through the process, help you determine the equipment you need, and give you a free quote. "There are so many options available to the homeowner that sitting down with a professional and walking through your lifestyle, what your concerns are and what you're trying to protect are all important steps to really building a system that will not only meet your needs but also be one that you will use day in and day out," Gilbeau said.
Have the System Professionally Installed
With some home security systems, you won't have a choice. They will need to be professionally installed because the system components need to be wired to phone lines and a power source. However, you should consider professional installation even with some do-it-yourself systems, especially if you'll be using wireless video cameras.
As Gilbeau explains, these cameras come with default passwords and passcodes that can make them vulnerable to being hacked. A professional installer will be able to change those defaults, making the whole system more secure. If you purchased your security system online and the company doesn't offer installation, you can find an ESA certified professional through alarm.org
Subscribe to a Monitoring Service
The whole point of an alarm system is to alert you if you've had a break-in or some other problem arises that needs your immediate attention. While the idea of being able to monitor your security system on your own is appealing (as are the savings from not having to pay a monthly monitoring fee), consider what might happen if you don't receive the alert on time.
If a fire starts in your home and you're on vacation in Fiji, it will be up to you to contact your local fire department. "Having your system professionally monitored so that in your absence you have an agent, such as the monitoring station, that can respond when you can't is vital to having a functioning system, and that creates peace of mind for you and your family," said Gilbeau.
Finding the right home security system may take some time but the effort could be well worth it. Do your research, get professional recommendations, and have your system properly installed and monitored. In the end, it's better to be safe than sorry.
Summary: Best Home Security Systems of 2021
ADT: If you're looking for versatile package options that cover home, commercial, and even small business
SimpliSafe: With easy setup and a no-contract option, SimpliSafe is a user-friendly home security system
Frontpoint: Easy to set up and no need for professional installation, Frontpoint is a versatile choice for many homeowners.
Protect America: With everything from water monitoring to glass sensors, Protect America's wide range of options means you can customize your security system to your specific needs and wants.
Vivint: Home security doesn't just cover homes, anymore. With Vivint, your security system can extend to your vehicle, too.
Ring: Looking for a comprehensive security system that you can monitor on your own with no contracts and extra fees? Ring delivers exactly that, and 24/7 monitoring is available if you choose.
Google Nest: Need a system that integrates with your entire smart-home system? Google's Nest does this, while also adding on variable options to help outfit your house.