Here Are the Best Leadership Tips for Women, According to Experts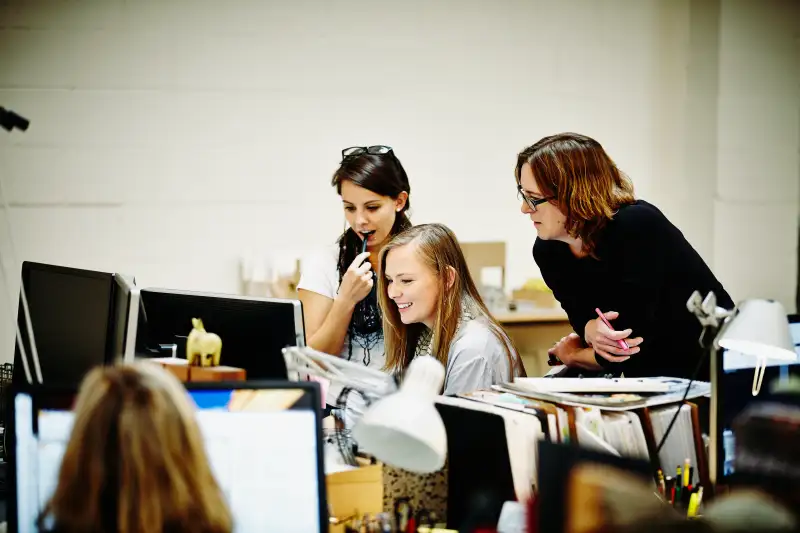 Thomas Barwick—Getty Images
Each product we feature has been independently selected and reviewed by our editorial team. If you make a purchase using the links included, we may earn commission.
Although female CEOs are no longer a novelty, professional women still face unique challenges ascending the corporate ladder, especially in high-paying career fields. A depressing new research paper found that female CEOs are 45% more likely to be fired than their male counterparts, even when performance has improved under their tenure.
HR experts and career coaches say professional women often have to balance a conflicting array of outmoded gender norms, societal assumptions, and performance demands. Even if you're working a high-paying job in a field that embraces gender equality, it can sometimes be tricky navigating the waters of expectations versus reality.
Money asked career experts and HR pros for their recommendations for the best books that can help guide women on their climb to the top.
"It is easy to get caught up in the end result — for instance, saying 'I want a promotion' — but we don't generally ensure that our daily actions are in line with our big picture," says Megan Murdock, executive board member of mentoring and networking program CBIZ Women's Advantage.
Better Than Before, Murdock says, can help build the kind of habits that will make your career and the rest of your life more fulfilling.
"How Women Rise is a must have for the career-driven woman," says Mel Hennigan, vice president of people at technology company Symplicity Corporation.
Hennigan says this book is similar to Better Than Before in that it gives readers tools to build on good habits and jettison ones that can hurt career ambitions. "The authors identify the 12 habits that hold women back professionally, showing them why what worked for them in the past might actually be sabotaging their future success," she says.
Shine gives readers insight into how scientific principles can be used to forge better relationships with bosses, peers, and underlings, HR consultant Art Glover says.
"Emotional intelligence skills – self-awareness, self-management, social awareness and relationship management strategies — sometimes referred to derogatorily as 'soft skills' and often assigned primarily to women — have proven to be extremely important in the modern workplace regardless of the industry or organization," Glover says.
"To boost your career, you have to be clear on what a 'career boost' means to you," says Sharon Strauss, chief people officer at email marketing company Campaign Monitor. This means considering all of the potential benefits — and challenges — different opportunities may offer.
"It may sound obvious, but the frequency with which employees have come to talk to me about advancement in their career without knowing where they want to go would likely surprise many," Strauss says.
She recommends Life is Good: The Book as a great read to help you figure out where you want to go. "This is not a self-help or skill identifying book, but rather a story of searching for a career that is meaningful," Strauss says.
Women who aspire to leadership roles in their fields should check out this book, says Michael Letizia, president of Letizia HR Solutions. In theory, people would judge corporate leaders by their companies' performance, but too often, women are held to what is often a no-win double standard: They're expected to be "nice" without being pushovers, Letizia says. Some women find their willingness to extend second chances abused.
"One of the challenges they face, generally speaking, is that females tend to lead with more compassion and more sensitivity, and sometimes that produces more frustration for them," he says. The textbook-style format of this tome might seem dry, but Letizia says it has been a great resource for his female clients, especially those working in male-dominated fields.
Ariel Schur, founder and CEO of ABS Staffing Solutions, says work-life balance is tougher for women, especially working moms, to achieve than their male counterparts. "The truth is, we're the ones to be pregnant, give birth, potentially breastfeed," she points out. "There are certain jobs you have to be there every day… there's not much wiggle room."
Schur says Work It shows how other women have cleared these hurdles, providing inspiration and insight for those following in their footsteps. "I always find it interesting to hear other people's vantage points and perspectives," Schur says. "There's wisdom to be learned from others. By hearing or reading or listening to other people's successes and what that entailed, I think you can learn a lot."