The Best Microphones and Home Recording Equipment for Your Money, According to Podcast Pros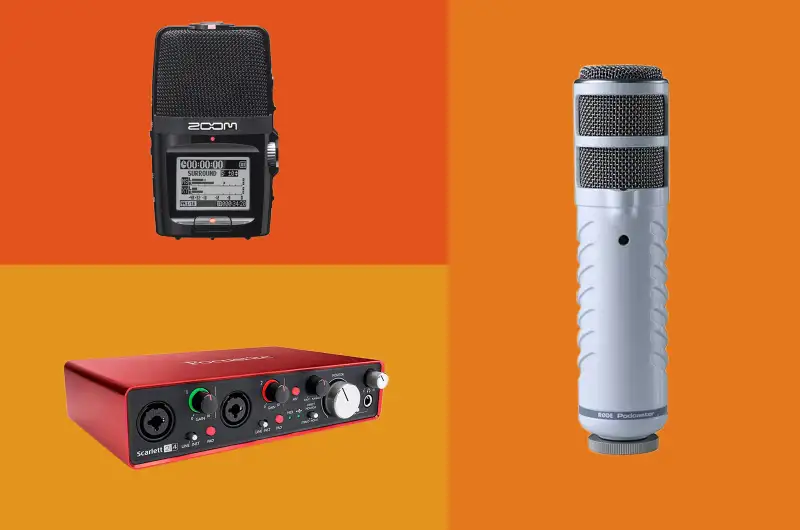 Does everyone you know have a podcast? Or worse, does everyone but you have a podcast?
The popularity of podcasts has exploded in recent years, and it's easy to see why. We all need something to listen to on our commute to work — before the coronavirus, that is — or while going for walks or working out. With the relatively low barrier to entry to start a podcast, experts in fields ranging from food to books to politics to ... literally any subject you can imagine can make a podcast and, with luck, find an audience.
If you're looking to give podcasting a try, or you simply are interested in buying a microphone and some recording equipment, and you don't know where to start, rest assured that you don't have to spend too much to get started. A cheap microphone and some free software will do the trick to help you get a podcast started. But if you're looking to expand beyond the model of "two people talking about Friends reruns in their basement," then you will eventually need to invest in some gear, especially if you want to get out of the basement.
We talked to some podcast pros to get their thoughts on the best microphones and home recording equipment to pick up. Be aware, however, that some gear is sold out or in short supply at the moment, as an aftereffect of the coronavirus pandemic and the increase in people working from home and sheltering in place. Microphones, in particular, may be harder to find in stock nowadays.
Best Microphones, Updated September 2020
Trying to pod on a budget? Jarriel Campbell understands. Based in Cleveland, Campbell runs the Your Birth Network Podcast, wherein he interviews "consultants, creatives, and Care Professionals in order to shine a light on the holistic support team available to new and expectant parents," he says. He calls the ATR 2100 "the best microphone. The sound quality is unmatched and you can purchase two of these mics for what you would end up paying with the popular Blue brand."
Michael Rasile, who is based in New Jersey and has two podcasts, Our Athletes, "where I speak with Olympic athletes, hopefuls, and legends on their story and path to the Games," and For The Love of Sports "where I have conversations with people that work in the sports industry about why they love sports," recommends another microphone from the same brand. "The microphone I use is an Audio-Technica ATR2100-USB Cardioid Dynamic USB/XLR Microphone, I chose this one because it is high quality, cheap, it allows USB connection to plug directly into my PC, and it is Dynamic so it doesn't pick up outside noise."
No one likes a muffled listening experience, and if sound quality is your top priority, it might be worth investing in a top-of-the-line microphone. "We recently bought a Rode Podcaster USB Dynamic Microphone and compared to our previous equipment, the audio quality difference was stunning," says Tamas Torok, the head of marketing at the Budapest-based company Coding Sans, which launched its Level-up Engineering podcast last October. "It also filters out the noise coming from the outside or another part of the room."
Best Podcast Equipment Packs
Brian Coughlin recently launched Hear It Studios, which combines podcast, ebooks, audiobooks and video "to modernize digital storytelling," he says. Based in Evanston, Illinois, he knows that figuring out how to get your microphone working on your laptop can be a hassle for some newbies, and recommends the Samsung Q2U USB/XLR. "This microphone is super easy to use, connects via USB or XLR if you have a mixer, and has an easy headphone jack on the base for monitoring, editing, and mixing," he says. "It also comes with a desktop stand, which is perfect when recording next to my laptop." And in case you don't know, USB or XLR are different kind of inputs. Don't worry, if you stick with it all this stuff becomes secondhand.
If you're looking to get started right away and you're willing to pay more upfront rather than shop around, consider bundling up. Dave Reed is the founder of Home Studio Today, "a website dedicated to the craft of home recording and audio production," he says. Based in rural Iowa about 15 minutes north of Davenport, he has produced several podcasts and has worked in professional and home studio environments for over two decades. So he knows a value when he sees it, and knows how nice it is to get a deal on items like pop filters and condensers. (Don't stress if you don't know what these terms mean. They're basically devices that help insure professional-level sound.)
"Beginners or those not looking to invest a ton of money on gear would be well-served by a bundle like the Focusrite Scarlett 2i2 Studio For a single-mic application," he says. "That bundle includes everything you need out of the box to get started recording podcasts, including a totally decent condenser mic, an industry-standard Focusrite USB audio interface, headphones, cables, pop filter and boom stand all for under $300."
More of the Best Recording Equipment
Looking for a place to put your microphone? If you want one of the swively arms you see on TV, consider the RODE PSA. "You can adjust the height and easily mount it to a table," says Torok. "No fancy feature here, It works well."
If you make your podcast in the field, or at least at different locations, you need a way to control audio quality on the go. "Background noise can ruin a podcast, which is especially frustrating if you're in the middle of a great interview or discussion, so I've been using the Pyle Sound Recording Booth Cube Shield," Coughlin says. "Not only does it do a great job reducing ambient noise, it's also portable, as the walls can collapse and zip up for traveling. Podcasters today need to be mobile, so having a portable recording booth is a must."
Do you need to foam home your studio? Reed says that dedicated podcasters concerned with professional-sounding recordings would do well to consider how their recording room sounds. "Investing in basic sound treatment foam can go a long way towards creating professional-sounding recordings," he says. "A 10%-25% coverage in the recording room makes a very large and noticeable difference by reducing ambient reverb."
If you're looking to podcast as a journalist or storyteller, you probably need a microphone you can easily take in the field and capture audio with professional level quality. Sam Dingman, host of the documentary-style storytelling podcast Family Ghosts on Spoke Media and WALT-FM, says, "I am fortunate to have a large number of audio toys laying around my studio, but if I only had to keep one it would be my Zoom." It's the device he has used countless times for his show, which investigates the legends that families pass down through generations.
He praises the small Zoom because "it literally fits in the palm of my hand, captures pristine, broadcast-quality audio under a wide range of circumstances, and can double as an audio interface if you need to record narration on the fly. I've dropped it more times than I can count and let it get shoved to the bottom of countless over-stuffed bags. It hasn't complained a single time," he says. "Moreover, given the sensitive nature of the interviews I do for Family Ghosts, the H2n has the benefit of being physically unimposing. I can set it on a table-top, hit record, and focus on my conversation with a source, knowing I'm capturing good quality sound on their voice without making them feel like there's a microphone shoved in their face."
Once you get your feet on the ground with the basics, you might yearn to take your podcast to the next level. If you want to record multiple guests or an entire panel at once, or perhaps feature live musical performances, then Dmitri Vietze of the Music Tectonics podcast thinks you'll need to up your gear. Based in Bloomington, Indiana, the podcast focuses "on what is happening beneath the surface of music and technology," Vietze says. "We talk about the seismic shifts taking place in the music industry as the result of the shift to digital. Most episodes are interviews with tech innovation thought leaders from the music industry."
Vietze recommends the Zoom H6. "It can be used as an audio interface with your computer or as a standalone recorder. Plus it has four inputs for mics, or musical instruments, which accept both XLR inputs or quarter inch inputs. That provides some flexibility depending on what cables you have in any given setting. There is another interface that allows you to add two more mic inputs, so you can technically add six mics," he says.
Kent M. Wilhelm, a freelance multimedia journalist and founder of The Atlantic Transmission podcasting network, says that once you start booking guests, you're going to need to start thinking about your USB interface. Not sure what that means? We'll let him explain. "This is a piece of hardware that is small enough to fit in your desk or even in a bag that allows for the use of standard microphones that use XLR connections," he says. "You will be able to find units that have two, four, six and eight inputs. Of course the more inputs, the larger the unit." So if you're having a big, rowdy chat, make sure you have something for all the microphone cables.
Wilhelm also says you might want you and your guests to have headphones, or "cans" as they're called in the industry. "I've found this to be important because with conversational podcasts, people tend to be more casual and can drift away and back from the mic, creating an inconsistent sound. Wearing cans allows the person speaking to be mindful of what they sound like and adjust accordingly," he says. If you're yes on headphones, he says you should also pick up "the Behringer unit, which allows for a signal to be split into four different channels, all that can be adjusted at discrete volumes for each set of cans."
Best Free Software and Services
If you are planning on making an interview-based podcast, and your potential sources are likely to be spread around the country, Campbell recommends the free software Zoom Virtual Meeting Room. "It allows for meeting recordings on the desktop version of the software," he says. "It separates audio and video playback when uploading saved files to the desktop."
There's a good deal of free, high-quality recording software available, which makes it easier to try a few and see which one works for you. Torok recommends the OBS Studio software. "It's relatively simple to use, and we can record the host's and the guest's audio separately, which makes the editing process much more effective. It's also free and open-source."
It's pretty common for interviews to take about 10 minutes or so to get the throat-clearing and introductions out of the way before it becomes interesting. To make sure your listeners only get the juicy bits, and to cut out any meandering digressions, Campbell recommends the editing software Audacity. "What I like about Audacity is that it is free, user-friendly," he says "and produces such a high-quality sound experience for my audience."
Rachel Millman is the social media editor for The Outline and the host and producer of Wrestlesplania, a podcast where she explores the wacky wonderful world of professional wrestling "from a leftist, fun perspective," she says. She edits her podcast in Adobe Audition, "which is daunting at first, but once you get to know it, it's not as scary to work with," she says. "The other thing I would recommend for a podcaster starting out is totally free. Use Google Docs and spreadsheets to organize yourself. That's one of the hardest parts, personal discipline, and I'm still trying to get better at that daily."
So where are you going to put your podcast? Campbell thinks that the podcast publisher Libsyn is the host with the most. "It's the platform that houses all the episodes, and best of all it tracks the stats for each episode for $15 a month," he says. The amount of features you get varies based on how much you want to pay monthly, but even the barebones $5 plan comes with storage and FTP Upload Support.
Podcasting is like dating. It's all about putting yourself out there. Rasile likes the free software Anchor.fm. "It allows me to distribute the show to just about every podcast app out there including Apple Podcasts, Google Play, Spotify, and many more," he says.
If you're looking to promote your podcast on YouTube or Twitter, which you absolutely need to do in order to gain followers, Campbell recommends Wavve, which he calls "a great software to take a small audio soundbite to produce a video clip and promote the show on social media in a matter of seconds." As is often the case, you'll get more features and storage space with the service if you opt for the pricier plans.
More From Money:
The Best Garden Tools for Your Money, According to Gardening Pros
20 Mother's Day Gift Ideas That Are Perfect for 2020
The Best Air Purifiers for Your Money to Fight Seasonal Allergies