You Can Now Buy the Nintendo Switch Lite — Which Is Super Cute and Much Cheaper than the Original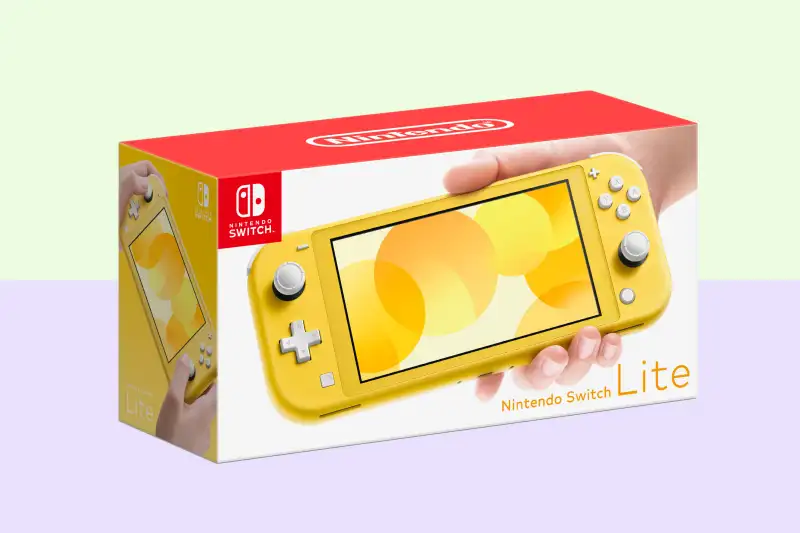 We regret to inform you that Christmas is coming much sooner than you could possibly be prepared for. But if you're looking for holiday gifts while keeping to a budget, Nintendo has your back.
Starting today, Nintendo is offering the Nintendo Switch Lite, the latest installment of their popular gaming model, which has routinely been a best-seller around Black Friday and the holidays.
The Nintendo Switch Lite retails for $200, or about $100 less than the original Nintendo Switch, which has been on the market for two years and has rarely been discounted. At first, Switch Lite will be available in three colors: yellow, gray, and turquoise.
You can buy the Nintendo Switch Lite right now for a few pennies under $200 from many major retailers, including Walmart, Amazon, Target, and Best Buy. All have free shipping deals with orders available too.
But if you have a hard-to-shop-for Pokémon fanatic (and don't we all?) in your life, consider waiting until November 8. That's when can pick up a Switch Lite console with a look inspired by the upcoming "Pokemon Sword and Shield" game.
What's the difference between the Nintendo Switch and Switch Lite? Besides giving you the chance to save $100, the Switch Lite is aimed at more casual players, and as such some of the features that the hardcore gamers like had to go in order to keep the price down. Most notably, the Switch Lite will not be compatible with your TV, or anyone else's for that matter.
The Switch is a purely portable gaming device, so no widescreen experience here. This might be an improvement for some, as one of the major criticisms of the original Switch is that while gamers could switch (see what we did there?) between being an on-the-go device and something that could link with your television, the controls were a bit too heavy and bulky to be truly convenient. Not so with the Switch Lite, which is notably lighter, slimmer and easier to carry around in your jacket pocket.
Some tech critics are already calling the Switch Lite "the cutest console we ever did see." Think of it as the next generation answer to the Game Boy. And if you don't know what a Game Boy is, go ask your grandfather while we research how to sign up for AARP membership. Nintendo's current handheld models, the DS and 3DS machines, are reportedly getting phased out, so the Lite will soon be your only option for playing "Super Mario Maker 2" on the bus.
Since debuting in March of 2017, the Switch has been one of the most popular gaming models on the market, selling more than 37 million devices worldwide — and 15 million just in North America. But there are only so many hardcore video game fans in the world. With both Sony and Microsoft gearing up to introduce new consoles, and with Apple and Google set to offer new gaming services soon, the Kyoto-based company was aware it had to tap into a fanbase that likes games but doesn't live for them. Investors are waiting to see if Nintendo can keep growing or is due for a fall off, but so far shares are up a healthy 46% in 2019.
In other Nintendo news, do you ever wish that Mario Kart was real? Well, wish no more, as a Nintendo enclave will open at Universal Studios Japan in Osaka next Spring, and plans are afoot for Universal parks in Orlando, Florida as well as in California and Singapore. The "Super Nintendo World" areas will, at first, host two rides, one featuring a real life racing version of the game "Mario Kart" and another featuring everyone's favorite egg-loving dinosaur Yoshi. No word on whether you'll be allowed to jump on the Yoshi and scream "itsa me, Mario!" but most likely not.
We've included affiliate links into this article. Click here to learn what those are.