21 Mother's Day Gift Ideas That Are Perfect for 2021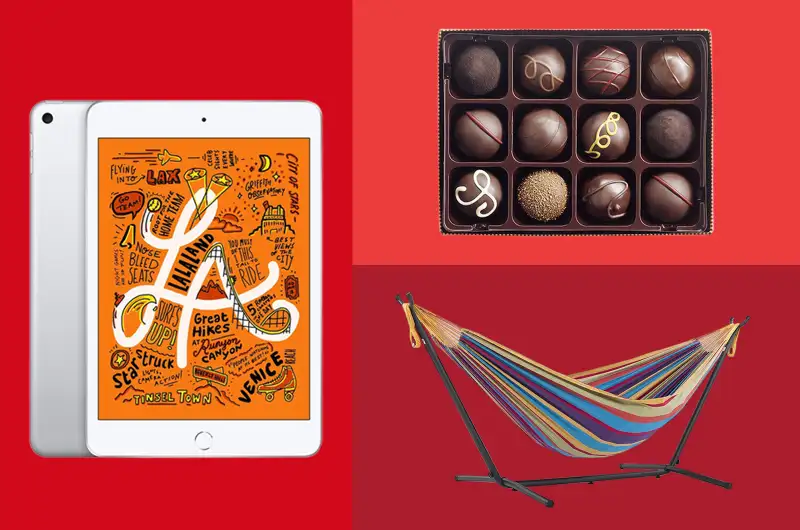 Mother's Day 2021 is coming up on Sunday, May 9, and people are ready to celebrate.
In fact, 83% of people surveyed in a recent National Retail Federation poll said they expected to celebrate Mother's Day this year, spending an average of $220 per person to honor moms on their special day.
The most popular Mother's Day 2021 gifts include the classics — greeting cards, special outings and flowers are among the top choices — but those are hardly the only options.
Shoppers ages 25 to 34 said they planned to spend an average of $367 on Mother's Day, up nearly $100 over last year, according to the survey, and members of this demographic are much more likely to buy things like electronics and jewelry as Mother's Day gifts. Clothing, housewares, books, CDs and gardening tools and supplies are also top Mother's Day gift choices this year.
Does that mean things are mostly back to normal for Mother's Day this year? Not exactly. Nearly 50% of those surveyed said they planned on brunch or another special outing for Mother's Day 2021. That understandably represents an increase over last year's holiday, which occurred during widespread government shutdowns. But it's still well below pre-pandemic levels.
We've compiled a list of 21 great Mother's Day gifts that are especially fitting for 2021.
Best Mother's Day Gift Ideas: 2021
Courtesy of Life Around 2 Angels
Does the mother in your life need the gift of relaxation? Here's what is routinely one of the top-selling beauty gift set on Amazon: a set of 12 therapeutic and moisturizing bath bombs with 32,000 reviews and an overall 5-star rating.
Sure, most moms use the alarms on their phones — or they just wake up early because that's who they are. But there's good reason to have a dedicated alarm clock, especially one like this model from Philips. It's a so-called "sunrise alarm," which means it brightens up slowly in order to wake the sleep gently and more naturally, and also can be programmed to slowly fade to darkness at bedtime. As a result, it not only makes for a relaxed wake-up call and start to the day, it helps establish healthy sleep-wake cycles.
Acclaimed author Joan Didion's latest book, published in early 2021, is on everyone's list for the top biographies/memoirs of the year so far. This collection of essays were actually written between 1968 and 2000, and they cover ground such as a profile of Martha Stewart and a reflection on "Why I Write."
Among the many other noteworthy newish books to consider as possibly perfect Mother's Day gifts: What Happened to You? Conversations on Trauma, Resilience and Healing, by Oprah Winfrey and Bruce D. Perry, and the hardcover edition of The Hill We Climb: An Inaugural Poem for the Country, by Amanda Gorman.
Give your mom's coffeemaker a serious upgrade with this gorgeous DeLonghi espresso machine. It comes with a built-in sensor grinder, for producing consistent, pro-quality results. With this machine, she'll be able to make a latte, cappuccino or espresso as good as any barista — or better yet, you'll be able to use it to brew her favorite hot beverage for her.
Few travel mugs are as attractive or capable of keeping drinks hot as this vacuum-sealed contained from S'well. It's BPA-free (of course) and will keep beverages hot for 11 hours, or keep cold beverages chilled for over 24 hours (26, to be precise). At Amazon, it has a 4.5-star rating based on around 4,000 reviews, and it's available in a choice of over 30 different designs.
Though more and more people are vaccinated and social gatherings are slowly starting to feel safe, moms will probably still be doing their share of Zoom sessions and streaming movies and shows.
Setting your mom up with a nice new iPad (mini or the latest 10.2" model), Amazon Fire tablet or another great tablet to make it easier for her to browse the news and visit with family and friends virtually is quite the thoughtful gift.
This digital picture frame might seem like it's on the expensive side. But it has a 5-star rating at Amazon based on over 7,500 reviews, thanks in part to a 10" touch screen that'll display all your mom's photos brilliantly. Perhaps best of all, it can be set up in seconds, and family and friends can email photos straight from their phones to the frame. That's especially nice if your mom can't see you in person on Mother's Day this year.
Can you say YUM? This sleek, highly-rated Cuisinart machine is very easy to use and makes delicious icy treats in as little as 25 minutes. Lately we've seen the silver stainless steel version on sale for $69.99 (down from $99.99), and it's no surprise that it's been Amazon's best-selling ice cream maker.
You either love Crocs or ... you don't. But even if your mom is not a big fan of traditional clog-style Crocs, she may love these simple and super comfortable Crocs flip-flops. They come in a choice of a dozen different colors, and 80% of the 16,000 reviews they've drawn on Amazon are either 4- or 5-stars.
Among the bestselling women's casual dresses on Amazon is this item from Viishow, which comes in over 25 different prints and colors — including several floral patterns that are perfect for spring. Amazon shoppers give this dress a 4.5-star rating overall (85% 4- or 5-star), based on over 38,000 reviews. Prices range from $20 to $36 depending on the size and style you're buying, but most options run around $25.
One of our picks for the Best Printers for your home, this Pixma model may be perfect for mom who loves scrapbooking, crafts, artful photography, snapshots of her kids or grandchildren or all of the above.
It can print high-quality photos, and an accompany app features multiple scrapbooking templates and a wide variety of print patterns to help make her layouts extra crafty. She'll be able to print in classic 4" x 6" and 5" x 7" photo sizes, as well as 12" x 12" sheets that are standard for scrapbooking.
If your mom, grandmother or spouse is a big walker, a nice pair of wireless earbuds could keep her company, so she can listen to music, a podcast or a book on tape. And most people say that Apple AirPods are the most comfortable and altogether best earbuds you can buy. If you really want to splurge on Mother's Day, get her the AirPods Pro (on sale for $197), which have superior comfort and sound.
Courtesy of First Leaf Wine
Of the many wine club subscriptions you can choose from, First Leaf is a solid choice with good value. The prices are reasonable, starting at about $15 a bottle, which is the equivalent of 40% to 60% off what you'd pay in your local wine store for a comparable choice. There are also multiple options in terms of delivery frequency, so you can choose a plan that works best for your mom (and your budget).
It might seem easy nowadays to skip right to the wine and forget that you should also have some snacks to nosh on — and something to serve your cheese, crackers, and fruit on. This cheese board is handsome and handy, with a hidden slide-out tray for holding a cheese knife and other utensils.
After many months of isolation, your mom might be able to envision hosting a dinner party sometime soon. This set of Riedel glasses comes highly recommended by sommeliers, and paying a little over $10 per glass for such high-quality merchandise is a great deal.
Scented candles were a very hot seller over the past year while people were sticking mostly to home — and trying to make their places smell as nice and tranquil as possible. And there's no need to stop that trend now that we're venturing out more.
Whereas some trendy boutique scented candles now cost upwards of $60 apiece, Lulu Candles are a more reasonably priced option. At around $15 per candle, they come in a choice of 10 different scents, including fresh linen, juniper leaf, crumb cake, and lemon biscotti.
Whether you order roses, sunflowers, tulips or a potted hydrangea your mom can plant in her yard, flowers are another sure-to-please classic Mother's Day gift.
But beware that this is also a gift category that doesn't necessarily come with free shipping. Depending on what flowers you choose and where you order, shipping might cost $15 to $20 extra. (Our main suggestion for a Mother's Day gift of pink roses comes with free delivery from Amazon.)
For most moms, chocolate is a can't-miss Mother's Day gift. If the dark chocolate gift box we suggest doesn't seem right for your mom, Amazon has special pages devoted to gifts from top chocolate brands like Godiva, Lindt, and Ghirardelli, plus a huge variety of gift packages featuring perennial favorites from Hershey's and Dove.
Be aware, however, that delivery can be tricky for certain kinds of chocolates, because they're sensitive to heat. Free shipping is not always available for chocolate gift packages sold by Amazon — you sometimes have to pay $10 or so for delivery, even if you're an Amazon Prime member or hit a minimum purchase threshold. You may be better off going directly to the seller to purchase Mother's Day chocolates: Godiva, for example, is offering free shipping on purchases of $25 or more, and delivery is guaranteed for Mother's Day if your order is completed by 1 p.m. ET on May 3.
It's the perfect gift if your mom loves chocolate, and she's also nuts for nuts.
Spring is always a great time for gardening. With these special clawed Garden Genie garden gloves — which have a rating over 4.5 stars at Amazon, based on over 8,000 reviews — your mom can get the satisfaction of digging into the earth without really getting her hands dirty. Check out our list of the best garden tools recommended by gardening pros too.
On second thought, maybe gardening can wait. On Mother's Day, set this gorgeously inviting hammock up in the yard and let the mother in your life lounge to her heart's content. Perhaps with some chocolates, a latte or a glass of wine close at hand.
More From Money:
The Best Flower Delivery Service for Mother's Day, According to Florists
The Best Wine Club Subscriptions for Your Money, According to Sommeliers