The Best Airplane Pillows for Your Money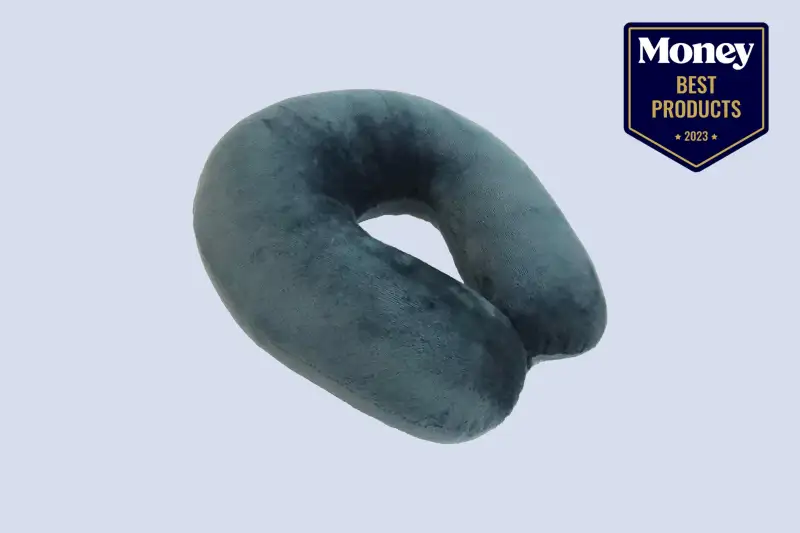 Getting some rest on an airplane can be tough, especially for a frequent traveler. Sitting upright for long hours in a small space isn't exactly comfortable, let alone relaxing, which is why packing a quality airplane pillow is a must. These pillows are designed to deliver the support and comfort your body needs during long flights, helping you wake up at your destination feeling refreshed. But not all airplane pillows are created equal. Choosing the right one can make the difference between a comfortable and restless flight.
This article will provide an in-depth look at the highest-rated airplane pillows in 2023, so you can keep your neck and back supported throughout your journey. We'll review the features, benefits, and drawbacks of each product. We'll also share a detailed buying guide that outlines important features to consider when shopping for an airplane pillow so you can make an informed decision based on your travel preferences. So whether you're looking for a lightweight and compact option or something that provides extra comfort and support, we've got you covered.
Best Overall: MLVOC 100% Pure Memory Foam Neck Travel Pillow
Best Adjustability: BCOZZY Neck Pillow for Travel
Best Materials: World's Best Feather Soft Microfiber Neck Pillow
Best Shoulder and Spine Support: TALLGO Best Memory Foam Neck Pillow
Best Chin and Neck Support: SAIREIDER Neck Pillow for Travel
Reviewing the Finest Airplane Pillows of 2023 in Detail
List Price: $39.99
Indulge in the luxurious comfort and support of the 5 STARS UNITED Pillow For Airplane, designed specifically for airplane travel. Crafted with meticulous attention to detail, this pillow elevates your inflight experience to new heights with its exceptional features and premium materials. Experience the pinnacle of comfort with this airplane pillow, which boasts a fill made from high-quality down-alternative material.
This ultra-soft and plush filling, resembling real down, provides a cloud-like feeling, ensuring a comfortable and relaxing rest during your flight. The pillow's covers are fashioned from pure cotton, enhancing its breathability and offering you a soothing surface to rest your head on. Rest easy knowing that the 5 STARS UNITED Airplane Pillow is certified by OEKO-TEX, a mark of its safety and eco-friendliness. The filling, covers, and sewing threads have all met stringent standards, ensuring that this best overall sleep accessory is both comforting and responsible.
Pros:
Down-alternative fill provides real down-like plushness
Certified by OEKO-TEX for safety and eco-friendliness
Ultra-soft filling offers gentle support for various sleep styles
Cons:
Could be too big for some backpacks
List Price: $21.99
The MLVOC 100% Pure Memory Foam Neck Travel Pillow is the top choice on our list thanks to its superior comfort and design. The pillow's memory foam construction offers exceptional support and cushioning while remaining lightweight and portable. Plus, it can conform to your preferred position within five seconds of adjusting. The contoured shape of the pillow supports your head and neck to prevent and alleviate pain and discomfort while traveling. Its cover is crafted with breathable and ultra-soft magnetic therapy cloth containing millions of tiny microbeads, delivering optimal cushioning comfort. The sweat-resistant fabric also keeps you cool and dry as you rest.
This airplane pillow weighs just 0.6 pounds and measures 11 x 9.2 x 4.6 inches. This compact size allows it to provide maximum comfort with minimal space, making it the ideal travel companion. Designed with convenient travel in mind, it can also be compressed to half its size and comes with a handy travel bag. Plus, it has a snap strap that makes it easy to attach to your carry-on luggage. This pick includes a 3D contoured eye mask and earplugs, making it an excellent choice for travelers seeking a comprehensive airplane travel kit. With its premium design and quality features and accessories, this airplane pillow takes our best overall category as it's sure to provide unparalleled comfort during all your travels.
Pros
Provides excellent head and neck support
Has a compact and lightweight design
Includes eye mask, earplugs, and bag
Cons
Limited color range available
Non-removable fabric cover
List Price: $59.97
The unique shape of the BCOZZY Neck Pillow for Travel allows it to be adjusted to any sleeping position, making it a versatile choice. The front setting provides double chin support while folding it in half to rest your head on your shoulder is ideal for side sleeping. When your head falls both front and side, you can simply slide the overlapping arms 90 degrees for proper neck and chin support. The soft fabric shell is made with cozy microfleece and cool microsuede, while the pillow itself is filled with a premium bounce-back down alternative that provides a balance of firmness and plushness. Both materials can be shaped to your desired position, making this option very comfortable for the head and neck.
This travel pillow has a patented flat-back design that keeps it in place, preventing any slipping or sliding around while you rest. Unlike U-shaped airplane pillows that can cause neck pain and strain, this product is suitable for all body types. It also comes in two sizes to accommodate different neck sizes. This product is lightweight, machine washable, and comes with a carry case for easy portability. You can even clip it onto your luggage with its back snap loop when not in use, making your life easier while on the go. With its high-quality cushioning and adjustable design, this pick is an excellent choice for travelers seeking a comfortable and versatile airplane pillow that allows them to sleep comfortably in any position.
Pros
Adjusts easily to any sleeping position
Improves breathing by supporting the upper body
Wraps around armrests and other objects
Cons
Some users thought the fabric was too warm
Some users found internal support too firm
List Price: $10.99
If you're prone to allergies and seeking a comfortable, quality, eco-friendly travel pillow, the World's Best Feather Soft Microfiber Neck Pillow is an excellent choice. This pillow comes with a crystal fleece cover that feels luxurious to the touch and a soft-fiber-filled interior that provides excellent support and comfort for your head, neck, and shoulders. Suitable for individuals who suffer from common allergens and want to avoid the usual down-filled pillows, this option uses hypoallergenic materials in both the shell and filling. It's also incredibly durable, machine washable, and can easily fit in your luggage, making it an excellent choice for those who want to enjoy a restful sleep while traveling without compromising their health.
Apart from comfort, this manufacturer goes the extra mile in protecting the environment. These pillows are made using 100% recycled fibers for filling while the minimal packaging is made of 100% recycled paper. With its high-quality, sustainable, and hypoallergenic construction, this airplane pillow is a reliable solution if you want to sleep comfortably and conveniently while on the go. Plus, it's also cost-effective if you're shopping on a budget.
Pros
Soft, luxurious support
Hypoallergenic and eco-friendly materials
Durable and machine-washable design
Cons
Not suitable for petite individuals
Not firm enough for some sleepers
List Price: $24.99
The TALLGO Best Memory Foam Neck Pillow is specifically designed to deliver superior shoulder and spine support. This option features a contoured shape that helps relieve pressure on the cervical vertebrae, providing maximum support for your neck and spine. This can help reduce muscle tension, headaches, fatigue, snoring, and insomnia, so you can sleep comfortably while traveling. Made with high-quality memory foam, it also conforms to your body's natural shape to cradle your head and neck. An adjustable strap allows you to customize the height of the pillow for maximum comfort.
This airplane pillow's cover is crafted from a luxuriously soft and plush velour that's cozy and breathable. Soft and gentle against the skin, this material provides optimal comfort to keep you cool and fresh while you sleep. Fitted with a convenient zipper, the pillow cover is machine washable for easy maintenance. This product is also lightweight and compact, making it easy to take with you wherever you go. With its quality memory foam, soft fabric, and ergonomic design, this travel pillow will stabilize your neck and spine and provide you with lasting comfort while sleeping.
Pros
Supportive memory foam for optimal spine support
Adjustable strap ensures pillow stays in place
Soft, machine-washable velvety cover
Cons
Chemical smell that eventually dissipates
Some users find the high back uncomfortable
List Price: $24.95
The SAIREIDER Neck Pillow for Travel is the perfect accessory for travelers looking for a pillow that relieves neck pain and prevents the head from nodding forward while sleeping upright. This pick is designed with a flat-cut back to provide optimal neck and chin support. This feature also allows it to fit flat against seat backs, whether you're traveling by plane or car. Its curved shape design ensures comfort for your face, while the heightened front end provides better chin support. Made from 100% high-quality memory foam, it offers five-second rebound technology to conform to your sleeping position. Adjustable straps help you find the most suitable fit around your neck, relieving it from potential pain and discomfort during travel.
The soft, skin-friendly velvet cover further enhances this product's comfort while its hidden zipper makes it easy to remove for cleaning. This airplane pillow also comes with a storage bag that allows you to compress it into a much smaller size which is extremely convenient for traveling. In addition to that, this pick includes a sleep mask and earplugs, making it an ideal all-in-one set to enjoy restful sleep. All in all, between its unique design and bonus accessories, this travel pillow is a fantastic option for travelers who need proper chin and neck support to prevent discomfort from sleeping in awkward positions.
Pros
Unique design supports head, neck, and chin
Memory foam cushions and conforms as needed
Silky, velvety material is soft against the skin
Cons
Pillow doesn't have an attachment clip
Bag isn't durable for long-term use
Buying Guide: Airplane Pillows
Whether you're a seasoned traveler or flying for the first time, investing in a quality airplane pillow is worthwhile. It can help alleviate neck stiffness, back pain and bring a sense of comfort during long and tiring flights. That's why it's important to choose a quality airplane pillow to use when you're traveling.
Whether you're looking for extra neck support while sleeping upright or simply want to be more comfortable during your flight, the right pillow can make all the difference. In this buying guide, we'll cover the key features to consider when selecting an airplane pillow. With this information, you'll be equipped to find the ideal product for your needs and make an informed purchase.
Comfort
When it comes to choosing an airplane pillow, comfort is key. Look for options made with high-quality, breathable materials that provide ample support to your head and neck. Consider opting for a travel pillow with adjustable firmness levels so that you can customize your in-flight comfort according to your needs.
Size
Before purchasing a travel pillow, it's important to consider your head and neck size. An undersized pillow could leave you with neck pain or a stiff neck, while an oversized pillow can lead to discomfort. A good pillow provides both head and neck support in a comfortable and cozy way, which is why it's important to find a pillow in the right dimensions to meet your specific needs.
Materials
Quality materials are essential when choosing an airplane pillow. You'll want to look for quality fabrics that are both breathable and hypoallergenic, so you can rest comfortably throughout your trip. It's also important to consider the durability and longevity of the pillow's materials to ensure that they won't break down quickly or wear out easily over time.
Durability
When investing in an airplane pillow, it's crucial to check that it features a durable construction and quality stitching for long-lasting use. The last thing you want is a pillow that begins to fall apart after just a few uses. Look for quality pillows designed to endure the rigors of regular air travel and provide years of reliable comfort.
Travel features
When selecting a travel pillow, look for one with convenient features such as a collapsible design for easy storage and an integrated pouch for portability. Opt for a lightweight and hassle-free design that can easily be easily packed into a carry-on and transported. Some options may also feature clips to attach to your luggage for added convenience.
Maintenance
When selecting an airplane pillow, it's essential to choose one that's easy to wash and maintain. Look for a pillow with clear care instructions on the label or packaging so you know how to keep it fresh during trips or between uses. If you expect to use it frequently, opt for a machine-washable product for hassle-free cleaning.
Design
When selecting a travel pillow, don't forget to consider not only its aesthetic appeal but also its ergonomic shape and features. The ideal pillow should match your preferred style and sleep habits with its design while still being portable and convenient. Ensure that it meets your individual preferences, providing the comfort and relaxation you desire during air travel.
People Also Ask
Is an airplane pillow necessary for comfortable travel?
An airplane pillow is not necessary for comfortable travel, but it can help to make the journey much more enjoyable by providing support and comfort for the head, neck, and shoulders while you rest. An airplane pillow is beneficial for travelers who are prone to neck pain and want to get a good sleep during their flight.
What features should I look for when choosing an airplane pillow?
When selecting an airplane pillow, think about the level of support it offers, its care requirements, portability, the materials used in its construction, and any additional features like adjustable straps or contoured headrests.
Are airplane pillows adjustable for different user heights and sizes?
Yes, some airplane pillows are designed to be adjustable and can be adjusted to fit users of different heights and sizes. Look for adjustable straps or a tie-back design that allows you to easily adjust the pillow's height and shape according to your needs.
Are airplane pillows machine-washable?
Most airplane pillows are machine-washable. Typically, they have removable covers that can be washed on a gentle cycle with cold water and mild detergent or in a washing bag designed for delicate items.
Are there different levels of comfort when using an airplane pillow?
There are airplane pillows with innovative designs that offer varying levels of comfort, such as adjustable support or air-filled chambers that provide pressure relief in different target areas. Memory foam pillows also conform to the shape of your body for added comfort and support.
Are airplane pillows compact and easy to pack in a carry-on bag?
Yes, most airplane pillows are compact enough to fit in carry-on bags and won't take up much space. As you look for the perfect pillow, consider finding a lightweight, compact design that can be easily rolled up or folded into a carry-on bag without adding bulk to your luggage.
Do airplane pillows offer special features for neck support?
Yes, some airplane pillows offer special features for neck support. Some designs include contoured headrests or adjustable straps that can wrap around or cradle the neck more comfortably to provide extra support.
What other ways can I use my airplane pillow besides traveling on a plane?
Airplane pillows can be extremely versatile. Not only do they come in handy for long flights, but they can also be brought along on camping trips, train rides, and road trips. Plus, they're also perfect for snuggling up at home while watching TV or reading a book. With so many possible uses, it's no wonder that many people invest in one.
Why Trust Us
Our commitment to the consumer begins with product selection and ends with the last word we write in each article. Each airplane pillow is carefully vetted quantitatively through star ratings and the number of reviews qualitatively through careful examination of reviews and the features each one has to offer. Leveraging our team of bargain hunters, we're also always sure to keep your budget in mind while we find the best airplane pillows on the market. Our team of experts is dedicated to accurately depicting the pros and cons of each airplane pillow, translating technical product specifications into information you can understand. We aim to offer unbeatable value on your travel accessories, so you can get the most comfortable and enjoyable travel experience for your buck.