This Is the Best Pizza Joint in Every U.S. State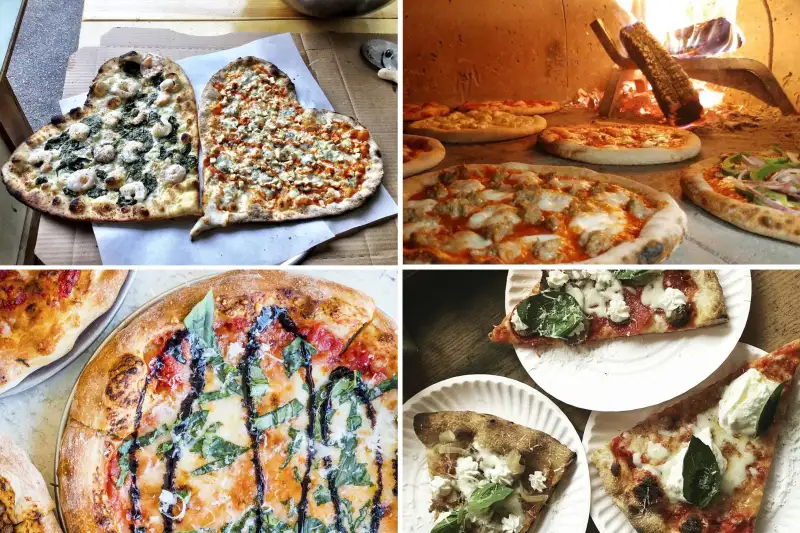 Courtesy of Big Green Truck Pizza, Stix n Brix Wood Fired, Tasty Pizza, L'Industrie Pizzeria
Whether you like it deep dish or thin crust, square-shaped or topped with pineapple, you probably have a go-to pizza order. Much like barbecue, after all, pizza draws fans with strong opinions.
Of course, the way a pizza looks and tastes will likely differ depending on where you are (and who's making it). Though there's no right or wrong pizza, most U.S. regions will defend their preferred variation to the end.
To add flame to the wood-fired oven, Money partnered with Yelp to find the best pizza joint in every state. All the eateries on this list are in the "Pizza" category on Yelp. "Best" is measured using an algorithm that looks at the number of reviews and star rating for a business. We also added a price of a cheese pie (where available) for each place.
Here are the 51 best pizza places in the country (and Washington, D.C.).
---
Location: Foley
Cost of a 10-inch cheese pie: $9.99
---
Courtesy of Little Mermaid Pizza
Location: Homer
Cost of a 12-inch cheese pie: $14
---
Location: Prescott Valley
Cost of a 16-inch cheese pie: $12.95
---
Location: Bentonville
Cost of a 12-inch Margherita: $12.95
---
Photograph by Elliott Alexander
Location: Oakland
Cost of a 12-inch pie: $13.50
---
Courtesy of Pickup's Pizza Company
Location: Eagle
Cost of a 12-inch cheese pie: $10
---
Courtesy of Big Green Truck Pizza
Location: New Haven
Cost of a cheese pie: N/A (mostly catering)
---
Location: Bethany Beach
Cost of a 16-inch cheese pie: $14
---
Cost of a cheese slice: $5
---
Courtesy of Magdalenas Pizza
Location: Tampa
Cost of a 16-inch cheese pie: $11.99
---
Location: Stone Mountain
Cost of a large cheese pie: $18
---
Location: Kapaa
Cost of a cheese pie: $11
---
Courtesy of Embers by The Lake
Location: Hauser
Cost of a cheese pie: $15
---
Courtesy of Stix n Brix Wood Fired
Location: Chicago
Cost of 10-inch Margherita: $11
---
Courtesy of Iechyd da Brewing Company
Location: Elkhart
Cost of a 12-inch cheese pie: $8.95
---
Location: Des Moines
Cost of a 14-inch cheese pie: $12.45
---
Location: Olathe
Cost of an 11-inch cheese pie: $6.87
---
Location: Louisville
Cost of an 18-inch cheese pie: $15
---
Location: Baton Rouge
Cost of a 16-inch cheese pie: $12
---
Location: Biddeford
Cost of a 14-inch cheese pie: $10
---
Location: Baltimore
Cost of a cheese pie: $14
---
Courtesy of Ciao! Pizza and Pasta
Location: Chelsea
Cost of a Margherita pie: $11
---
Location: Lansing
Cost of 16-inch cheese pie: $12
---
Location: Shakopee
Cost of a 14-inch pie (pick your toppings): $16.95
---
Location: Sardis
Cost of a 12-inch cheese pie: $12
---
Location: Saint Louis
Cost of a 13-inch cheese pie: $10
---
Location: Glendive
Cost of a large cheese pie: $11.99
---
Photograph by Kori Archbold
Location: Omaha
Cost of a large cheese pie: $10.50
---
Courtesy of Smiling With Hope
Location: Reno
Cost of an 18-inch cheese pie: $21
---
Location: Tilton
Cost of a large cheese pie: $9.95
---
Location: Fairfield
Cost of a Margherita pie: $12
---
Location: Albuquerque
Cost of an 18-inch cheese pie: $16.49
---
Courtesy of L'Industrie Pizzeria
Location: Brooklyn
Cost of an 18-inch Margherita pie: $19
---
Location: Maggie Va
Cost of a cheese pie: $6.99
---
Location: Bismark
Cost of a 12-inch cheese pie: $12
---
Location: Elyria
Cost of a 16-inch cheese pie: $12
---
Location: Shawnee
Cost of a large cheese pie: $7.99
---
Courtesy of Oregon Wood Fired Pizza
Location: Eugene
Cost of a Margherita pie: $15
---
Photograph by Christopher Karangis
Location: Milford
Cost of a 16-inch cheese pie: $13.50
---
Location: Providence
Cost of an 18" cheese pie: $16
---
Location: Mauldin
Cost of a large cheese pie: $8.99
---
Location: Rapid City
Cost of a cheese pie: $9
---
Location: Kingston Springs
Cost of a cheese pie: $9
---
Location: Houston
Cost of a 16-inch cheese pie: $9
---
Location: Hurricane
Cost of a cheese pie: $8
---
Location: Williamsville
Cost of a 14-inch cheese pie: $16
---
Courtesy of Brother's Pizza & Grill
Location: Lynchburg
Cost of a large cheese pie: $10.95
---
Location: Port Angeles
Cost of an 18-inch cheese pie: $18
---
Courtesy of Pies and Pints
Location: Fayetteville
Cost of a cheese pie: $17
---
Location: Kenosha
Cost of an 18-inch cheese pie: $15
---
Courtesy of Pizza Carrello
Location: Gillette
Cost of a 14-inch cheese pie: $12