Best Places To Visit in the Caribbean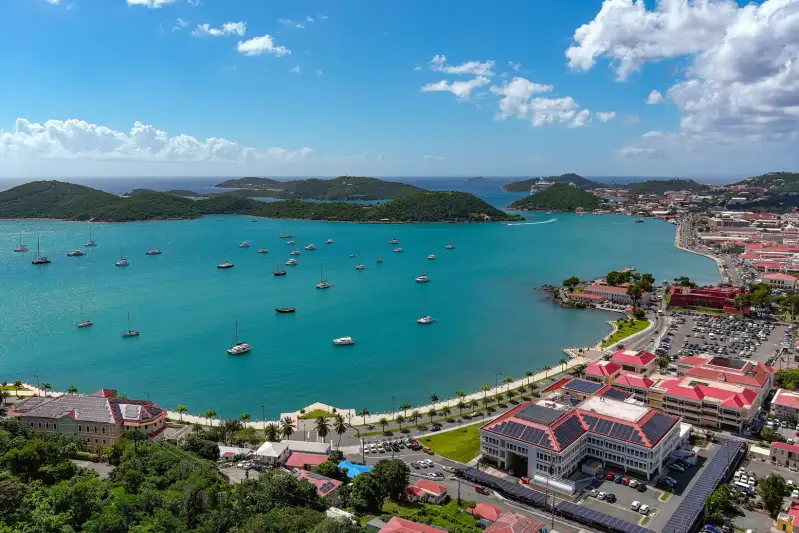 White sandy beaches, turquoise waters and rich cultures are just a few of the reasons why the Caribbean is truly one of the best places to travel. But what are the best places to visit in the Caribbean? The answer depends on how you'd like to spend your trip.
Below, you'll find our top picks for the best Caribbean vacations for families, couples, nightlife enthusiasts and everyone in between. Keep reading to learn more.
Our Top Picks for Best Places To Visit in the Caribbean
Best Places To Visit in the Caribbean Reviews
Best Beaches in the Caribbean: British Virgin Islands
Pros
A beach for every type of vacationer
Not as crowded as some other Caribbean destinations
Home to renowned restaurants and resorts
Plenty of ecotourism opportunities
Cons
More expensive than other Caribbean destinations
Nightlife is limited to a few central hubs
The islands can be more difficult to reach than other Caribbean destinations
Why we chose it: The British Virgin Islands has a beach for everyone. Whether you're interested in snorkeling, hiking or partying on tropical islands, you'll find the perfect place to do so here.
The British Virgin Islands encompass over 50 islands spread across just under 60 miles in the Northeastern Caribbean. The four main islands are Tortola, Virgin Gorda, Anegada and Jost Van Dyke — each of which has several beaches that may appeal to you.
If your idea of the best Caribbean vacation involves beach-centric nightlife, Jost Van Dyke is a great place to begin your journey. White Bay Beach on the island's southern side has become an international destination for party lovers thanks to its bars, but it also offers incredible white sand beaches and snorkeling opportunities.
If you prefer getting out and exploring nature, the Baths on Virgin Gorda offers a series of granite caves you can swim through and plenty of hiking opportunities along the serene coastline.
Other popular beaches include:
Cane Garden Bay – For families looking for adventure
Smuggler's Cove – For couples looking for a romantic escape
Loblolly Bay Beach – For couples and families looking for a picturesque beach to lounge on
Long Bay Beach – For snorkeling purists
Devil's Bay – For families interested in a budget vacation
Best All-Inclusive Resorts: Saint Lucia
Pros
Plenty of all-inclusive options, from the affordable to the luxurious
Miles of tropical rainforest for adventurers to explore
Restaurants featuring the best in African, Indian and European cuisine
Cons
The island's hilly terrain can be challenging for guests with limited mobility
Can be more expensive than other Caribbean destinations
Why we chose it: Saint Lucia doesn't just offer some of the most beautiful all-inclusive resorts in the Caribbean; it's also home to some of the most affordable. There are plenty of options to choose from here, which makes it easy to find one that fits your needs.
Saint Lucia stands out as a destination for all-inclusive resorts thanks to a variety of affordable options that can work for couples and families alike. For example, the Coconut Bay Beach Resort and Spa has a wing for couples with an oceanfront spa and hammocks for lounging, plus it has a separate wing with a waterpark and paintball court for families.
Other popular all-inclusive resorts in Saint Lucia include:
Windjammer Landing Villa Beach Resort – Built into a lush hillside with six swimming pools and direct access to white-sand beaches
Serenity at Coconut Bay – The quintessential adults-only Caribbean stay
Sandals Grande St. Lucia – Features over-the-water honeymoon bungalows, which are perfect for couples
Sugar Beach – Situated among more than 100 acres of rainforest
Best for Nature Lovers: Rincón, Puerto Rico
Pros
U.S. travelers won't need a passport to visit
Offers a wide variety of nature-focused activities to enjoy
Offers a more secluded, quiet vacation than larger Puerto Rican cities
Cons
Fewer opportunities for nightlife than other Caribbean destinations
Crowded beaches during the winter, when the small town becomes packed with tourists
Why we chose it: Rincón, Puerto Rico, has miles of white-sand coastline with palm trees, scenic coves for snorkeling and coastline parks to watch surfers tackle big waves.
Puerto Rico is an easy trip for U.S. travelers. Since it's a U.S. territory, you won't have to go through customs, purchase an international phone plan or worry about exchanging currency. You don't even need a passport to visit.
Rincón is one of Puerto Rico's top destinations and a perfect fit for nature lovers. The town is known for being one of the Caribbean's premier surfing destinations, even hosting world surfing championships. But there are also plenty of nature-focused activities to experience, including:
Scuba diving
Deep-sea fishing
Snorkeling
Hiking
Horseback riding
Whale watching
Swimming beaches
Best Nightlife in the Caribbean: Santo Domingo, DR
Pros
Offers a diverse array of nightlife options in convenient centralized locations
More affordable than many other places in the Caribbean
Has a rich cultural history visitors can explore through guided tours and museums
Features beaches, caves, and forests to explore during the day
Cons
It's difficult to find secluded beaches here
Traffic can be a challenge and may cause delays throughout your trip
Why we chose it: Santo Domingo offers a variety of nightlife options, from clubs and bars to restaurants catering to every taste. As the largest city in the Dominican Republic, it attracts tourists from across the globe you'll be able to mingle with during your stay.
Santo Domingo is one of the best international places to travel for nightlife. Its main party areas are the Zona Colonial, Avenida Venezuela and Naco/Piantini. With plenty of bars, clubs and music venues to choose from, the nights will never get dull in Santo Domingo.
The area also offers plenty to keep you busy during the day. It's home to colonial-era homes and cobblestone streets with daily guided tours. You'll also find fun beaches and national parks to explore — some of which feature cave systems and unique geological formations.
You can enjoy everything that Santo Domingo has to offer without breaking your budget too, with prices that will look comparatively cheap to U.S.-based visitors.
Best for Romantic Vacations: Belize
Pros
Home to secluded islands and private beaches that are ideal for couples
Rich cultural history with unique Mayan ruins to explore
Diverse landscapes with miles of coastline and tropical rainforest to enjoy
Many opportunities for watersports, including snorkeling, scuba diving and kayaking
Cons
Lacks nightlife options that other Caribbean countries have
Public infrastructure and transportation can be difficult to navigate
Why we chose it: Belize is home to many scenic beaches and secluded islands that offer couples the space to enjoy each other's company. There are also many resorts and private villas that cater to couples.
In Belize, you will find some of the top resorts in the region, including both private rooms and villas with oceanfront views. With private pools and in-facility fine dining, you and your partner will have no problem finding a place to unwind, free from the distractions of home.
When you want to get out and explore, you'll find plenty of options for that as well. The country is home to stunning Mayan ruins, miles of rainforest and quaint coastal towns for walking in the sunshine.
Belize does lack some of the nightlife and fine dining variety visitors to other Caribbean locations can enjoy. It can also be difficult to navigate in remote areas with limited public transportation and rural roads.
Other places to visit in the Caribbean we considered
Our list of the best places to visit in the Caribbean is not exhaustive. Every part of this region has its pros and cons, some of which will better fit your vacation goals than others. With that in mind, here are some other options you may want to consider while putting together the best Caribbean vacation possible.
Havana, Cuba
Pros
Prices are more affordable than other Caribbean destinations
The country has a rich culture and history
There are miles of scenic coastline to enjoy
Cons
U.S. visitors must apply for a visa and cannot visit for explicit tourism purposes
Cuba's infrastructure can create challenges for visitors
The island's food options are limited – especially outside tourist areas
Havana is home to some of the best beaches in the Caribbean. But traveling there can be a challenge, as you must meet one of the government's approved reasons for visiting Cuba, and the state of the country's infrastructure can lead to frequent power outages and limited internet access.
Turks & Caicos
Pros
Features some of the most beautiful beaches in the Caribbean
The waters are perfect for snorkeling and scuba diving, with colorful coral reefs and tropical fish
Visitors can also explore natural reserves, mangrove forests and wetlands
Cons
It's more expensive than other places with similar features in the Caribbean
Options for nightlife are limited
Tourist hotspots become very crowded during peak season (December through April)
Turks & Caicos is a beautiful Caribbean destination with white sandy beaches and clear water seemingly everywhere you look. It's also home to many luxury resorts. However, it's more expensive than other Caribbean islands and has a relatively quiet nightlife scene.
St. Barts
Pros
Home to many fine dining establishments and luxury resorts
Cons
More expensive than other destinations
The small island gets very crowded during the winter
St. Barts is home to beautiful beaches, miles of scenic hiking trails and some of the best resorts in the Caribbean. But it's more expensive than other destinations and is a small island with limited accessibility.
Places To Visit in the Caribbean Guide
Choosing which islands to visit in the Caribbean can be challenging since they all offer beautiful beaches and plenty of resorts for tourists. In the following guide, we provide more context on this region to help you make a more informed decision for your next trip.
The basics of the Caribbean Islands
The Caribbean is a region of islands and mainland coasts located south of the United States and east of Central America. It encompasses parts of several coastal countries in addition to more than 700 islands.
Here's some basic information you should know if you're a U.S. citizen who's interested in visiting:
No visa necessary: With the notable exceptions of Cuba and Venezuela, U.S. citizens can visit most Caribbean nations visa-free for up to 30 days.
USD is typically accepted: There are 13 currencies used across the Caribbean, but most places — especially in regions known for tourism — accept U.S. dollars.
English is widely spoken: Spanish, French and Creole are the most common languages used by citizens of the Caribbean, but English is widely spoken as well.
Don't visit in September or October: This is the peak of hurricane season and also when the Caribbean islands typically receive the most rain and tropical storms.
You'll need an international phone plan (except in Puerto Rico): If you want to use your phone to keep in touch with people back home, you'll need either a local SIM card or an international plan — unless you visit Puerto Rico, since it's a U.S. territory. An international phone plan is a must regardless of the destination you choose on our list of the best international places to travel.
Travel insurance is always a good idea: The Caribbean is home to beautiful weather for most of the year but also experiences its fair share of unexpected tropical storms. The best travel insurance companies can keep you protected financially.
Don't forget to use reward programs: If you're going to spend money on a Caribbean vacation, you might as well join one of the best airline rewards programs and best hotel rewards plans. Doing so will give you cashback or accommodation vouchers for your next trip.
Sub-regions
Geographers and economists tend to split the Caribbean into nine distinct sub-regions:
Bahamian
Bermuda
Eastern Caribbean
Florida
Greater Antilles
Gulf of Mexico
Southern Caribbean
Southwestern Caribbean
Western Caribbean
As a traveler, these may or may not matter to you. On the one hand, there can be subtle variations in weather in different subregions. For example, Caribbean destinations in Florida and the Gulf of Mexico will have similar weather to U.S. coastal cities in the south. Islands in the Southwestern Caribbean, on the other hand, will have weather closer to nations in Northeast South America. Travel within sub-regions may also be easier.
Weather
The Caribbean enjoys beautiful, sunny weather most of the year, with highs often in the 80s. However, the region also has a wet season, which runs from July to November. This is when tropical storms and hurricanes can form and pass through.
If you want to visit the Caribbean and avoid the bad weather, it's best to visit the region during its dry months, which last from December through May. That being said, this is when most people visit, so you should expect larger crowds — especially if you arrive in the peak winter months.
More on Caribbean travel
Looking for some more tips before booking your trip to the Caribbean? These should help you plan a better vacation.
The best time to visit the Caribbean
The Caribbean enjoys its best weather during the winter, from the tail end of November through February. However, this is also when the islands are busiest, and accommodations and flights may be more expensive.
That's why you may want to plan your trip for May, June or November. These months fall just outside the region's rainy season and are less busy than the winter. You may also be able to find better deals during this time, which you can make even better by signing up for one of the best travel credit cards.
The main thing to avoid is visiting the Caribbean during the peak of hurricane and tropical storm season, which lasts from September to October, but can extend from June to November in some years. If you want to visit during these months, it's a good idea to purchase travel insurance. It can help to cover some of the excess costs you may incur if your trip gets canceled due to inclement weather.
The best activities to try in the Caribbean
Caribbean beaches host an abundance of activities including:
Snorkeling
Scuba diving
Surfing and boogie boarding
Windsurfing
Deep sea fishing
Swimming
But there's also plenty to do away from the beach. You could hike through a rainforest such as El Yunque or explore the Mayan ruins in Belize. Many Caribbean destinations also have downtown districts with walkable streets, shops and plenty of great restaurants to try. You may even be able to earn points with your purchases if you pay with one of the best airline credit cards.
The best foods to try in the Caribbean
The Caribbean is home to a culinary culture that's entirely its own, thanks to the region's many influences. You can get a fine French meal in St. Barts, enjoy modernized Spanish classics in Puerto Rico or try jerk chicken in Jamaica. If you're traveling with one of the best cruise lines, you'll undoubtedly be served excellent food, but there's no substitute for a locally-prepared meal.
Caribbean cuisine varies by region, but here are some traditional Caribbean foods you may find in some of the locations you visit:
Conch Fritters: Savory conch meat is mixed with flour, spices, and vegetables, then deep-fried until crispy and golden brown. Other types of seafood fritters are also common across the Caribbean.
Fried Plantains: A sweet and savory snack made by thinly slicing ripe plantains and frying them until golden brown. Variations can be found all over the Caribbean.
Goat Curry: A Caribbean twist on an East Indian classic featuring tender chunks of goat meat in spiced curry.
Roti: This flatbread is a staple of some Eastern Caribbean islands, and you'll often find it filled with seafood, curried meat and vegetables.
Rum Cake: A classic Caribbean dessert made with dark rum and dried fruit or nuts, it's often served during holidays and special occasions.
Places To Visit in the Caribbean FAQ
What islands are in the Caribbean?
There are hundreds of islands of all sizes across the Caribbean region, but just 13 sovereign island nations, as shown below:
Antigua and Barbuda
Bahamas
Barbados
Cuba
Dominica
Dominican Republic
Grenada
Haiti
Jamaica
Saint Kitts and Nevis
St. Lucia
St. Vincent and the Grenadines
Trinidad and Tobago
What country is the largest island in the Caribbean?
Cuba is the largest island country in the Caribbean, with a total land mass of more than 110,000 square kilometers. The second-largest island in the Caribbean is Hispaniola, which has a total land mass of around 76,000 square kilometers and includes both the Dominican Republic and Haiti.
When is the best time to cruise the Caribbean?
The best time to cruise the Caribbean is from December to April. This is when the region's weather is at its best, as you'll avoid the rainy season and will be able to enjoy the tropical sun without it getting too hot. This is also a big time for holiday celebrations and festivals, which the best cruise lines will fold into your trip.
What language do they speak in the Caribbean?
Spanish, French and Creole are the most common languages used by residents of the Caribbean. But English is also widely spoken — especially in areas with frequent tourists. You can get by in most places with English alone, but it can be helpful to learn a few common phrases in Spanish or French, depending on where you're visiting.
How We Chose the Best Places To Visit in the Caribbean
We compiled our list of the best places to visit in the Caribbean by considering each of the following factors:
Affordability: We looked at the average prices of accommodations, food and excursions to determine a location's affordability.
Safety indicators: We reviewed crime rates and other safety indicators as they relate to tourists.
Ease of travel: We examined factors such as visa requirements and flight availability to determine how easy it is for travelers to visit the destination.
Infrastructure: We considered the quality of the location's infrastructure, as well-maintained roads and facilities reduce the likelihood of unwanted delays and unexpected issues while traveling.
Firsthand accounts: We looked into reviews from experienced Caribbean tourists to hear what they had to say about each location.
Summary of Money's Best Places To Visit in the Caribbean