The Best Sound Bars for Your Money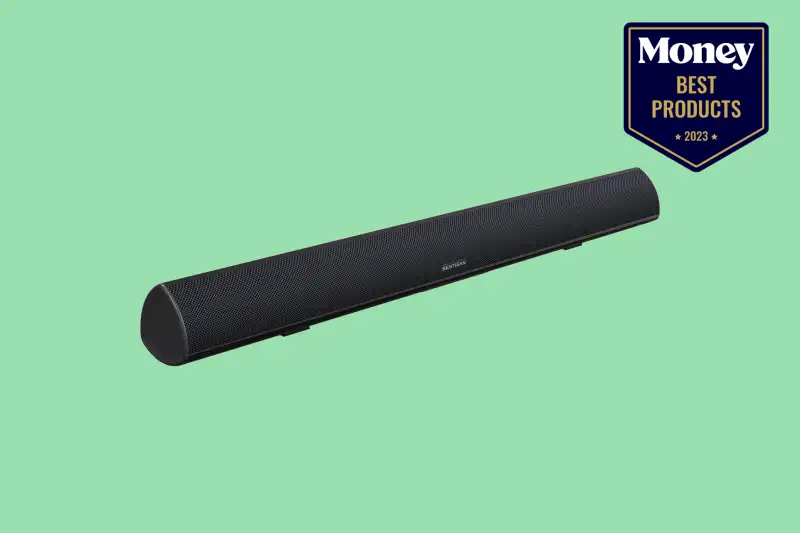 If you're a fan of movies, music and gaming, then you know how important it is to have the right audio setup. Good sound lets you appreciate the action, the dialogue and the music, giving you a full cinematic experience. That's why it's important to invest in quality sound equipment.
In this article, we'll share our choices for the highest-rated sound bars in 2023. We compiled reviews of the top models on the market, thoroughly evaluating features, performance and cost. Whether you're looking for something to add richness and depth to your movie-viewing experience or to take your music listening to the next level, we've got you covered.
Best Overall: Bestisan Soundbar
Best for Dialogue: Bose TV Speaker Soundbar
Best Surround Sound: Vizio M-Series All-in-One 2.1 Immersive Sound Bar
Smart Features: Sonos Beam Smart TV Sound Bar
Best Set: Polk Audio Signa Sound Bar
Reviewing the Top Sound Bars of 2023
List Price: $95.99
The Bestisan Soundbar is the best overall option for its variety of quality features and components at an affordable price. The dual bass ports provide a richer and deeper bass without distortion. Its 3-inch full-range drivers offer a high-end audio experience for a sound that can be felt and heard throughout the room with equalizing clarity. It has three equalizing modes to customize the audio to movies, music, or dialogue for an ideal sound experience, regardless of your preferred media. The remote control makes it easy to switch between these settings with just a push of a button.
This pick includes standard audio cable, RCA, HDMI, and optical inputs to hook up your TV, game consoles, and other systems. It also has Bluetooth 5.0 technology so you can listen from your phone or other wireless devices. Its overall design is modern and sleek, with a flat profile that makes it easy to fit under your TV or securely mount on a wall. The included user manual ensures the installation process is quick and straightforward. This sound bar is one of the top models on the market for anyone looking for a high-quality sound upgrade to their home theater without a high price..
Pros
Great sound quality without distortion
Multiple connection options
Remote has presets and equalizers
Easy setup and installation
Cons
May require treble and bass tuning
Audio may be muddy for certain media
List Price: $279.00
Tired of depending on subtitles to keep up with what's happening on the screen? The Bose TV Speaker Soundbar comes with the ability to clarify and elevate vocals and pronunciation, making dialogue much easier to hear and understand. You can adjust the dialogue mode at any time to increase the speech and vocal audio levels. Whether you're watching movies, sports, or playing video games, this feature makes the audio presentation clearer. The included remote allows you to easily boost the bass to create an authentic movie theater sound experience.
This model also includes Bluetooth functionality, enabling users to stream music and podcasts wirelessly from their devices. Thanks to its slim 2-inch height, this sound bar is easy to place in front of your TV or mount onto your wall. It has two angled full-range drivers to offer a more realistic audio experience than traditional sound bars for better overall sound. You can connect up to three devices simultaneously; when multiple systems are connected, it will automatically select the first device powered on. Its compact design, high-tech audio output, and vocal clarification technology make it an excellent choice for those looking to upgrade their TV show and movie-viewing experience.
Pros
Clear sound quality with dynamic range
Compact design with great audio output
Clarity boost for dialogue and vocals
It's easy to adjust settings
Cons
Remote is difficult to use in low lighting
Hard to coordinate the remote with others
List Price: $199.99
With built-in Dolby Atmos technology for surround sound, the Vizio M-Series All-in-One 2.1 Immersive Sound Bar is a top-of-the-line model designed to bring home entertainment to life. Powered by six high-performance speakers and two built-in subwoofers, this sound system will fill any room with lifelike sound to fully immerse you in whatever you're watching. This state-of-the-art sound system incorporates DTS Virtual X technology, creating an audio experience reminiscent of speakers placed throughout the room.
In addition to its impressive sound profile, this sound bar has a minimalist design that looks great and fits in any space. This option is 2 inches high and 36 inches wide, making it ideal for smaller spaces or wall mounting. With its minimalistic design, advanced audio technologies, and powerful performance, this sound bar offers everything you need to enjoy your favorite movies the way they were meant to be experienced.
Pros
Surround sound experience
Clear sound without distortion
Subwoofer and speakers deliver powerful bass
Setup is fast and easy
Cons
No visual confirmation when increasing the volume
Subwoofer may distort if turned up too high
List Price: $369.00
The Sonos Beam Sound Bar offers the perfect combination of smart technology, style, and sound quality. It features an intuitive control system that allows you to adjust sound levels and settings with voice commands, the remote, the Sonos app, built-in Amazon Alexa, or other compatible devices. Its high-definition sound is powerful enough to fill any room and adds a sense of intensity and feeling to your favorite movies, TV shows, music, podcasts, audiobooks, video games, and more.
The compact size of 25.6 inches makes it a perfect fit for any TV without any furniture getting in the way or blocking the view. Setting up the sound bar is straightforward with two cords and automatic remote detection allowing users to go from unboxing to listening in minutes. When it comes to customizing and upgrading your setup, this model is a great starting point for building up a full Sonos sound system. You can add additional Sonos speakers such as the Sonos One SLs for surround sound or the Sonos Sub for added bass. This sound bar is ideal for anyone looking for an all-in-one audio solution that provides high-definition sound quality, a simple setup, easy operation, and smart connectivity options across multiple rooms and devices.
Pros
High-definition sound quality
Smart technology voice commands
Dialogue enhancer and night mode
Compatible with Alexa and other Sonos speakers
Cons
Lacks bass when used without additional speakers
Limited Alexa integration and functionality
List Price: $299.00
Sold with a wireless subwoofer, the Polk Audio Signa Sound Bar is ideal for anyone looking for a top-of-the-line sound system that provides rich audio quality and is compatible with 4K, 8K, and HD TVs. While many other models have a built-in subwoofer, this option has a separate one, as well as two mid-range drivers and two tweeters, to deliver deeper bass and more immersive sound. It also includes Polk's exclusive Voice Adjust technology and Dolby Digital 5.1 Decoding to help maximize sound clarity and reduce voice delays. This helps to provide clear dialogue from your favorite movies, TV shows, and sporting events.
Measuring only 2 inches tall, it fits well in almost any space, so you can easily mount it on the wall or place it in front of your TV without blocking the infrared remote sensor. Plus, you can use WiFi or Bluetooth to wirelessly stream music from your favorite streaming apps on your smartphone or tablet. The setup is extremely simple thanks to the included HDMI and optical cables that quickly connect your TV and subwoofer to the sound bar. With this sound system, you can upgrade your home theater with exceptional quality and sound in just minutes.
Pros
Slim and lightweight design
Separate subwoofer included
Six different sound modes
Easy to set up and use
Cons
Volume adjustment can be difficult
Subwoofer lacks a bass level indicator
Finding Your Ideal Sound Bar: A Buyer's Guide
A sound bar is a compact and powerful speaker system that can be connected to your TV to create an immersive sound experience. These devices provide a great way to get surround sound without purchasing a full-size home theater system. They are also much more affordable and you can easily install and set them up yourself.
But with so many options on the market today, it's hard to figure out which sound bar is the best for you. We're here to help make that decision a little easier. In this guide, we review the features to evaluate to choose the right sound bar for your home theater.
Number of speakers
The number of speakers in a sound bar can impact its power and overall sound quality. Look for models with multiple tweeters, subwoofers, and drivers for richer, fuller sound across a wide range of frequencies.
Audio quality
Audio quality is one of the most important aspects to consider when buying a sound bar. Look for models with a wide frequency range, audio technologies like Dolby Atmos or DTS:X support, and other features.
Size and dimensions
The size and dimensions of the sound bar should fit within your room layout and provide enough space for all your other audio equipment. Consider the size of your TV and the number of speaker units in relation to your room size before making a decision.
Connectivity options
Connectivity is another essential factor to consider when selecting a sound bar. Look for models with multiple inputs such as HDMI, optical audio ports, and Bluetooth compatibility for easy streaming from your devices. This will allow you to connect to and stream audio from multiple sources.
Remote control and user interface
Most sound bars have a remote control or app-based user interface that allows you to easily control settings and playback functions. Look for models with customizable settings and simple-to-use interfaces.
Voice assistant compatibility
Many modern sound bars have built-in voice assistants such as Google Assistant or Amazon Alexa, allowing you to control playback functions using voice commands. This can be very convenient and save time when setting up your audio system or making adjustments while watching TV shows and movies.
Room correction technologies
Room correction technologies such as Dolby Atmos or DTS:X help optimize audio output based on the size and shape of the room as well as other factors such as the placement of speakers and furniture. This makes an enormous difference in overall audio performance, so consider these technologies when buying a sound bar. Most manufacturers offer either or both of these technologies in their mid-to-high range models, so it's worth researching before deciding which one is right for you.
Installation options
Some models include a mountable wall design that can free up extra space in your living room while providing better sound dispersion, thanks to their angled design. Most wall mountable models are designed with adjustable tilt angles so you can always find the perfect angle to maximize your listening pleasure.
Special features
Some models offer additional features such as wireless subwoofers, rear speakers, and gaming modes that can add further depth and realism to your audio experience. Consider these special features carefully before committing to a specific model so that you get the most out of your speaker system.
Price
The price of your sound bar should reflect the quality of sound and features you expect. Generally speaking, sound bars in the mid-to-high range will offer better overall audio quality, be compatible with more audio formats and have bonus features like wireless subwoofers and gaming modes. When it comes to pricing, it's essential to select a model that delivers the best quality and functionality for your needs and budget.
Warranty and support
It's always good practice to check out the manufacturer's warranty policy before buying any electronic item, especially if it's expensive. Most reputable brands offer at least a one-year warranty on their products so check to see if one's available for your preferred model before making a purchase.
People Also Ask
Will a sound bar work with my existing audio setup?
It depends on what type of connections your existing audio setup has and what kind of connections the sound bar has. Most sound bars offer multiple connections such as HDMI, optical, and RCA, so there will likely be a compatible connection option.
What size sound bar should I get for my television?
The ideal size sound bar depends on the size of your TV since you'll want it to fit underneath the screen without obstructing your view or taking up too much space in your living room. For televisions sized 55 inches or less, you may want to invest in a sound bar that's at least 32 inches wide. If you have a larger screen, you might prefer something bigger such as a 36-inch speaker.
Is there a difference between sound bars and home theater systems?
Yes. Home theater systems typically have more components than a sound bar and may offer additional features such as increased surround sound capabilities. Sound bars generally are smaller in size and have fewer components than home theater systems but are still capable of delivering excellent sound quality. They also often come with convenient features such as Bluetooth connectivity.
Do sound bars provide surround sound?
Some models offer simulated surround sound through digital signal processing (DSP) technology. This technology utilizes algorithms to mimic a surround experience without additional components such as multiple speakers or separate amps and receivers.
What connections do sound bars usually come with?
Most sound bars come with HDMI ports for connecting your television or similar audio devices. Other connections include optical cables for digital audio, analog audio inputs for connecting devices like turntables, USB ports for playing music directly from external hard drives, and Bluetooth connections for wireless streaming from mobile devices.
What features should I look for when choosing a sound bar?
When selecting a sound bar, look for features such as multiple audio inputs, Dolby Atmos or DTS:X compatibility, wireless/Bluetooth connectivity, and user-friendly controls. You should also consider the size of the space where you plan to place the sound bar so you can select one appropriate for its size.
Why trust us
Our commitment to the consumer begins with product selection and ends with the last word we write in each article. Each sound bar is carefully vetted quantitatively through star ratings and the number of reviews qualitatively through careful examination of reviews and the features each one has to offer. Leveraging our team of bargain hunters, we're also always sure to keep your budget in mind while we find the best sound bars on the market. Our team of experts is dedicated to accurately depicting the pros and cons of each sound bar, translating technical product specifications into information you can understand. Our mission is to make sure you get the most bang for your buck…or, in this case, the highest quality sound for your buck.