The 15 Best Tech Companies to Work For — And the Jobs They Have Open Right Now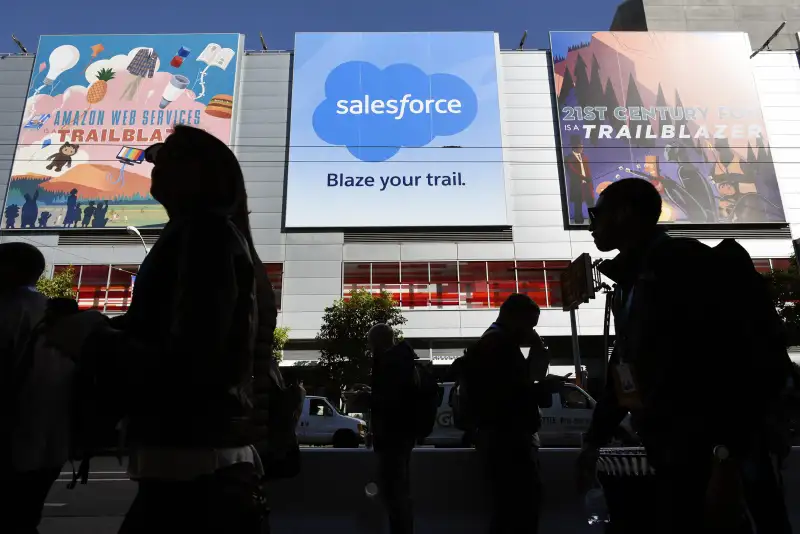 Michael Short—Bloomberg via Getty Images
Look at any best jobs list these days, and the top spots are typically dominated by tech-centric occupations like data scientist, devops engineer, and mobile developer. Not only do these gigs pay well, but they continue to be in demand—the tech industry shows no signs of slowing down anytime soon.
So what are the best tech companies to work for?
Jobs site Indeed crunched its massive database to find out. The site looked at companies with at least 50 reviews from current and former employees between October 2015 and December 2017 to come up with a snapshot of which places employees rate the highest. A combination of great pay, great stock options, phenomenal perks, and sweet offices makes these spots more than desirable.
Leading the pack is cloud computing software giant Salesforce, one of Indeed's most well-reviewed companies over the last several years. (It topped the overall best places to work list in 2017 and 2016.)
Others in the top 10 include usual suspects like Facebook, Google, Microsoft and Apple. But there's also a handful of legacy companies that are staying strong in this sector. Software maker Adobe came in at No. 2, and software maker SAP, the oldest company on this list, came in at No. 5.
Check out the full ranking below, with links to their current openings.
1. Salesforce (775 job openings)
2. Adobe (625 job openings)
3. Facebook (1861 job openings)
4. Google (1933 job openings)
5. SAP (949 job openings)
6. Apple (3,000 job openings)
7. Microsoft (3500 job openings)
8. Intuit (312 job openings)
9. Juniper Networks (85 job openings)
10. Yahoo! (No current openings)
11. Qualcomm (392 job openings)
12. Cisco (684 job openings)
13. Rackspace (87 job openings)
14. Intel (706 job openings)
15. Applied Materials (561 job openings)