'Fixer Upper' Star Chip Gaines Wants to Fund Your Next Business Idea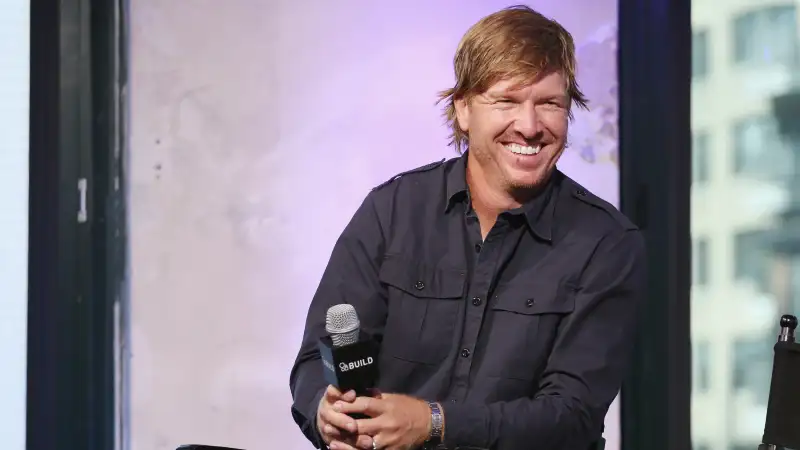 How do you know when it's time to make a monumental career change? For Chip Gaines, co-star of HGTV's wildly popular Fixer Upper, it came down to one thing: exhaustion.
"We have been running this marathon together that never seems to end, and we need to take some time, catch our breaths, and focus on our family and our business," he writes about his decision to walk away from the show in his new memoir Capital Gaines: Smart Things I Learned Doing Stupid Stuff, out this week.
It's easy to see how he became so drained. Over the last four years, Chip and his wife Joanna have shot more than 60 episodes — which means 60 massive home renovations — while also building their day-to-day business Magnolia Market, their growing media empire (they recently launched their own magazine), and raising their four kids.
Money recently spoke with Chip about what success means to him, the big purchase that made him realize he needed to grow up and how he wants to fund tomorrow's entrepreneurs.
In the first chapter of Capital Gaines, you write about not being able to read in the first grade. Did that experience shape the way you view success?
Most definitely. I'm 42 now, so I've come through some self-awareness stages and self-esteem stages. But as a kid, that was tough. My parents were really encouraging. I came from a great family. I didn't know any different. When I was supposed to go to a certified kindergarten that's supposed to teach you actual things like how to read, I went to a daycare that my parents thought was a kindergarten. I was crayola-ing inside the lines with no fundamental education at all. So I walked into the first grade with no formal education at all. So when they said "Hey, here's a simple book we want you to read" I said "Hey, that's great, sounds fascinating! What do you do with this thing? Chew on it?"
But you had to adapt quickly.
I became a BS-er. I became a salesman, a smooth talker. When you watch documentaries about people who have similar experiences — they either fall into this "Oh no, I'm terrible, I'll never accomplish anything" or they go the opposite route, where they teach themselves on the fly how to get out of circumstances. I'd get called on to read certain things, and on the fly, I'd come up with the most wittiest circumstances as to why I couldn't do that task. And it never had to do anything with my inability to read, of course — it had to do with all of these other things. They'd say "Oh, Chip, you're such a sweetheart." You just learn how to get out of those predicaments. And it served me well.
When you were in your 20s, you went to Mexico to learn Spanish — and kicked the day-to-day operations of your businesses to your then-girlfriend Joanna. It didn't go so well. What did that experience teach you?
It's really one of my sincere regrets. I'm not happy with how it played out. There were obstacles that presented themselves. In theory, had she and I been equipped to overcome those obstacles, I would have learned Spanish, coming home months later on the white horse. That's definitely not the way it played out. She and I had only been dating for a few months and neither of our parents knew the inner workings of my business. So it seemed like a complete emergency. The lesson learned: Be honest, be transparent, over-communicate the circumstances.
After you and Joanna had your first son, you went and bought a 4-wheeler and essentially drove it off a cliff, bashing your face in. Do you believe in karma? Was that bad juju for splurging?
It's never dawned on me that purchasing a beautiful large asset when I was essentially broke as a skunk, but looking from that perspective, that's pretty possible. But it forced me to think "Do you want to be a kid the rest of your life?" I've got Peter Pan syndrome. It's not that I refuse to grow up—I love building businesses, I want to be a good husband, a good father. But I don't want to be boring. I don't want to be normal.
When you first started Magnolia Market, what was the biggest stress in getting a family-run business off the ground?
I haven't made it. The proof is not in the pudding. We have a lot of trials and errors. But looking back, the soap box I've stepped on is the lack of capital. Capital was always the struggle. I always had these amazing visions. Had this amazing work ethic. Had this amazing work partner in my wife. But I was always struggling for capital. I owe a lot to local banks who were willing to take chances on Jo and I early in our career. A lot of people who we come across don't even have that. We had the opposite reality. We had local banks that trusted us, little by little.
We want to be available to people now. We're calling it Chipstarter instead of Kickstarter. We want to "Chipstart" a few people's dreams. If their business plan is great — what can we do to get behind you? We want to pay that forward.
How do you know when to take a financial risk?
We're bad people to ask about that. All we do is risk. Even as money started presenting itself to us, we weren't content with that. There's a lot of people doing TV and you can make a good living doing what we do on television. I show up, I do work, I do the TV gig, and then we go back to the house. But we were never remotely satisfied with that. We always looked at this as a business opportunity. And of course with this exposure, came amazing opportunities. And we wanted to parlay those into the next. Had we not done that and taken all those chips off the table and put it into a savings account somewhere, tucked our head in the sand like an ostrich — there's no way we build what we built.
You're walking away from Fixer Upper. Is pivoting scary?
Always. Anybody that says otherwise is a liar. Whenever you're at a poker table and you're betting all of your chips — you're worried, you're scared. Is it the right play? Have I thought through all the angles? That's what stinks about life and business in general. If I had to calculate 100% certainty on every deal I did, I literally would do zero deals.