How the 'Fixer Upper' Stars Chip and Joanna Gaines Went From Nobodies in Waco to HGTV's King and Queen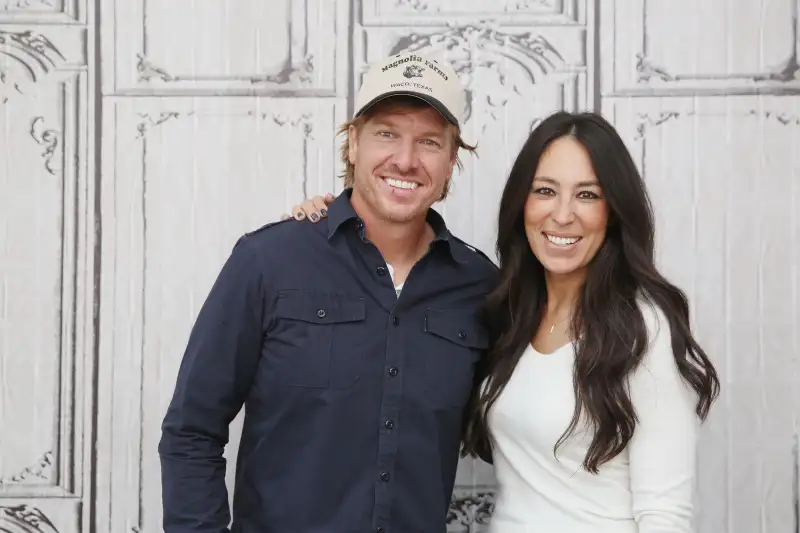 Mireya Acierto—FilmMagic/Getty Images
HGTV's highest-rated show, Fixer Upper, is coming to an end.
Chip and Joanna Gaines, who grew a cult hit with their reality series—in which the couple renovate homes in their native Waco, Texas—have announced that they're putting it to bed after season five, which premieres in November.
"While we are confident that this is the right choice for us, it has for sure not been an easy one to come to terms with. Our family has grown up alongside yours, and we have felt you rooting us on from the other side of the screen," the married co-hosts, who have four kids, said in a note on their site, explaining their departure. "How bittersweet to say goodbye to the very thing that introduced us all in the first place."
Here's how the down-to-earth, handy, and design-savvy Texas couple made their way to being two of TV's biggest stars.
Chip came to Texas as a kid...
Chip and Joanna have truly built their empire from the ground up, and it all started in Texas. Born in Albuquerque, New Mexico, Chip ended up in Dallas and spent much of his childhood on his grandfather's ranch in North Texas.
...and so did Joanna.
She was initially raised in Kansas, but her family moved to Austin and then Waco when she was in high school.
They had a lucky meeting.
Though Chip and Joanna both went to the same college, Baylor University, it wasn't until after graduation that they got to know each other. Chip, who spent time running several businesses, came to a Firestone owned by Joanna's father, where she was working. Chip's line to her was: "Hey, you're the girl in the commercials," referencing ads for the store. They married a little more than year later in 2003.
The married couple immediately went into business together.
Their first project together was opening their shop Magnolia Market after borrowing $5,000. It's one of several businesses they now own in Waco, Texas. Joanna learned about interior design on the job.
They also quickly started flipping homes as a team, but following the housing market crash, they focused on renovation.
"Early on we had our fair share of fights and figuring out where the boundaries were," Joanna said. "He's good at the big picture, and he's good at risk. I like the details."
Then HGTV came calling.
With a decade of renovation experience already behind them in the Waco area, Chip and Joanna shot a pilot for a show, which aired on HGTV in spring 2014 and was already successful with 1.9 million viewers. It was clear from the beginning that they had a knack for turning seemingly uninhabitable spaces into dream homes.
"I think it is their perfect imperfections," Allison Page, the general manager at both the HGTV and DIY networks, told Texas Monthly. "They have the kind of marriage and family you'd want. It's not perfect. He does silly things, and they occasionally trip over their words or sweat on each other. They are the best of what's real in life."
Fixer Upper soon became a mega-hit—and their business skyrocketed.
The show was slated for five seasons with an option for a sixth. Now reaching its fifth and final season, it has dominated viewership on HGTV and cable more generally. Fixer Upper earned the second-most-watched cable telecast of the second quarter of 2017, after The Walking Dead with 5.21 million viewers for the season-four finale.
Chip and Joanna are now moguls in their own right. They've launched a number of new ventures, including a paint, rug, wallpaper and furniture line; an upcoming quarterly magazine; and a new book, The Magnolia Story, which will be release October 18.
Now with a bigger Waco empire, they're saying a "bittersweet" goodbye to Fixer Upper.
In their farewell post, which also included a video, Chip and Joanna said to fans, "We have poured our blood, sweat, and tears into this show. We would be foolish to think we can go and fire on all cylinders and never stop to pause. Our family is healthy and our marriage has honestly never been stronger." They also denied that the show's close had anything to do with rumors that Joanna was tied to a skincare line .
"This is just us recognizing that we need to catch our breath for a moment. Our plan is to take this time to shore up and strengthen the spots that are weak, rest the places that are tired, and give lots of love and attention to both our family and our businesses," they added. "Really, from the bottom of our hearts, thank you."