The Top 20 Toys Your Kids Will Be Begging for During the 2019 Holidays, According to Experts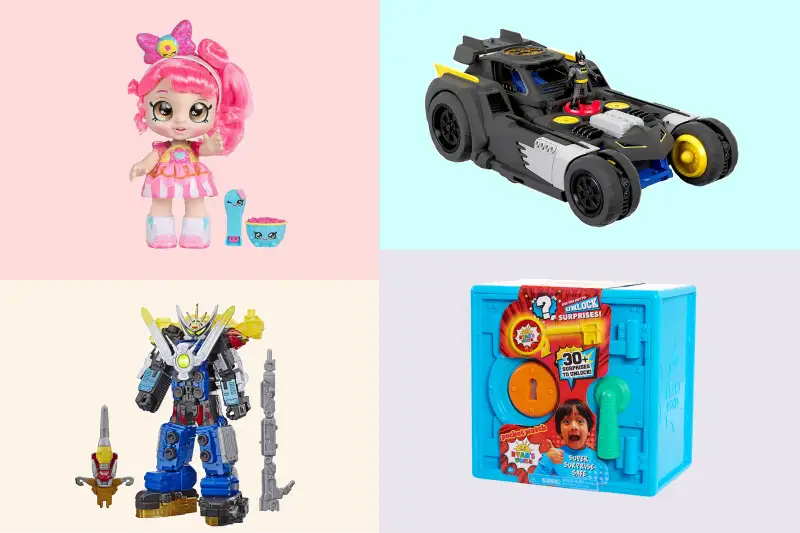 Courtesy of Amazon and Walmart
Industry publication The Toy Insider has published its annual "hot toys" list for 2019, if previous years have taught us anything, it's this: Parents, do not sit this one out.
Yeah, articles about smart spending (including some of Money's!) will point out that holiday toys tend to get discounted very close to Christmastime. This is true. But the big asterisk here is that the most popular toys tend to sell out way, way earlier than that. So last-minute toy deals are often limited only to whatever's been selling very slowly and stores want to unload.
Besides, retailers have gotten smarter about inventory management; in other words, it's less likely there will be extra toys laying around a week before Christmas for a last-minute fire sale. Trust us, we've seen the frenzies before — Hatchimals, Fingerlings, L.O.L. Surprise, Scruff-a-Luvs, you name it. We don't want to see you duking it out on eBay and paying multiple times the list price of these "must-haves" — some of which are already selling out.
According to Marissa DiBartolo, The Toy Insider editor-in-chief, the best thing parents can do is to keep checking retailer sites to see if inventory has been restocked, or shop local brick-and-mortar stores. Here is the Toy Insider's top 20 holiday toys list for 2019, broken down by age appropriateness.
Best Toys for Ages 0-2 Years
Little kids will love this bouncy ride-on toy with multicolored lights, songs, sounds and educational phrases (more than 100 in total).
To buy Fisher-Price Bounce & Spin Puppy: from $54.99, amazon.com
From educational-toy manufacturer LeapFrog, this 61-piece block playset includes interactive blocks that give feedback with sounds, songs and phrases.
To buy Leapbuilders ABC Smart House: from $29.97, amazon.com
Best Toys for Ages 3-4 Years
Licensed toys are usually a sure thing for retailers, and this year is no exception: This remote-control Batmobile has lots of lights and sound effects to make it extra-engaging.
To buy Fisher-Price Imaginext DC Super Friends Transforming Batmobile: from $79, amazon.com, target.com, walmart.com
This plush bear from manufacturer Hasbro is one of many animatronic pets on this year's list. It hugs, dances, plays peek-a-boo and moves its eyes, nose and mouth. (And yes, it makes noise, too.) As of October 3, it was on sale for $84.99, down from $99.99.
To buy FurReal Cubby, the Curious Bear: from $99.99, amazon.com
There are four different "characters" in this cast of 10" bobblehead dolls (each sold separately — sorry, parents!) with food-themed names and accessories like a bowl of cereal or a cupcake.
To buy Kindi Kids Dolls: from $24.99, amazon.com
This interactive unicorn sings and sparkles, with eyes, wings and horn that light up and change colors thanks to the included "magic wand."
To buy Myla The Magical Unicorn: from $59, amazon.com
This nine-piece transforming truck has lights, sounds and enough accessories to keep them entertained all afternoon.
To buy PJ Masks PJ Seeker: from $59.99, amazon.com
This Walmart-exclusive toy is based on the Ryan's ToysReview YouTube channel — a new trend we've noticed this year in branded toys. It also taps into the popular reveal and unboxing trend with more than 30 surprises your kid can discover.
To buy Ryan's World Super Surprise Safe: from $39.99, walmart.com
Scruff-a-luvs were last year's hit holiday toy. This year, retailers are betting the combination of the surprise reveal (you don't know what kind of critter you have until you open the packaging and give it a bath) and animatronic play pet will once again be a holiday winner.
To buy Scruff-a-luvs Real Rescue: from $39.99, amazon.com, walmart.com
Best Toys for Ages 5-7 Years
With floofy hairstyles that resemble items like fruit, flowers and desserts, these 22 collectible dolls start out as "seeds" that grow when your kid waters them.
To buy Blume Dolls: from $9.88, amazon.com
This is the second toy on this year's list based on a YouTube channel (FGTeeV, in this case), and it also has an unboxing them with little surprise toys like an action figure and a squishy hidden in the carrying case.
To buy FGTeeV Giant Mystery Teev: from $39.99, target.com, walmart.com
Hatchimals were the breakout (no pun intended) holiday toy of 2016. Manufacturer Spin Master — which also is behind the popular Paw Patrol line of toddler toys — is hoping to capture lightning in a bottle a second time with the release of this new line of interactive llama-unicorns that grows up to 32" tall.
To buy Hatchimals Wow Llalacorn: from $79.99, amazon.com
There are several different editions of the L.O.L. Surprise dolls, which have been enduringly popular (not just around the holidays!) for the past few years. This year, this collection of four "big sister" dolls makes its debut — and if current availability is any indication, they're going to be popular.
To buy L.O.L. Surprise! O.M.G. Fashion Dolls: from $26.99, amazon.com, target.com, walmart.com (note: some characters are sold out at some retailers)
Another collectible comes from toymaker WowWee, which is likely trying to get "lucky" again after its breakout holiday toy hit of 2017, Fingerlings animatronic monkeys. The surprise in this toy is a paper fortune and a bracelet — there are 100 different ones.
To buy Lucky Fortune: from $3.99; $10.90 for four-pack on amazon.com
This remote-control truck can handle off-roading with oversized tires with a rugged tread, plus sturdy shocks and suspension.
To buy Monster Jam "Mega Grave Digger": from $99.99, amazon.com
Old Power Rangers don't die; they just keep getting new features. This action figure emits more than 30 sounds and phrases as it battles the bad guys.
To buy Hasbro Power Rangers Beast Morphers: from $34.99, amazon.com, target.com
Parents of a certain age might be struck by how much this lil' animatronic guy resembles a certain 1984 movie "monster" (hint: even their names rhyme). These plush toys sing and make music in different genres, depending on their color.
To buy Rizmo: from $59.99, amazon.com, target.com
The third toy on this list with a YouTube tie, this unboxing surprise reveal collection of fanciful little animals with interchangeable wings and accessories comes via the "Tic Tac Toy Family" channel. Like many of these small, moderately priced toys, there are a slew of them — 24 in the first collection, in this case. Oh, and they're also already selling out.
To buy Tic Tac Toy XOXO Friends: from $9.99, amazon.com, target.com
Best Toys for Ages 8 and Up
Remember the Bedazzler? Blinger is the 21st-century version (ie. safer to use and not as permanent). This new "diamond" edition includes 75 adhesive-backed gems.
To buy Blinger Diamond Collection: from $19.99, amazon.com, target.com, walmart.com
This is the second llama on our list this year, so we're going to go ahead and call llamas the new sloths. This toy is another that taps into the surprise reveal trend, and it also is based on the wildly popular video game Fortnite. In other words, if this 25" treat-toting toy doesn't sell out well before Christmas, we'll be amazed.
To buy Fortnite Jumbo Loot Llama Pinata: from $70.99, amazon.com, target.com, walmart.com
We've included affiliate links into this article. Click here to learn what those are.