These Are the Best and Worst States for Retirement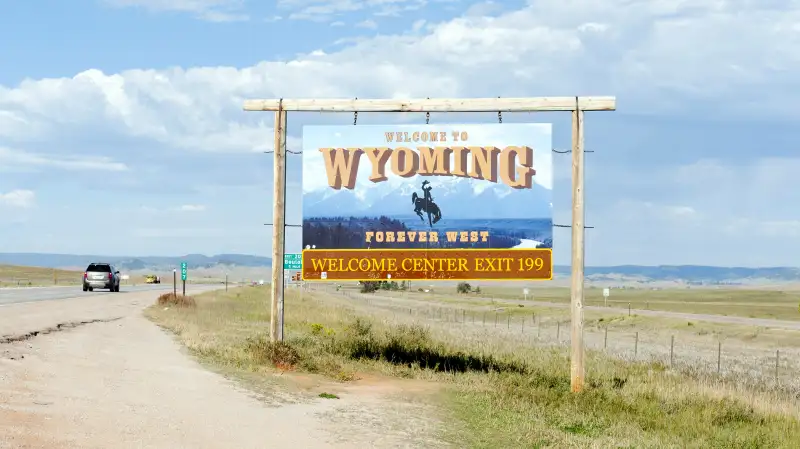 If you've been dreaming of retiring on a beach, you may want to trade in your surfboard and think about taking up horseback riding instead.
That's because Wyoming, for the second year in a row, was named the best state in which to retire, according to an annual survey from Bankrate.com. Western neighbors South Dakota, Colorado, and Utah ranked second, third, and fourth, respectively.
Bankrate calculates its ranking based on six factors: cost of living, taxes, health care, weather, crime, and residents' overall well-being. The top-ranked states score high on well-being and also offer a modest cost of living (a boon for retirees on fixed incomes) and below-average crime rates, according to the report.
Wyoming's best feature was its low tax burden, ranking third in the nation, while health care was its worst, landing it in 32nd place. New Hampshire, the state with the highest ranked health care services, was ranked as the 15th best place overall to enjoy life after work.
Read More: Money's Best Places to Retire
The worst state in which to retire? New York, owing to its expensive cost of living and high taxes. West Virginia, Oregon, Arkansas, and Louisiana rounded out the bottom five.
"While features like pleasant weather and nearby amenities are important, nuts-and-bolts considerations like cost of living and the local tax burden may have a bigger impact on your overall quality of life," said Bankrate senior analyst Claes Bell.
The survey results might disappoint for those thinking about tropical retirement locales like Florida and Hawaii: Those states ranked 28th and 45th, respectively. Florida suffered from its high crime rate and subpar health care; and as appealing as an island retirement might sound, Hawaii was dragged down by the highest cost of living in the country.
Coastal living in general apparently doesn't coincide with a smart retirement destination. Only one state in the top 10 (Virginia, ranked fifth) touches an ocean, and nine of the 12 worst states to retire lay adjacent to the coast.
Here's the full 50-state ranking.
| Ranking | Overall | Cost of Living | Crime | Happiness | Health Care | Taxes | Weather |
| --- | --- | --- | --- | --- | --- | --- | --- |
| 1 | Wyoming | Mississippi | Vermont | Hawaii | New Hampshire | Alaska | New Mexico |
| 2 | South Dakota | Idaho | Idaho | Alaska | Wisconsin | South Dakota | California |
| 3 | Colorado | Indiana | Maine | Montana | Maine | Wyoming | Colorado |
| 4 | Utah | Oklahoma | Virginia | Colorado | Massachusetts | Tennessee | Nevada |
| 5 | Virginia | Kentucky | Wyoming | Wyoming | Minnesota | Texas | Arizona |
| 6 | Montana | Tennessee | Connecticut | South Dakota | Iowa | Louisiana | Utah |
| 7 | Idaho | Alabama | New Hampshire | Minnesota | Rhode Island | New Hampshire | Idaho |
| 8 | Iowa | Kansas | New Jersey | Utah | Delaware | Nevada | Wyoming |
| 9 | Arizona | Michigan | Kentucky | Arizona | South Dakota | South Carolina | Montana |
| 10 | Nebraska | Georgia | North Dakota | California | Vermont | Mississippi | Virginia |
| 11 | Maine | Arkansas | South Dakota | Texas | Utah | Oklahoma | Massachusetts |
| 12 | North Dakota | Missouri | Iowa | Iowa | North Dakota | Montana | Rhode Island |
| 13 | Wisconsin | Iowa | Wisconsin | Wisconsin | Colorado | Alabama | Maryland |
| 14 | Minnesota | Nebraska | West Virginia | Florida | Virginia | New Mexico | Connecticut |
| 15 | New Hampshire | Utah | Minnesota | North Dakota | Nebraska | Arizona | New Jersey |
| 16 | North Carolina | Ohio | Pennsylvania | Virginia | North Carolina | Colorado | South Carolina |
| 17 | Kansas | Texas | New York | Connecticut | Washington | Florida | Kansas |
| 18 | South Carolina | Wyoming | Rhode Island | South Carolina | New Jersey | North Dakota | Delaware |
| 19 | Tennessee | Louisiana | Montana | New Mexico | Maryland | Georgia | North Carolina |
| 20 | Pennsylvania | Virginia | Nebraska | Maine | Michigan | Iowa | Georgia |
| 21 | Texas | North Carolina | Massachusetts | New Hampshire | Arizona | Nebraska | Nebraska |
| 22 | Rhode Island | New Mexico | Utah | Nebraska | Hawaii | Virginia | Pennsylvania |
| 23 | Vermont | Illinois | Mississippi | North Carolina | South Carolina | Washington | Texas |
| 24 | Mississippi | South Carolina | Illinois | Kansas | Pennsylvania | Missouri | Tennessee |
| 25 | Delaware | Wisconsin | Colorado | Washington | Connecticut | Idaho | New York |
| 26 | Massachusetts | South Dakota | Hawaii | Rhode Island | Illinois | Michigan | Oklahoma |
| 27 | Nevada | Arizona | Ohio | Delaware | Montana | Kansas | Maine |
| 28 | Florida | Florida | Oregon | Vermont | Alabama | Indiana | Florida |
| 29 | Michigan | North Dakota | Michigan | Massachusetts | Florida | Kentucky | South Dakota |
| 30 | New Mexico | Minnesota | Indiana | Alabama | Ohio | Utah | Arkansas |
| 31 | Alabama | Pennsylvania | California | Oregon | New York | North Carolina | Oregon |
| 32 | Kentucky | Colorado | Kansas | New Jersey | Wyoming | Ohio | Hawaii |
| 33 | Georgia | Montana | North Carolina | Pennsylvania | Tennessee | West Virginia | Kentucky |
| 34 | Illinois | Delaware | Maryland | Maryland | Oregon | Arkansas | Indiana |
| 35 | Washington | West Virginia | Georgia | Idaho | Missouri | Maine | Vermont |
| 36 | Ohio | Washington | Washington | Illinois | Kansas | Delaware | Illinois |
| 37 | Indiana | Nevada | Missouri | Nevada | Alaska | Hawaii | Ohio |
| 38 | Missouri | Maine | Texas | Tennessee | Idaho | Pennsylvania | Missouri |
| 39 | California | New Hampshire | Florida | Michigan | Indiana | Massachusetts | Iowa |
| 40 | New Jersey | Maryland | Oklahoma | New York | Georgia | Vermont | Washington |
| 41 | Maryland | Rhode Island | Arizona | Georgia | California | Oregon | Alabama |
| 42 | Connecticut | Vermont | Delaware | Louisiana | Kentucky | Minnesota | Mississippi |
| 43 | Alaska | New Jersey | Alabama | Mississippi | Mississippi | Rhode Island | North Dakota |
| 44 | Oklahoma | Oregon | Nevada | Arkansas | West Virginia | Maryland | Louisiana |
| 45 | Hawaii | Massachusetts | Arkansas | Missouri | Arkansas | Wisconsin | Michigan |
| 46 | Louisiana | Connecticut | Alaska | Ohio | Nevada | Illinois | Wisconsin |
| 47 | Arkansas | Alaska | Tennessee | Indiana | New Mexico | California | West Virginia |
| 48 | Oregon | New York | South Carolina | Oklahoma | Texas | New Jersey | Minnesota |
| 49 | West Virginia | California | Louisiana | Kentucky | Louisiana | Connecticut | New Hampshire |
| 50 | New York | Hawaii | New Mexico | West Virginia | Oklahoma | New York | Alaska |