This Palatial Beverly Hills Estate Is Back on the Market After a $66 Million Price Cut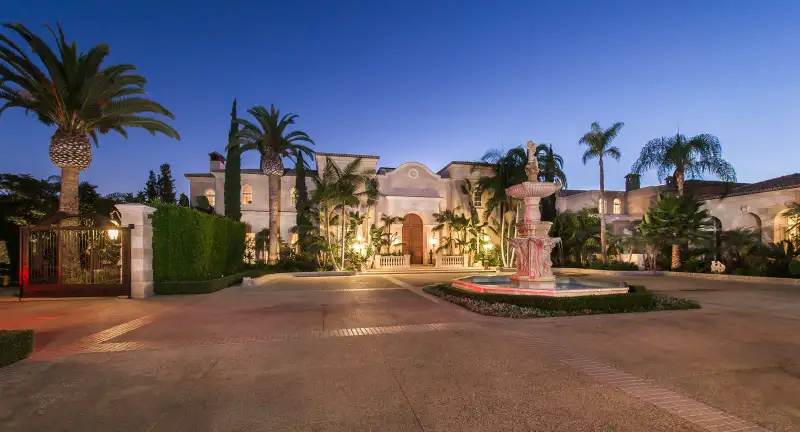 Unlimited Style Real Estate Photography
The one-time most-expensive home listed in the U.S. is back on the market with a significantly cheaper asking price.
That doesn't mean it's cheap. The 35,000-square-foot estate in Beverly Hills built by billionaire developer Jeffrey Greene is now being marketed for $129 million, down from an asking price of $195 million in 2014.
Known as the Palazzo di Amore after Greene and his wife were married there, the property has 12 bedrooms and 23 bathrooms, and it features amenities such as:
A vineyard
A Turkish spa
A waterfall
10,000 wine bottles and barrels
State-of-the-art DJ booth with revolving dance floor and laser-light system
A 50-seat movie theater
Parking for 150 cars
A bar with a giant sculpture of a $1 bill hanging over it
Stacy Gottula, the listing agent for the property, told Money it is naturally being marketed toward ultra high-net-worth individuals. But developers who could put their own stamp on it might also be interested.
She also said several properties have recently sold for $90 million to $100 million in the region, making this an opportune time to re-list the property.
The estate can also be leased for a mere $375,000 per month, down from the previous rental rate of $475,000 a month.
THE VINEYARD
THE VIEW
Unlimited Style Real Estate Photography
THE GRAND CHEF'S KITCHEN
Unlimited Style Real Estate Photography
THE ENTRYWAY
Unlimited Style Real Estate Photography
THE WINE CELLAR
Unlimited Style Real Estate Photography
THE TENNIS COURTS
Unlimited Style Real Estate Photography
THE BAR
Unlimited Style Real Estate Photography
THE GLASS WALKWAY
Unlimited Style Real Estate Photography
VAULTED CEILINGS
Unlimited Style Real Estate Photography
THE POOL
Unlimited Style Real Estate Photography
HAND-PAINTED CEILINGS
Unlimited Style Real Estate Photography
SITTING ROOM
Unlimited Style Real Estate Photography
DINING ROOM
Unlimited Style Real Estate Photography
TWIN CURVING STAIRCASES
Unlimited Style Real Estate Photography
REFLECTING POOL
Unlimited Style Real Estate Photography