Why You Should Have a Separate Savings Account Just for Beyoncé Expenses, According to Financial Experts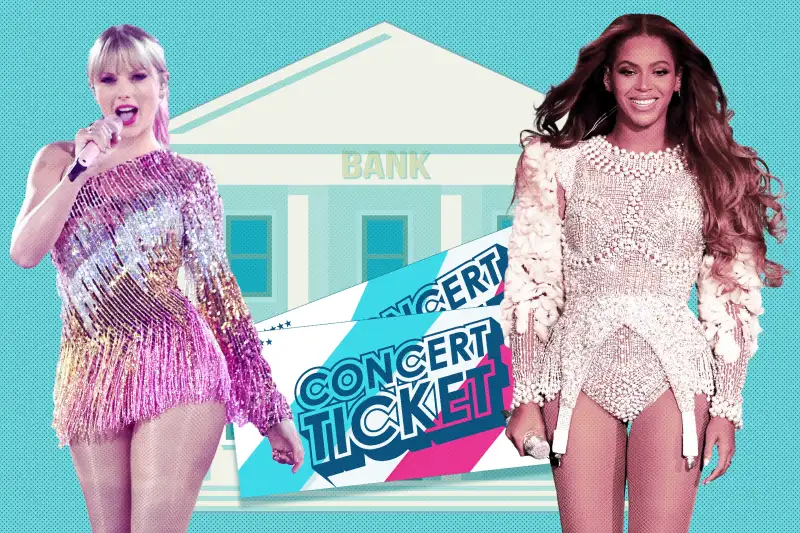 Photo illustration by Laura Geiser; Getty Images (4)
Money recently launched Dollar Scholar, a new personal finance newsletter written by a 27-year-old who's still figuring it out: me.
Every week, I'll talk to experts about a money question I have, whether that's "Are online banks sketchy? or "How many credit cards do I need?" As I learn, I'll share simple ways to improve your financial life… and post some funny memes.
This is (part of) the fourth issue. Check it out below, then subscribe to get future editions of Dollar Scholar every Wednesday.
---
More so than normal, August is all about the Jonas Brothers for me. After breaking up six years ago, they're going back on tour, and I have crazy-expensive tickets to see THREE shows in August. I am EXTREMELY excited. Can you tell by my use of caps lock?
When I was a teenager, my mom bankrolled my burnin' (up) passion for the band of brunette brothers. But now I'm (kind of) an adult, and that means the, oh, $500 or so I spent on those concert tickets came out of my pocket.
As a result, I've been paying closer attention lately to how other people deal with the financial burden of supporting their favorite musicians. One trend I've noticed is that a lot of Taylor Swift fans keep separate savings accounts dedicated solely to her tours/albums/merchandise. BTS fans, One Direction fans and Beyoncé fans apparently do this, too.
My money isn't parceled out, but given my Jonas Brothers splurges, I'm wondering whether I need to change my strategy. So here's the big question.
Should I compartmentalize my savings?
Kelsa Dickey, the owner and CEO of Fiscal Fitness Phoenix, told me it's not a bad idea. She said there are several benefits to using multiple savings accounts, which are often called sinking funds, sub-savings accounts or savings buckets. One perk is that it can alleviate anxiety and fear around spending. (Psh, who has those? Not me!)
Dickey said she's encountered people, for example, who have $5,000 in just one savings account — and they feel guilty if they ever have to touch it. When their car needs repairs, they start worrying about how they've depleted the amount they have in case they need to go the emergency room tomorrow. It's one big undefined blob of money, and she said that "makes all the whammies in life connected."
Portioning it out into various accounts, on the other hand, "evens out the rollercoaster ride of expenses." A person can relax knowing they have money stashed away for various purposes.
To that end, she said she tells clients to consider putting a set sum of money into a few different accounts each month — say, one for car repairs, one for medical bills, one for clothing, and so on. These are recurring expenses but won't necessarily need to be paid every month. As the unspent portion rolls over, each fund grows. That way, the next time they need to spend $500 on car repairs, it won't feel like such a big deal — they have a fund precisely for that purpose. And if a medical crisis occurs the next day, or floor seats at Madison Square Garden go on sale, they're prepared for that, too.
Another benefit of savings buckets is that they help people visualize their goals… and the consequences of shifting cash around. If I'm buying tickets and need a little more than what's in my JoBros fund, I have to make a conscious decision to take it from my clothing fund.
"It gives you a clear understanding of the tradeoff," Dickey says. "It becomes an intentional choice of, 'Yes, these [tickets] are important to me, and I'd rather buy these than spend money on clothing.'" 💸💸💸
A few caveats...
Of course, this strategy isn't perfect. Maryland-based certified financial planner Adam Hagerman told me about a few potential "gotchas" involved in setting up sub-savings accounts, like the fact that some banks charge monthly fees.
Hagerman added that I should be careful not to open my accounts at banks that only pay a high interest rate when my balance is over a certain number. If I have $1,000 in savings, but it's spread out across five accounts, I might not meet the minimum required to get the advertised APY. (He said Ally and Marcus by Goldman Sachs are solid options, as both offer the highest interest rate on the first dollar in the account.)
Finally, no matter where I go, Hagerman warned that there's a federal transaction limit of six savings withdrawals or transfers per month.
Bottom line: I should make separate savings accounts because they could help me stress less, visualize my goals better and be smarter about spending. Dickey said there's no real limit to how micro I go. If I find myself not needing a certain account anymore, I can just change its name (and purpose).
"I have some clients who have like 24 savings accounts, and they love it. It makes them feel in control," she says.