Biden Moves to Ban 'Junk Fees' Charged by Banks, Hotels, Ticket Sellers and More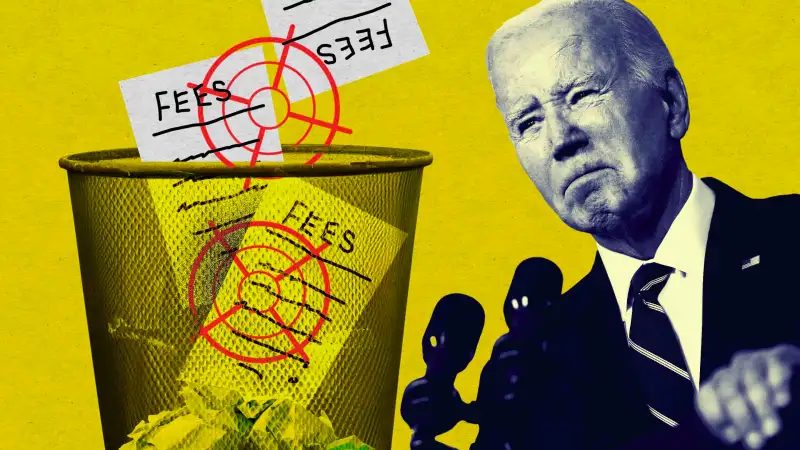 The Biden administration unveiled sweeping new rules that would curb banks, ticket sellers and other businesses from charging "junk fees" that cost Americans billions of dollars on top of the basic price of products or services.
The White House today announced a set of measures to end junk fees by several federal agencies, including the Federal Trade Commission (FTC) and the Consumer Financial Protection Bureau (CFPB).
"Junk fees can add up to hundreds of dollars weighing down family budgets, making it harder to pay family bills," President Joe Biden said in a speech from the White House lawn Wednesday. "These junk fees may not matter to the wealthy, but they sure matter to working folks."
If finalized, the junk fee ban will apply to businesses in almost all industries.
"Junk fees are unavoidable, surprise, excessive, or unnecessary charges imposed for fake or even worthless services," CFPB Director Rohit Chopra said on a call with reporters. "For years, junk fees have been creeping across the economy, and Americans are tired and fed up."
For example, when you book a hotel room and the advertised nightly rate is $150, but when you finalize your payment and see additional charges like a mandatory "resort" or "service" fee that hike up the overall price — that's a junk fee. And the federal government is stepping in to end them.
White House officials said that these types of fees, which are often hidden from the advertised price, end up costing Americans "tens of billions of dollars a year."
"That's billions of dollars that working families are paying in worthless fees — money that corporations are extracting from Americans just because they can," FTC Chair Lina Khan said on the call.
New 'junk fee' rules for banks and more
The FTC's rule proposal would ban misleading or hidden fees, requiring businesses to show the full price up front. Businesses would also be required to disclose whether the fees are refundable.
This rule does not require Congressional approval, but it is not yet in effect. As a proposal, it must first undergo a 60-day period of public comment before being finalized.
Officials said the rule applies to almost all sectors of the economy, excluding airlines and certain financial institutions.
The CFPB's new rule acts to supplement the initiative, focusing on banks and credit unions. The CFPB says many banks charge customers junk fees to access basic account information or to provide basic customer service. Chopra said that provisions of the Consumer Financial Protection Act, aka Dodd-Frank, already prohibit these practices.
"However, to date, this law has not been enforced," he said. "We are changing that."
The CFPB's rule applies to financial institutions with $10 billion or more in assets and is effective immediately.
Already, the CFPB has been investigating junk fees at banks, uncovering "major misconduct" related to overdraft fees at Wells Fargo, Regions Bank and Bank of America. The agency's scrutiny helped push many major banks and several online banks to reduce or eliminate overdraft and non-sufficient funds (NSF) fees. The CFPB estimates that the reduction in these types of fees alone have saved Americans $2 billion a year.
The crackdown on junk fees is one part of a sprawling "whole-of-government" executive order from 2021 by Biden to promote competition in the economy.
If you come across a hidden or misleading fee — or if you are charged a separate fee that should have been included in the basic product or service — officials encourage you to report it at reportfraud.ftc.gov, and they are accepting comments from the public about junk fees to help them craft the final FTC rule.
If the FTC rule is enacted, companies that continue to charge junk fees would be subject to penalties and be required to issue refunds for the junk charges.
More from Money:
How to Find the Best Regional Bank for Your Needs
Student Loan Payments Are Back. Here's What Borrowers Need to Know