These Are the Best Black Friday 2015 Deals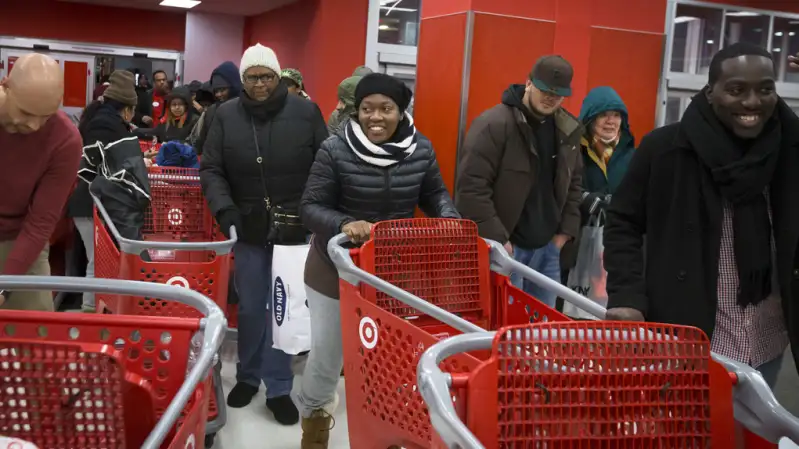 (clockwise from top left) Newscom; AP; Getty Images (2)
We're keeping a running list of what we consider the best Thanksgiving-Black Friday deals out there. Here's what's looking good as of now:
Amazon
As you'd expect, Amazon isn't waiting for Black Friday, or even Thanksgiving, to launch holiday deals. A constantly changing series of Countdown to Black Friday Week sales launched on November 1, and Amazon has leaked that a few of its favorite devices will be especially cheap during Thanksgiving week. Namely:
$50 for the 6" Kindle (normally $80), starting Sunday, November 22
$35 for the 7" Fire Tablet (normally $50), on sale starting November 26 (Thanksgiving Day)
$25 for Fire Stick TV (normally $40), also starting Thanksgiving Day
On Wednesday, Amazon updated its Black Friday week plans with the announcement that waves of deals would start launching on Friday, November 20, a full week before actual Black Friday.
Best Buy
Best Buy stores open at 5 p.m. on Thanksgiving Day, with a $35 price on the Fire Tablet that matches Amazon, as well as discounts of $100 to $125 off iPad Air 2s and "doorbusters" like $150 for a 49-inch Toshiba HDTV that's currently listed for $430. That latter deal, unfortunately, is for in-store shoppers only. But all of the deals below are available in-store or online, so if you want to stay home and skip the madness of the crowds, that's easy enough to do.
$10 for Blu-ray DVDs like "Jurassic World" and "Inside Out" (list prices of $25 and up)
$1.99 to $3.99 for classic DVD movies like "Spaceballs" and "Ghostbusters"
Buy one, get one 40% off iTunes gift cards
$500 bundle with 40-inch Samsung HDTV, Xbox One game console and "Lego Movie" game (savings of $230)
Read next: 12 Stores That Will Be Closed on Thanksgiving — and 1 Closed on Black Friday
Jet.com
Somewhat bizarrely, the upstart discount web retailer Jet.com is partnering with a handful of brick-and-mortar stores and encouraging shoppers to make purchases in their physical locations on Black Friday. For each $50 you spend on November 27 at Babies "R" Us, Toys "R" Us, Brookstone, hhgregg, Lord & Taylor, or Sports Authority, you'll get a $10 credit to use at Jet.com (up to $30 max). The promotion is being called "Purple Friday" (purple is Jet's trademark color), and you must submit receipts to Jet.com by December 2 to get the credits.
Office Depot
Doors open at Office Depot on Thanksgiving at 6 p.m., and among the doorbusters are:
$120 for Toshiba Satellite 14" laptop (regularly $250)
$80 for Microsoft Office home and student with any PC purchase
$20 and up for printers
$3.99 selfie stick
Old Navy
Starting on Thanksgiving when stores open at 4 p.m., and continuing until midnight on Black Friday, customers get 50% off everything at Old Navy.
Roku
The newly released Roku SE will be priced at $25 from select retailers starting on Thanksgiving. Until the arrival of this new device, the cheapest Roku was twice that amount.
Target
Among the deals featured in Target's Black Friday preview are the items below, and many are true doorbusters in that stores are selling them in limited quantities, and once they're sold out shoppers are out of luck. Most Target stores are opening at 6 p.m. on Thanksgiving.
$35 for Disney Infiniti 3.0 or Skylanders SuperChargers starter pack (regularly $65 and $75, respectively)
$100 Nikon CoolPix L340 20 MP (regularly $230)
$80 to $150 Target gift cards with iPad purchase
$250 for 55-inch Westinghouse HDTV (regularly $600)
Read next: 5 Big Retail Trends That'll Help 2015 Holiday Shoppers Grab the Best Deals
Toys R Us
Stores open at 5 p.m. on Thanksgiving Day, and the limited-availability doorbusters sold in store only include:
Buy one, get one 80% off Skylanders SuperChargers figures
Buy one, get one 60% off Lego Dimensions Fun Packs
$25 Easy-Bake Ultimate Oven (listed at $45)
$40 for 55-piece Imaginarium train set (list price $110)
A different set of sales kicks off at 7 a.m. on Black Friday itself, including:
50% off Disney Princess Little Mermaid Sisters Dolls
50% off Playskool Heroes Transformers
$800 for Big Backyard Premium Charleston Lodge Wood Swing Set (normally $1,600)
Walmart
Walmart launched holiday sales extra early with the likes of the $199 iPad mini 2 (normally $268) starting in early November, and it's promised ongoing deals throughout the season rather than focusing on any one particular day of sales. Still, Walmart stores will be launching Black Friday sales at 6 p.m. on Thanksgiving night, and most the weekend's sales will be available online long before that, starting at 12:01 a.m. PT on November 26 (Thanksgiving). Walmart's best Black Friday deals include:
From $8 for video games
From $1.96 for DVDs
$59 Fitbit Flex Wristband ($40 off)
$125 for 32-inch Roku Smart HDTV
$898 for 70-inch Vizio Smart TV ($300 less than the cheapest price ever seen by dealnews for a TV this size)
Read More
12 Things You Should Never Buy on Black Friday
These Retailers Are the Worst Offenders Pushing Thanksgiving Day Store Hours