5 Numbers That Explain Why the Brazil Olympics Look Like a Mess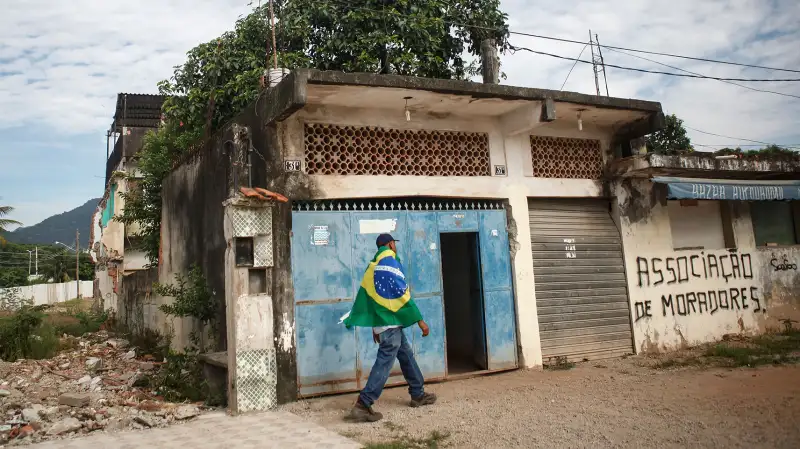 When Rio de Janeiro was awarded the 2016 Summer Olympics in 2009, authorities declared a holiday for state and city employees and a spontaneous celebration broke out on the famous Copacabana beach.
Seven years later, as the first Olympics in South America actually get underway, Brazil, a nation famous for its joyous effusiveness, seems decidedly ambivalent. In one recent poll, as many as half of Brazilians said they don't want the Olympics at all. Meanwhile, the Games have faced criticism over everything from construction delays to the quality of the water.
What happened?
Brazil is one of a number of so-called "emerging market" countries that seemed to undergo an economic miracle in the first decade of the new century, only to stumble after the 2008-2009 financial crisis knocked the global economy off kilter. Throw in local factors (including an epic corruption scandal) and plain bad luck (the Zika virus) and it's not hard to see why Brazilians are so upset.
Here are five numbers that explain what happened to the Brazilian economy—and the country's Olympic dreams.
$191 billion
Like other emerging market nations, Brazil fueled its rapid growth by selling raw materials to rapidly industrializing manufacturing powerhouse China. Along with Russia and India, the countries were known as the 'BRICs,' and their economic might was eventually supposed to eclipse the largest developed nations. However, since action in China's factories began to slow in 2011, demand for commodities around the world has dramatically slackened. Prices for iron—Brazil's largest product at about 12% of exports—have plunged more than 75% since 2011. The price of crude oil, Brazil's third largest export, have halved. (Indeed, what's happening to Brazil isn't that different from the turmoil roiling other commodity-linked economies like Russia and Venezuela.) In all the value of Brazil's exports have fallen from a high of $256 billion in 2011 to $191 billion last year.
303
As tends to happen, all this financial strain has revealed deep-seated problems in Brazil's other institutions. Brazil's President, Dilma Rousseff, re-elected as recently as 2014, was suspended from office in May after being accused of manipulating budget figures to make the economic picture appear rosier. But that scandal is actually a sideshow compared to another one involving massive kick-backs at the national energy company Petrobras, which has threatened to engulf much of Brazil's political class. By one count, as many as 49 out of 81 members of Brazil's senate and 303 out of 513 members of its lower house are being investigated for serious crimes of one sort or another.
8.8%
One of Brazil's biggest financial triumphs, an achievement that set the stage for the recent spate of explosive growth, was taming runaway inflation nearly two decades ago, after the country had been dogged by it since the early 1980s. Brazil performed the trick in part by introducing a new currency, known as the Real, in 1994. But in the past few years big government budget deficits—in part an effort to re-kindle growth—have taken a big toll in terms of inflation. After more than a decade in healthy single-digit territory, consumer price increased at an annual rate of more than 10% late last year. It's since pulled back to about 8.8%. But experts and ordinary Brazilians alike worry that if inflation heads back into double digits, they could again spiral out of control.
5
Economists usually consider two straight quarters of economic contraction an official "recession." The so-called "Great Recession" of 2008-2009 lasted for four. Brazil's economy has now shrunk for five straight quarters. Goldman Sachs recently predicted the company's per capita GDP will have shrunk by as much as 9% by the end of this year. One glimmer of hope: Last month the International Monetary Fund slightly upped its forecast for Brazil, predicting the country could return to slight economic growth in 2017. But with the government still in crisis—the Senate will not decide what to do with President Rousseff for the next few weeks—it's not hard to see how everyday Brazilians might feel like there is no end in sight.
10.9%
A big part of the BRIC countries' economic promise was their rapidly growing middle classes. While those nations' growth is tied to harvesting and extracting natural resources for now, soon (the thinking went) they would develop into more mature consumer economies. That would be good news for Brazilians, who would soon have access to better housing, healthcare, and the marvels of modern consumer culture. But with Brazil's economy in free-fall, unemployment is reached 10.9%, calling into question the middle-class dream for millions of Brazilians. While there is an argument the games could spur economic growth by creating jobs, including more than 80,000 security personnel, many Brazilians think the money should be spent on less frivolous ends. As one young Brazilian recently told The New York Times: