Burger King Would Like You to Buy This 'Ghost Whopper' — Which Is Definitely Not Just a Normal Whopper — for $4.59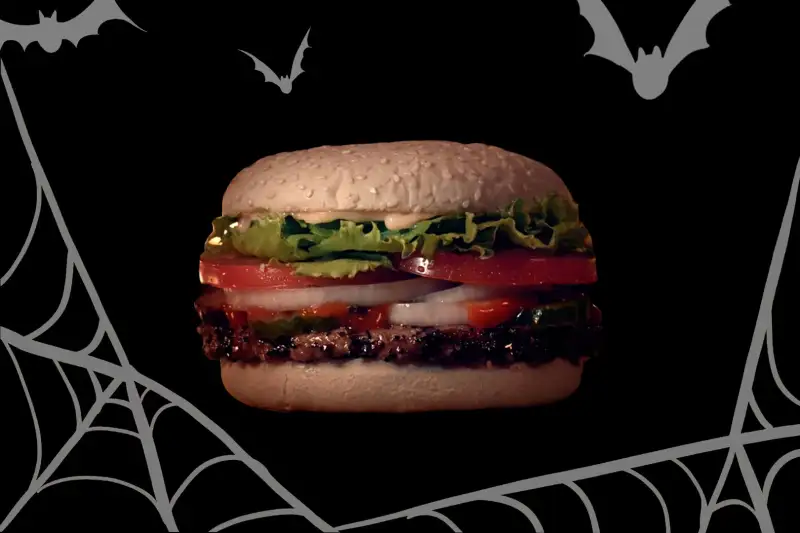 Courtesy of Burger King; Getty Images
Burger King has a brand-new Whopper on its menu and it's ghost-approved.
The Ghost Whopper is basically a typical Whopper with tomatoes, lettuce, white onions, mayonnaise, ketchup, and pickles — set inside a White Cheddar-flavored, white sesame bun for $4.59. Because it's almost Halloween. Get it?
One person on Twitter made a snarky reply to the burger brand about the Halloween special not being different enough — "This is literally just a hamburger," they said — and Burger King replied, "but spooky."
In an appropriate stunt, the fast food joint enlisted the help of medium Riz Mirza to channel spirits at a haunted hotel to have them taste test the new burger. In the promotional video, Mirza, who can supposedly lend his body to various ghosts, munched on the new hamburger (as those frightening ghouls), and apparently one even requested a second helping.
Another ghost chowed down viciously and felt the "unusual and powerful" energy. A third didn't recognize the sandwich and tossed the burger across the room exclaiming it was "filth." But, overall, the spirits loved the creation. When Mirza came back into his body, he hadn't remembered eating the Ghost Whopper at all.
At the end of the video, Burger King ominously revealed that the burger is "approved by 11 out of 10 people."
The 65-year-old burger brand is a little obsessed with Halloween, and has created other specialty, spooky sandwiches in the past. In 2018, it created the Nightmare King, a special take on the chicken sandwich with a bright green bun. And, in 2015, a Halloween Whopper with a black bun flavored with A1 steak sauce was available for a single spine-tingling season. Plus, it created an Upside Down Whopper in honor of season three of Stranger Things.
This year's burger is only available in 10 select locations for a week. From October 24-31, burger fans can try the special sandwich if they're in Detroit, Memphis, Philadelphia, Phoenix, San Antonio, San Diego, San Francisco, Savannah, Summerville, and New Orleans.