Burkini Sales Spike After French Crackdown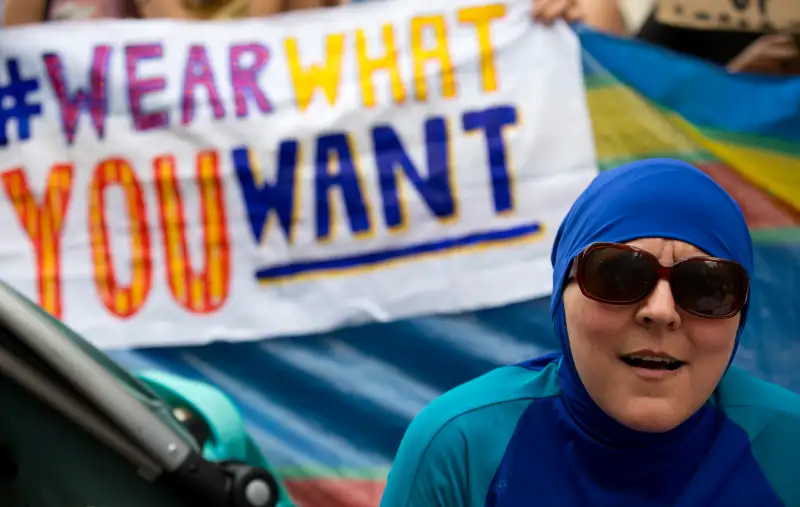 JUSTIN TALLIS—AFP/Getty Images
It seems banning the burkini just helped it sell faster.
A brief ban of the swimsuit at some beaches, including Cannes, which a top court just overruled on Friday, led to a surge in demand for the full-body bathing attire. The burkini covers the entire body except the face, hands and feet, and is typically worn by Muslim women adhering to Islamic dress codes.
Cannes was the first city to ban the item, on July 28, and about 30 cities followed suit in the coming days. While the decision applies just to the southeastern town of Villeneuve-Loubet, it's expected to set a legal precedent for all the seaside towns that have issued similar bans, USA Today reported.
The ban sparked a global debate about whether France should be able to dictate people's fashion choices -- and makers of the burkini says the controversy been boosting sales, CNN Money reported.
Aheda Zanetti, who's credited with inventing the burkini, says the French ban has caused sales of Ahiida, her Australia-based business, by about 90%. Zanetti said the mayor of Cannes has "done a very good thing for me."
Another brand, U.K.-based Modestly Active, told CNN Money that sales have increased 50% in the wake of the controversy. Fellow British retailer Marks & Spencer began stocking burkinis in its flagship store in London last year. The company has already sold out of the product for the summer.
Kausar Sacranie, who runs Modestly Active, called the burkini ban "ridiculous." She told CNN Money, "The product is there to liberate women to be part of society."
The ban is the latest in a series of moves by the government to restrict religious attire in public. In 2011, France became the first European country to ban wearing of the burqa, a full-body covering with a mesh panel over the face, and the niqab, a full-face veil with an opening for the eyes.