The Luxurious Hotel Where Trump Is Meeting Kim Jong Un Has $7,500-a-Night Rooms, Top-Notch Security, and Wild Peacocks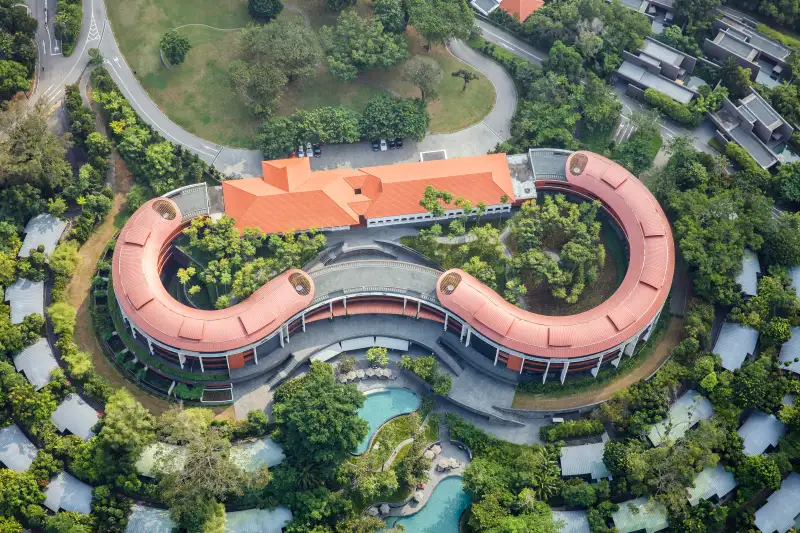 Bloomberg—Bloomberg via Getty Images
President Donald Trump and North Korean leader Kim Jong Un are set to have historic talks at a lavish resort in Singapore on Tuesday.
The summit is scheduled to take place at the Capella Hotel on Singapore's Sentosa Island, starting at 9 a.m. local time on June 12. The five-star Capella Hotel, a hot spot for celebrities including Madonna and Lady Gaga, has a slew of amenities that make it an ideal candidate for the historic U.S.-North Korea summit including lavish rooms that can go for up to $7,500 a night, plenty of pools and, of course, top-notch security.
Bloomberg—Bloomberg via Getty Images
And in addition to all of the luxury hotel's perks, the surrounding area is also home to other high-end hotels and amusement parks, including Universal Studios Singapore.
Here's what to know about the Capella Hotel ahead of the summit:
Rainforest showers, balconies and fine Italian sheets
Even the guest rooms at the Capella Hotel are filled with luxurious amenities. All Premier rooms, which start at about $500 a night, have private balconies, walk-in wardrobes and Pratesi linens, according to the hotel's website.
The suites boast more offerings including priority booking at the Sentosa Golf Club, free dry cleaning for five items during guests' stay and access to the hotel's expansive library.
The Capella Hotel's location makes it ideal for security
With extra security measures, including a ban on drones flying above, the Capella Hotel has been fairly secured ahead of the summit, according to local police.
The hotel's secluded location on the island makes it difficult to get to — people trying to get from Singapore to Sentosa are confined to a monorail line, a cable-car system or a causeway, the Wall Street Journal reports. The hilly geography of Sentosa Island also gives authorities good vantage points as they keep watch, according to the Journal.
The Capella Hotel has plenty of space to host a historic summit
Inside the colonial-style building are 112 rooms with modern fixtures, while the 30-acre property includes villas, manors, suites, restaurants, swimming pools and a spa. Each of the villas have their own "private plunge pool, outdoor showers and bathtubs for an ultimate holiday experience," according to the hotel's website.
For meetings or corporate gatherings — or this summit — the hotel offers a ballroom that can fit up to 400 people along with other smaller conference rooms. The hotel also includes two presidential suites, though it is unclear if Trump or Jong Un are staying in those rooms.
There are peacocks roaming the property
It's common to see peacocks walking around the Capella Hotel grounds.
People who have stayed at the luxe hotel often share photos on social media of their interactions with the resident peacocks.
The hotel's colonial and wartime influences are apparent in its decor
As with many structures in Singapore, the Capella Hotel boasts a colonial exterior with modern interiors — and a fair amount of historical cache. According to one legend, British army officers buried silver in the lawn outside the hotel to hide it from Japanese forces. That silver may still be buried under the hotel's lawns, the Journal reports.