Car Ownership Has Peaked—or Maybe It Hasn't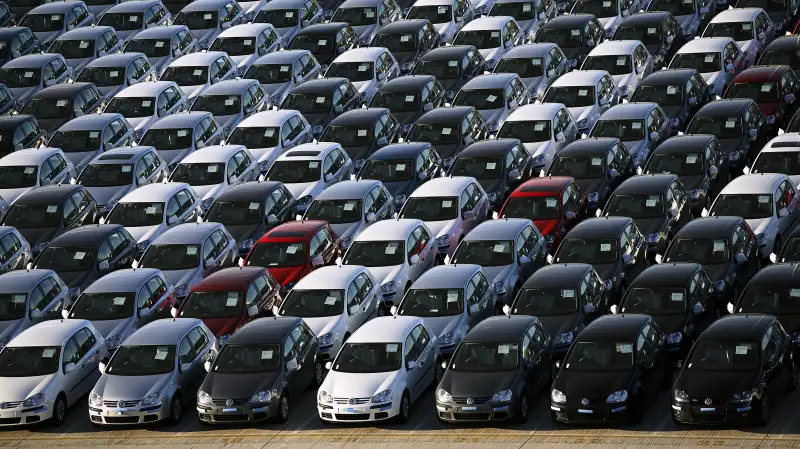 Per-Anders Pettersson—Getty Images
Based on research from the asset management firm Schroders, Quartz recently made the case that "the Western world's century-old love affair with the automobile is coming to an end."
By and large, the data indicate that people around the world—young people in particular—are driving less, less interested in owning cars, and even less likely to bother getting driver's licenses. In light of such statistics, the argument is that America, and perhaps the world as a whole, has reached the marker that's been dubbed as "Peak Car," the point at which car sales and ownership and driving in general go no higher.
"Our research illustrates that for the past decade the developed world has shown signs of hitting 'peak car,' a plateau or peak in vehicle ownership and usage," the Schroders study states plainly.
At the same time, however, Automotive News and others point this week to the new IHS report forecasting that global auto sales will hit 88.6 million in 2015, which would mean a 2.4% increase over 2014 and would mark the fifth year in a row of increasing car sales. Not all parts of the world are expected to be buying more vehicles: Despite cheap gas prices, car sales in South America, Russia, and Western Europe are likely to be underwhelming. Yet strong sales are anticipated by IHS in North America and China, bringing about a "slower, not lower" overall rise in the auto market globally.
Car dealership sales in the northeastern U.S. were likely hurt in January due to major snowstorms, and yet just-reported auto sales for the month have been impressive. It's expected that automakers will post brag-worthy sales increases of 14% or more, compared with the same period a year ago. At such a pace, total sales for the year could reach 17 million.
IHS's forecast calls for light-vehicle sales of 16.9 million in the U.S. in 2015, and that might be on the low side. "With a strong exit to 2014, and gasoline prices currently plunging, consumers may feel even more positive throughout 2015," an IHS statement said. And the IHS report calls for higher sales tallies going forward, with predictions of 17.2 million U.S. car sales in 2016 and 17.5 million in 2017. If that last prediction is realized, it would mean a new peak for the nation, which experienced what was then an all-time high of 17.4 million sales in 2000.
In other words, IHS researchers are saying that neither the U.S. nor the world has reached Peak Car, and that from the looks of things we won't hit that point for years to come. The Economist has also made the case that, despite millennials' apparent preference for urban living and lack of enthusiasm for driving and car ownership, "it is not clear that declining car ownership among young urbanites will have more than a marginal effect on overall car sales," and that Peak Car "still seems quite a long way off."
The researchers at Schroders and IHS can't both be right. So who is wrong? Well, we should point out that one of Schroders' graphs illustrates how consumer interest in buying cars has rebounded across all age groups since the Great Recession ended. Also, some of Schroders' data is dated: The most recent drivers' license statistics are from 2010, for instance, while the numbers reflecting a rising propensity to buy cars in the U.S. go no further than 2012.
On the other hand, there are compelling, data-driven arguments that millennials will never love automobiles as much as car-crazed Baby Boomers, that the average number of vehicles owned per driver (or household) will never be as high as it once was, and that people all over the world will be out on the roads less year after year thanks partly to smartphones, e-commerce, car sharing, and other technologies. At the same time, it sure looks like auto sales will be on the rise globally and in the U.S. in 2015, and the year after that, and the year after that, and … who knows?
If Google and/or Uber manage to create and perfect a practical driverless taxi in the near future, all bets—and forecasts—could be off.