Carl's Jr. Is Testing a Budweiser Burger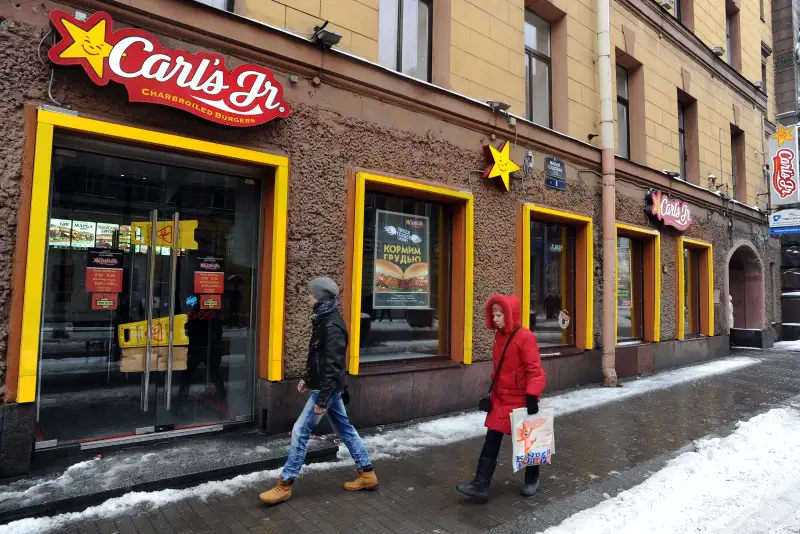 OLGA MALTSEVA—AFP/Getty Images
Carl's Jr. is putting a new twist on a burger and a beer: by combining the two. Sort of.
The California-based fast food chain is testing a "Budweiser Brew House Bacon Cheeseburger," which, despite its name, does not include any alcohol, Burger Business reported. The burger is topped with applewood-smoked bacon, caramelized onions, and nautrally, "Budweiser Beer Cheese." Budweiser, while not an actual ingredient, is heavily involved in the marketing of the new burger, which uses the new, more modern Budweiser logo that was placed on the beer's packaging earlier this year.
A reviewer at food blog Wreckless Eating, who sampled the Budweiser Burger in a Carl's Jr. location in Southern California, even attested the burger does not taste like it has any beer in it. He said the only aspect that differentiated the Budweiser Burger from another burger is that it had an "overabundance of cheese."
The unconventional offering comes in the wake of Carl's Jr.'s March rollout of a (completely alcohol-free) Midnight Moonshine Burger to 3,600 restaurant locations. That burger is made of black Angus beef topped with a "moonshine" glaze, pepper jack cheese, garlic and pepper fried onions, as well as applewood smoked bacon. "It knocked everybody's socks off when we tasted it," said Andy Puzder, CEO of CKE Restaurant Holdings, Carl Jr.'s parent company, told CNBC.
It's also not the first alcohol-themed concoction roll-out from CKE Restaurants. In 2013, its sister restaurant, fast food chain Hardee's, introduced a Jim Beam Bourbon Thickburger (which also does not contain any alcohol).
With or without a boozy theme, Carl's Jr. has a history of experimenting with unconventional burger recipes. Last summer, it released its Most American Thickburger, a black angus beef patty with American cheese, a split hot dog, Lay's kettle-cooked potato chips, pickles, lettuce, tomato, ketchup and mustard. It might not be the best meal for you if you're watching your diet, since it has a whopping 1,030 calories.
If you're in the mood for an unconventional snack this summer—or just want to make yourself sick—Carl's Jr. isn't the only fast food chain releasing weird fast food concoctions. This month, Burger King released Mac n' Cheetos, which are exactly what they sound like: ginormous Cheetos stuffed with creamy macaroni and cheese.