The Highway Toll That's Surprisingly Killing the Carpool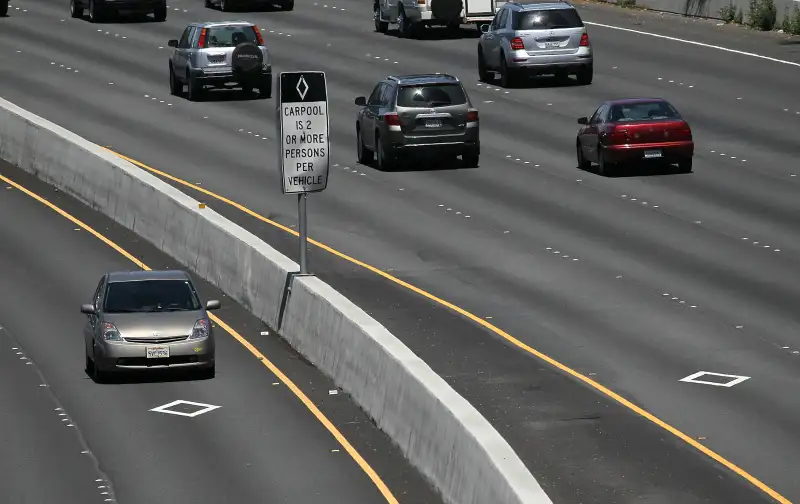 Justin Sullivan—Getty Images
As the acronym indicates, the HOV lane is supposed to serve High Occupancy Vehicles. Major highways around the country have added these special lanes that often skirt heavy traffic to encourage carpooling and reduce congestion.
Interestingly, however, Seattle has added a second HOV lane to I-405, and it's available to vehicles with an occupancy of just one—for a variable fee that fluctuates between $0.75 to $10 depending on congestion. In theory, the system should remain attractive to carpoolers, who have even more space what with an extra lane, all while the system can increase toll revenue from solo drivers willing to pay up for access to the lanes. But things aren't really working as many people expected.
According to the Seattle Times, a local computer scientist decided to count I-405 carpoolers one rush hour morning. Though the study was hardly scientific, involving a total of just 120 cars on one (potentially non-representative) morning, the results were overwhelming: Only four vehicles were observed with someone in the passenger seat. Around 97% of the cars had solo drivers. The Times then checked state data, which shows that around 75% of vehicles in the lane pay the toll, and only 25% did not meet occupancy requirements.
The fee for non-carpoolers might seem like a lot to pay to drive on a road that's normally free. But it's apparently it's viewed as a small price to pay by solo drivers seeking reprieve from strangling traffic. This goes doubly since the carpooling system changed and now requires three people (up from two) for a free ticket to the HOV lane.
Seattle isn't an isolated case. An academic study from Texas A&M confirmed that when HOV lanes get converted to High-Occupancy Toll (HOT) lanes in other metropolitan areas, carpooling tends to suffer. It seems as if the arrival of a HOT lane option makes the social and coordination barriers to carpooling seem much greater. Drivers will pay up if doing so eliminates other hassles, including but not limited to traffic congestion and commuting with chatty co-workers.
And with gas prices at incredible lows—nationwide the average is under $2—there's not much of a light at the end of the tunnel for the pro-carpool set.