Airline Group Says Your Carry On Bag Should Be Even Smaller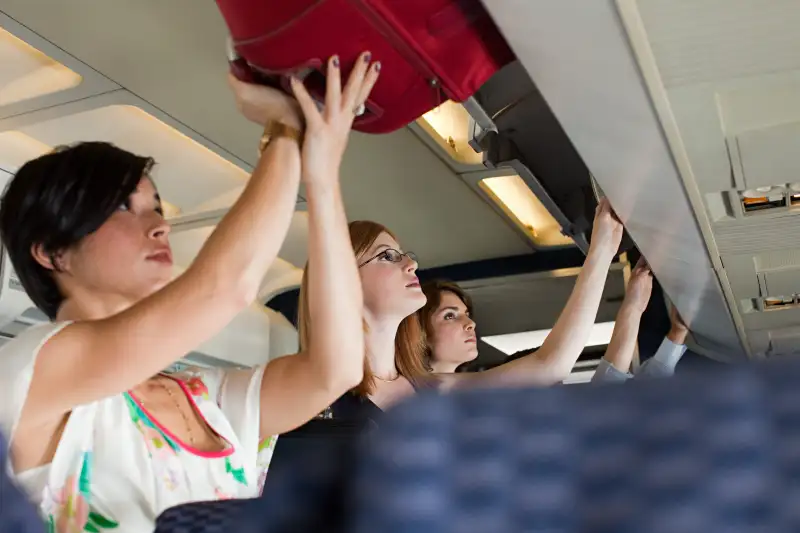 Image Source—Getty Images
On Tuesday, a trade group representing airlines around the globe published new guidelines for the size of carry-on bags. The International Air Trade Association says that if bags are limited to 21.5 inches high (standing up on wheels) by 13.5 inches wide by 7.5 inches deep, then "theoretically" everyone on a 120-seat plane should be able to bring a suitcase on board.
(The press release doesn't elaborate on whether their theory accounts for duty-free-shop hauls and that guy in front of you who insists his weirdly-shaped garment bag can fit if you push down on the door really, really hard.)
According to the Washington Post, the new guidelines, which individual airlines may or may not choose to adopt, call for bags about 21% smaller than currently allowed by major U.S. carriers. (That's measuring by volume.)
Considering that many travelers intentionally purchase the largest carry-on bag possible in order to pack as much as they can, many pieces of luggage would be too big to be carried onto the plane if the change is made.
That's a big if, of course. An American Airlines spokesman, for one, told the Post the carrier has no current plans to change the rules.
Here's a look at the current rules for airlines (in inches), and how much your bag might have to shrink if they went with the new guidelines. One thing that jumps out is how varied the rules actually are.
American, United, Delta, Jet Blue, Aeromexico, Virgin Atlantic
Current policy: 22 high x 14 wide x 9 deep
How it would shrink if they followed IATA guidelines: 0.5 x 0.5 x 1.5
Change in volume: 21%
Southwest
Current policy: 24 high x 16 wide x 10 deep
How it would shrink if they followed IATA guidelines: 2.5 x 2.5 x 2.5
Change in volume: 43%
Air Canada
Current policy: 21.5 high x 15.5 wide x 9 deep
How it would shrink if they followed IATA guidelines: 0 x 2 x 1.5
Change in volume: 27%
Alaska Airlines
Current policy: 24 high x 17 wide x 10 deep
How it would shrink if they followed IATA guidelines: 2.5 x 3.5 x 2.5
Change in volume: 46%
WestJet
Current policy: 21 high x 15 wide x 9 deep
How it would shrink (grow) if they followed IATA guidelines: (+0.5) x 1.5 x 1.5
Change in volume: 23%
Spirit
Current policy: 22 high x 18 wide x 10 deep
How it would shrink if they followed IATA guidelines: 0.5 x 4.5 x 2.5
Change in volume: 45%
British Airways
Current policy: 22 high x 18 wide x 10 deep
How it would shrink if they followed IATA guidelines: 0.5 x 4.5 x 2.5
Change in volume: 45%
Air France
Current policy: 21 high x 13 wide x 9 deep
How it would shrink (grow) if they followed IATA guidelines: (+0.5) x (+0.5) x 1.5
Change in volume: 11%
Lufthansa
Current policy: 21.6 high x 15.7 wide x 9 deep
How it would shrink if they followed IATA guidelines: 0.1 x 2.1 x 1.5
Change in volume: 28%
Read next: Airlines Aren't Making Nearly As Much Money As You Think