How Iron Chef Cat Cora Went from Blue-Collar Mississippi to Running a Cooking Empire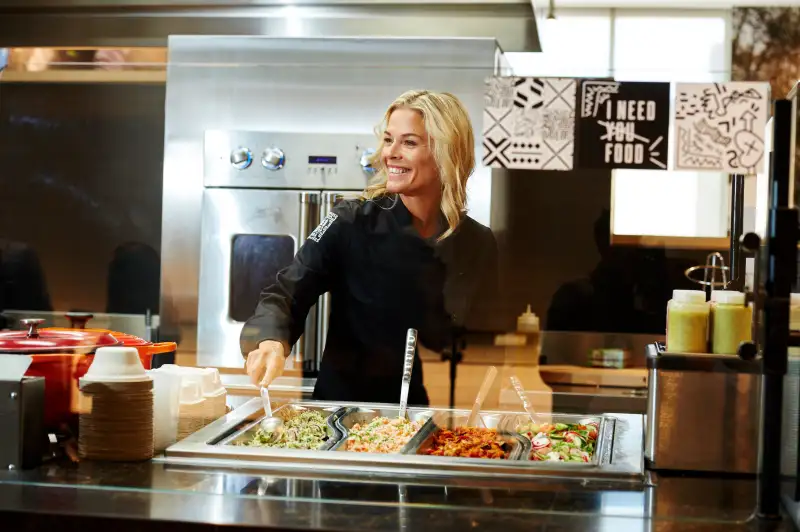 "I don't think there are any accidents," Cat Cora says of her rise to celebrity.
Sure, the successful food TV star did sort of stumble into show business, benefiting from good fortune and circumstances. But when the industry called, she was fully prepared.
"If I wasn't a chef, I'd be an actress. I wanted to be on stage in some way" while growing up in Mississippi, Cora tells Money — her Southern drawl still intact — in a coffee shop at NBCUniversal offices in Los Angeles.
The Food Network personality and Iron Chef, who's serving as a judge on ABC's new Family Food Fight (premiering June 20) did have a strange and windy path to getting in front of the cameras.
Cora, 52, got her undergraduate degree in exercise physiology and nutrition before graduating from the Culinary Institute of America in New York, having been lured into the industry by her grandfather and godfather who worked in the restaurant business.
Her family's Greek heritage inspired many of her signature dishes, like the cinnamon stewed chicken she happened to be making the day of her Money interview for a TV appearance.
Her first taste of success.
In the late '90s, after working at Michelin-starred restaurants in France, Cora opened the restaurant Postino in the San Francisco Bay Area with Michael Chiarello. Then a small yet momentous turn: Her friend Joey Altman asked her to appear on his local TV show Bay Cafe.
"He goes, 'You gotta come on and cook for me,' and I said, 'Okay, great.' I had never done any TV segments, and I went on and I'm like, 'Oh my God, I need to be doing television. I love this.' I did really well, and I asked him to give me a tape so I could send it to Food Network. So I was already kind of engineering things behind the scenes a little bit," Cora says with a hint of mischief.
Food Network had just started to blow up in the mainstream, but the channel was still mostly a boys' club, led by talent including Emeril Lagasse and Bobby Flay. After a few guest appearances, Cora was asked to audition for a new show. Within a few months, she was cast on Melting Pot, which highlighted multicultural dishes, alongside Rocco DiSpirito.
Suddenly she had an agent, a book deal, and a commercial. Her life quickly looked different.
"I just wanted to be the best chef I could be—have a restaurant and maybe one day do a little cookbook. All the chefs I knew were blue-collar. My grandfather and godfather worked their fingers to the bone," Cora explains. "The celebrity chef phenomenon was just beginning to happen. And I couldn't wait to jump in."
How to manage money (when you finally have some).
"I didn't come from money. I'm completely self-made," she says. "I think what I learned is that you have to vet every deal carefully. You have to have the experts around you to protect you: a very good entertainment lawyer to look at contracts, a business manager, a really good agent."
Cora nods to her wife, Nicole Ehrlich, sitting next to her and holding her hand through much of the interview.
"This is the best thing that ever happened to me after all these years," Cora says.
Ehrlich, who now works alongside Cora on her projects, was previously a producer and executive in the music business collaborating with artists such as Lady Gaga, Mary J. Blige, and Blink-182.
"Some of those moments where you've gotten caught with the wrong people were such good teaching moments for you," Ehrlich says to her wife.
Cora nods. She tells the story of one person on her staff "I had actually let go," she says. "I didn't follow up enough and unfortunately some of my mail ended up with that person," including checks and financial information — that the person then exploited. "I went, 'Okay, I can never let that happen. I always have to follow up to make sure everything has been wrapped up in a nice bow.'"
Turning a passion into a culinary empire.
Now overseeing a complex operation — which in addition to TV gigs includes books, standalone restaurants, pop-up restaurants, and licensing deals — Cora is adamant about maintaining and empowering a strong team, while also keeping tabs on the moving parts.
But, she adds, "I'm not a micromanager. I never have been. I think that's how I've also been able to build my brand and empire: being able to let them go with their talents and skills so they can help us grow."
About that first big paycheck...
Cora remembers the adrenaline rush of getting her first huge check, more money than she'd ever seen, from a commercial deal.
"I made sure all my ducks were in a row, but I was like, 'Ohhh, I can't wait to buy something. Of course!" She chose a new white, leather-interior BMW. "That was incredible, when I could walk into a BMW dealership and get exactly the car I wanted and write a check." (Though, her wife adds, Cora now mostly drives an unassuming Jeep Wrangler.)
Cora and Ehrlich have other money priorities these days. Their major splurge is travel, especially with their six young sons.
"We go to Israel tomorrow for two weeks with the whole family," Cora says. "I think being able to take the boys and give them that life experience is everything because right now, at this time in my life when I've seen so many things and had so many wonderful experiences and the fame and money, family is most important."
That doesn't mean her career is going on hiatus. Cora wants to continue building her brand, and Family Food Fight — which pits families of home cooks against each other in a contest for a $100,000 prize — is a chance to not only be on a major network but also reunite with her friends Ayesha Curry, the host, and Graham Elliot, a fellow judge.
"Everything we did to get to where we are," Cora says, turning again to her wife. "Some of it worked and some of it didn't, but you're always hustling."
The changing face of food TV.
Cora was Iron Chef America's first and only female Iron Chef for years before another woman, Alex Guarnaschelli, finally joined the ranks of the prestigious group in season 11.
She's glad things have changed, even if the entertainment and restaurant worlds are still far from parity.
"I just wanted my friends to succeed," Cora says when asked if the gender imbalance was frustrating. "At some point, you stop and think, 'Okay, it's time for another gal in here.' When I went to France [early in my career], I got 10 rejection letters in a row saying, 'We don't allow females in our kitchen,' and that was only a little over 20 years ago."
Cora reflects on advice from the late chef Julia Child.
"She told me, 'Pay it forward,' so I did," Cora says — by opening up a space for women on Food Network and championing female peers, but also through her Chefs for Humanity charitable program that fights hunger. "That's something I'm most proud of."