Here's Exactly What You Should Do to Save Money and Eat Healthier at Restaurants, According to Celebrity Chef Cat Cora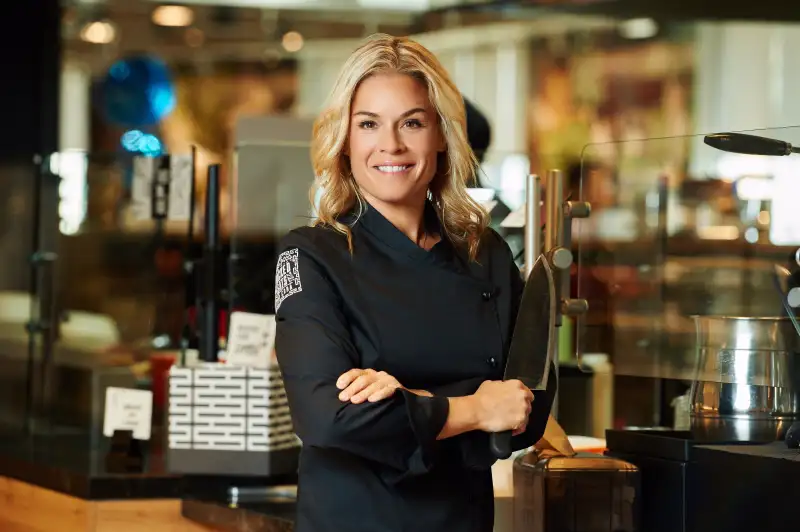 There's little debate that we're eating too much.
Expanding portion sizes over the years have contributed to the United States' obesity problem, reports the National Institutes of Health. A Tufts University study confirmed what most of us could simply glean from staring at a giant steak drenched in butter at a chain restaurant: Eating such large quantities, at least regularly, is not good for us.
But those hulking plates have another downside: They add to the thousands of dollars the average American household spends every year on dining out.
So what's the solution?
We could look to Cat Cora for advice. The celebrity chef (and first female Iron Chef), who serves as a judge on ABC's new series Family Food Fight, has identified a dilemma that plagues people scanning a restaurant menu: We're ordering too much.
"Especially if we're hungry, when we sit down, our eyes get bigger than our stomachs: I want that. I want that, too," Cora, 52, tells Money.
The mother of six and her wife try to limit dining out in their own family to date nights or vacation, and Cora enjoys cooking at home to relax, she says.
But when they do step into a restaurant, she has strategies to avoid too many rich dishes — and they might help the rest of us.
Order food in multiple rounds.
"One rule of thumb of is: Listen, let's all order what we want, but we can always order more," Cora, who's based in Los Angeles and Santa Barbara, shares. "You don't have to order everything at once or fill the whole table. Everyone can order something they really love. Then wait and see."
It's simple moderation. "If we go to sushi, we go, Okay, let's have some edamame, a few rolls, and then we can order more if we want. That's a good way to save money."
Don't be ashamed to doggie bag.
But if they do end up with too much on their plates, Cora has a plan: She's grabbing those leftovers.
"I have no problem. I don't care what restaurant it is. It could be Michelin-starred, and I will take something home. I do not waste food," Cora says.
Where many diners might dismiss scraps as ho-hum or not worth saving, the chef sees endless potential.
"I will redo it. I will repurpose it into something really delicious the next day," she adds. And you don't need her Culinary Institute of America training to do the same. "If you have half of a piece of steak [leftover], slice it up and put it in a stir fry."
She's also a fan of bundling up leftovers into a homemade burrito for her sons, transforming the seemingly mundane remains of a night out into a fun new meal that satisfies a picky youngster.
"You get two meals" for the price of one, she says.
See, even an Iron Chef has to find ways to stick to a budget.
So heed her advice: "Don't be afraid. Some people are a little embarrassed to ask for a doggie bag," she says. "They can take it from me. Tell them Cat Cora does it."