What Food You Should NEVER Buy on a Cruise — and What You Should Splurge On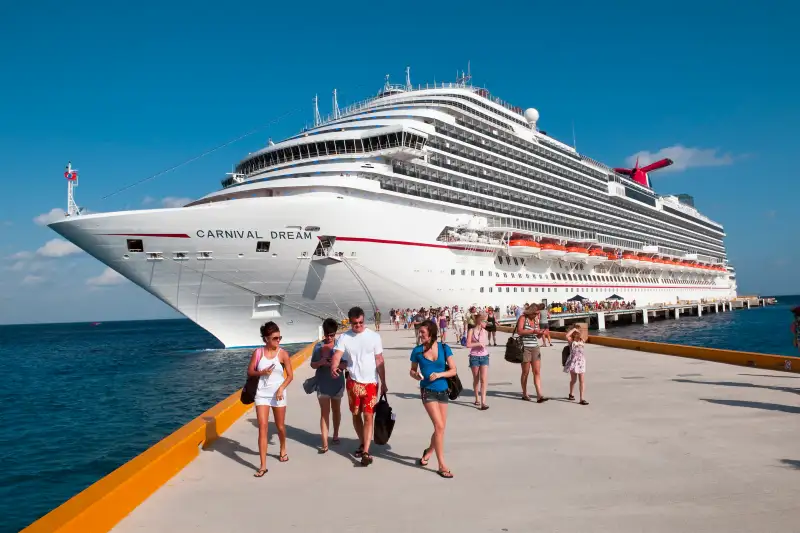 Joel Carillet—Getty Images
Today's cruise ships are cities on the sea. They contain just about everything you could want to spend money on, from luxury fashion goods to sushi to more cruises. In recent years, cruise lines have greatly expanded their culinary efforts in an effort to please all palates, and counter disappointing images of "cruise food." Sometimes the meals and drinks are included in the price of the excursion. But prices vary wildly, and not everything on a cruise is created equal, even at the buffet. Here are pointers on how to get the most out of the food and beverages when you make your next cruise booking.
Pay for the premium packages ahead of time...
Cruises promote various packages that can be bundled with a reservation, giving you access to items beyond the all-inclusive buffet, including higher-end restaurants. And they're often cheaper when you snag them online before your trip. Norwegian Cruise Line's specialty dining packages get a $10 discount on its site. Research the spots you're interested in—say, if you'd like a nice medium-rare steak rather than a warmed-over beef bolognese—and pull the trigger early.
...But beware of ponying up for select items on the ship
Once you climb aboard a cruise, everything gets pricier—even the sunscreen. Top-shelf liquors and dry-aged steaks are priced with exorbitant surcharges you wouldn't expect from a Michelin-starred restaurant on land, and lack the same atmosphere, level of service, or execution. Avoid those kinds of unnecessary hikes once you get settled into your stateroom. A lobster dinner or even something as simple as a bag of chips and soda will often add to the cost of your excursion.
Richard Drew—AP/REX/Shutterstock
Be skeptical at the buffet
Buffets are quite literally the bread and butter of cruises. "Think mediocre wedding food," says a former employee on a Royal Caribbean cruise of what to expect. Typically all passengers will get to consume whatever and however much they want at these restaurants with no added cost. But increasingly, companies are tweaking their dining to introduce fresher options. Even at a buffet, look for the made-to-order stands for eggs, pizzas, and the like. Even if it's not revolutionary, it can hit the spot. Stay away from any dish that appears to have been untouched for hours. Lines, counterintuitively, are a good thing in this case, because they mean people are enjoying what they're eating, and it's coming right out of the oven.
Get unlimited drinks, unless you don't drink
Many cruises now offer all-inclusive drink packages. Since cruises are all about letting loose, and you'll be lounging with mobs of half-naked vacationers, a little alcohol helps. Even if you don't plan on imbibing a lot, $13 cocktails can easily add up. Royal Caribbean's deluxe beverage package runs about $44-55 per night per guest when you purchase it online. It covers endless drinks each up to $13 in value, including not just beer, wine, and cocktails, but also all coffee, tea, soda, and fresh juices. Figure out what the tastiest brew or spirit is you can put on your prepaid tab, and keep it flowing.
Jan Butchofsky—Getty Images
Go with a name you know
Major cruises partner with splashy brands and celebrities to lure in customers, with a number of high-profile chefs collaborating with cruises to open restaurants. Guy Fieri has Guy's Pig & Anchor Bar-B-Que Smokehouse for Carnival, and Thomas Keller runs The Grill aboard the luxury Seabourn. Those types of venues are more likely to deliver ingredients and flavors that rise about standard cruise fare. Just be sure to make reservations early if necessary, as they also tend to be busy. You can indulge in lobster thermidor and a whole free-range chicken carved tableside at The Grill for no extra cost. Seabourn's trips start at about $350 per night, but for some, the finer things are worth it.
Don't buy anything you can bring yourself
It's essential to pack wisely, especially on a cruise. Packaged snacks are key for avoiding the less healthy choices on the ship or late-night spending on expensive bites. Consult the rules for your cruise line in advance. Carnival, for example, allows guests to tote ready-to-eat foods and even one unopened bottle of wine. Bring the good stuff, because it won't be cheap on the open water.