These CEOs Spend the Most on Corporate Jets for Personal Trips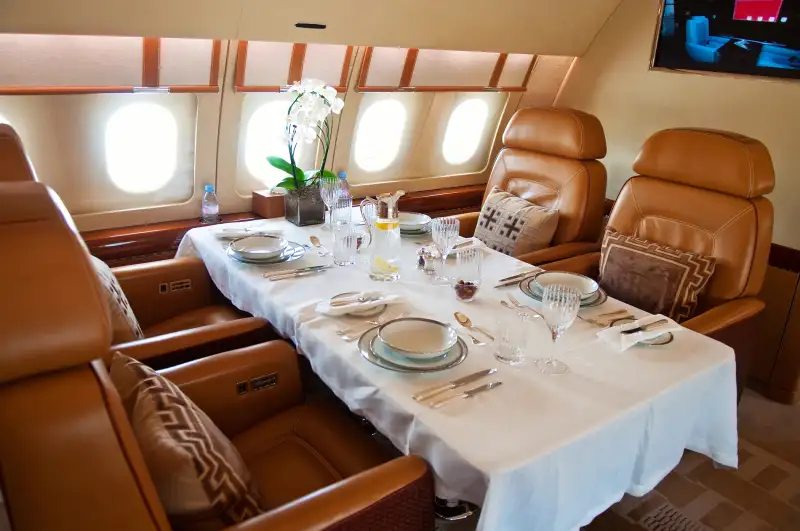 Yulia Kuznetsova—Getty Images/iStockphoto
Many executives of S&P 500 companies bring home fat compensation packages and sizable stock options. But some also benefit from another perk of power: free flights on personal trips on the corporate jet.
A number of companies are still footing the bill for executives, and sometimes their family and friends, to take non-business-related flights on corporate aircraft, according to an investigation from the Financial Times. The report also found that roughly 10% of the S&P 500 accounts for about two-thirds of total spending of personal flights.
The highest spender in 2014 was Barry Diller, who serves as the chairman behind travel website Expedia and InterActiveCorp, the online conglomerate behind the dating app Tinder. That year, Diller took about $1.7 million worth of personal flights—amounting to about $4,500 a day—on a jet co-owned by the companies.
Not far behind Diller in terms of corporate jet use was Steve Wynn, CEO and chairman of Wynn Resorts, who spend just over a $1 million on personal flights in 2014. He was followed by John Tyson of Tyson Foods, who used his company's aircrafts for more than $850,000 in travel that year.
These executives spent the most on corporate jets for private use in in 2014:
| | | |
| --- | --- | --- |
| 1. Barry Diller | Expedia/IAC | $1,654,100 |
| 2. Steve Wynn | Wynn Resorts | $1,049,800 |
| 3. John Tyson | Tyson Foods | $859,100 |
| 4. Leslie Moonves | CBS | $701,700 |
| 5. Eric Schmidt | Google | $672,400 |
| 6. Robert Sands | Constellation | $625.40 |
| 7. Mark Zuckerberg | Facebook | $610,500 |
| 8. AG Lafley | P&G | $606,000 |
| 9. James Flores | Freeport | $528,900 |
| 10. Rick Gonzalez | Abbvie | $525,900 |
The biggest offenders tend to be companies controlled by a single family or founder. In 2013 and 2014, for instance, Rupert Murdoch and his son James spent nearly $1 million flying on the Twenty-First Century Fox aircraft. Mark Zuckerberg billed Facebook for $1.2 million for 2013 and 2014 combined, ranking him among the top ten spenders both years.
Many of the companies contacted by the FT defended their executives' personal use of the corporate jet, saying they need it for security reasons. In a recent securities filing, InterActiveCorp said Diller was "required" to travel on the corporate jet for both business and personal trips.
Regardless, it's tough to deny that excessive use of the corporate aircraft tends to strike a nerve among the average taxpayer. In the wake of the financial crisis, for instance, executives from automakers General Motors and Chrysler came under fire for traveling in corporate jets to Washington, D.C. to ask for a multibillion-dollar bailout.