6 CEOs Who Have Quit Advising Trump in Protest This Year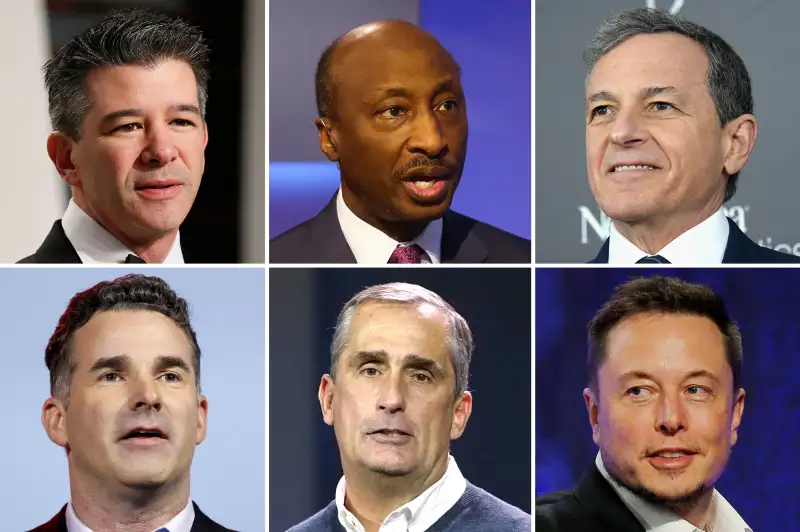 Getty Images (2); Reuters (4)
President Donald Trump once again took to Twitter to disparage business leaders who do not want to be associated with his administration. This time, it was members of his advisory council who have resigned in the wake of racist violence that the president was slow to denounce.
Trump is referring to Merck CEO Kenneth Frazier, Under Armour CEO Kevin Plank, and Intel CEO Brian Krzanich, who all resigned from the American Manufacturing Council this week after it took the president several days to condemn white supremacist violence that led to the death of 32-year-old Heather Heyer in Charlottesville, Virginia, this weekend. Scott Paul, president of the Alliance for American Manufacturing, also tweeted that he would resign his position.
Less than an hour after Frazier, who is African American, announced his decision, Trump sent multiple tweets attacking the business leader by name. Trump has not criticized Plank or Krzanich directly on Twitter.
Members of the manufacturing council are not the only business leaders who have quit advising Trump on a range of issues, from immigration to climate change. Here are the seven business leaders who have removed themselves out of Trump's inner circle since the beginning of the year:
Kenneth Frazier - Merck
Frazier resigned as a manufacturing advisor after Trump blamed "many sides" for the violence in Charlottesville, Virginia, rather than white supremacists. In a statement Frazier said, "America's leaders must honor our fundamental values by clearly rejecting expressions of hatred, bigotry and group supremacy, which run counter to the American ideal that all people are created equal."
Bob Iger - Disney
The Disney CEO stepped down as advisor after Trump pulled the United States from the Paris Climate Agreement. "As a matter of principle, I've resigned from the President's Council over the #ParisAgreement withdrawal," Iger tweeted in June.
Travis Kalanick - Uber
The embattled former CEO of Uber quit Trump's economic advisory committee in February after the White House instituted a temporary travel ban on refugees and people from seven Muslim-majority countries. "There are many ways we will continue to advocate for just change on immigration, but staying on the council was going to get in the way of that," Kalanick reportedly wrote in an email to employees.
Brian Krzanich - Intel
Resigning from the manufacturing council this week, Krzanich told Fortune: "I resigned because I want to make progress, while many in Washington seem more concerned with attacking anyone who disagrees with them. We should honor–not attack–those who have stood up for equality and other cherished American values. I hope this will change, and I remain willing to serve when it does."
Elon Musk - Tesla and SpaceX
The CEO of Tesla and SpaceX quit the president's Business Advisory Council after Trump withdrew the United States from the Paris Climate Agreement. "Am departing presidential councils," Musk tweeted in June. "Climate change is real. Leaving Paris is not good for America or the world."
Kevin Plank - Under Armour
Plank stepped down early Tuesday, after the events in Charlottesville, telling Fortune: "I am appreciative of the opportunity to have served, but have decided to step down from the council. I love our country and our company and will continue to focus my efforts on inspiring every person that they can do anything through the power of sport which promotes unity, diversity and inclusion."
Fortune reached out to the business leaders still advising the president and asked if they planned to continue to do so. You can read their responses here.