How to Support the Women's March on Washington Even If You Can't Go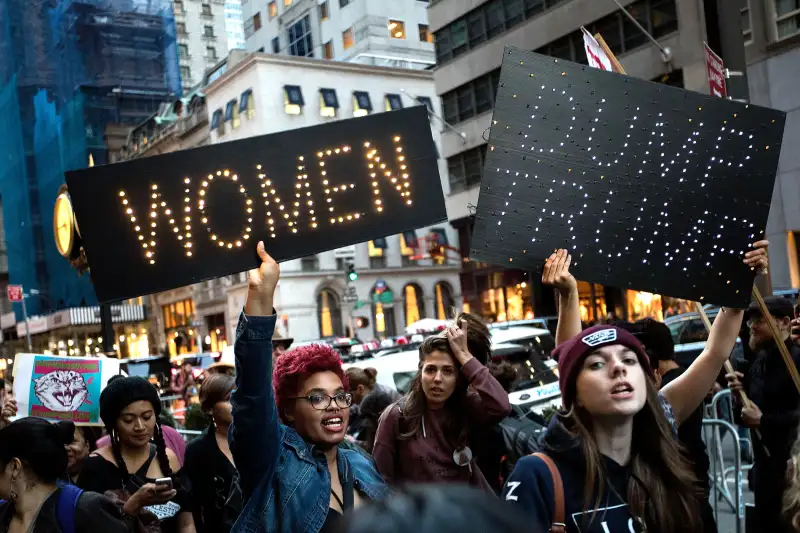 Drew Angerer/Getty Images
An estimated 200,000 people are expected to join the Women's March on Washington on Jan. 21 to protest the inauguration of Donald Trump. If you can't make it to D.C. or one of the hundreds of local marches planned around the country for Saturday, there are still plenty of other ways to help the cause.
One obvious option is donating your time and/or money to causes that are doing work you believe in. And, ideally, you should do what you can for as long as you can, rather than pitching in for just one day.
On the Call Your Girlfriend podcast, Beth Pickens, activist and author of Making Art During Fascism, advises supporting organizations throughout the year that can directly affect you (for example, ones that help get more women into leadership roles), as well as others that may not directly impact you but still do important work (for example, a nonprofit that supports freedom of the press even if you are not a journalist).
"I think it's important to think about how am I under threat and want to respond, and how can I be of service to someone more vulnerable than me," Pickens says.
She also suggests thinking well beyond the writing of a check. Volunteering is a great way to make a difference, as is donating your expertise or even home or office space for activist meetings.
One of the goals of the march is to keep the "momentum going" into the Trump presidency, march co-chairwoman Carmen Perez told Glamour. "This is just the beginning of something larger. The real work is going to come after the march and we're preparing for that."
To that end, here is a list of organizations that support women's, LGBTQ, and immigrants' rights, among others. They need your help before, during, and after this weekend's protests. You might also consider boycotting these Trump-affiliated companies to support the cause.
More ideas:
Help people you know who are attending pay for gas or a hotel room

Purchase

Women's March merchandise to help pay for the event or simply donate to the event itself

Sponsor those attending the march through

NARAL Pro-Choice

Invest in women-owned small businesses, activist artwork, etc.
Also, some people may be understandably worried about possible negative consequences at work for protesting the incoming president. But if you are comfortable enough about making your politics public to your employer, there is a movement for women (and men) to go on strike on Jan. 20 (inauguration day) and Jan. 21.