Here's How Much Money Obama and Biden Will Get From Their Pensions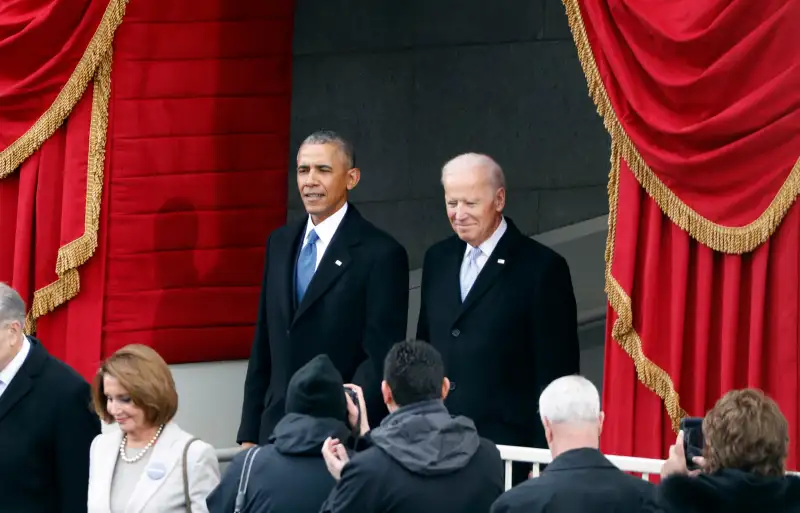 Though former President Barack Obama has said he isn't retiring yet, he's already set to receive a healthy governmental pension.
The Former Presidents Act lays out the benefits past presidents receive after they leave office, including a pension and additional funds for travel, office space, staff, and other requirements needed to "maintain the dignity" of the presidency.
Per the statute, Obama's annual presidential pension is $205,700—the same amount as former presidents George W. Bush, Bill Clinton, George H.W. Bush, and Jimmy Carter. The amount is linked to Cabinet Secretary pay, which is set at Executive Level I pay.
While the presidential pensions are all fixed at the same rate, the current president requests funding from Congress for additional expenses related to former presidents. Those expenses vary widely, mainly because of differences in office space rental costs, per a report from the Congressional Research Service. For example, Jimmy Carter was appropriated $430,000 in fiscal year 2015, while George W. Bush received $1,098,000. Bush received $434,000 for office space that year, while Carter received $112,000.
Upon leaving office, Obama is set to receive less money in FPA funds than any other living president. While he did request an increase of $588,000 in FPA funding for 2017, only $359,000 of it was earmarked for himself—which includes his $205,700 pension, staff salaries, office space, etc.—and the other $229,000 will be distributed between the other four presidents.
Additional appropriations to help the president and his family "transition" to their new life and pay for Secret Service protection are provided through different statutes. For example, Obama requested $9.5 million for the U.S. General Services Administration to carry out the Presidential Transition Act this year (that's for both his transition and Vice President Biden's), including $1 million to brief incoming president Donald Trump's administration.
Former Vice President Joe Biden, on the other hand, receives his retirement income based on his role as President of the Senate. Rules for Senate pensions are much more complicated than presidential pensions, but assuming he has been covered under the Civil Service Retirement System for the past 43 years, Biden's pension could be around $248,670 per year. Former vice presidents do not receive Secret Service protection.
The FPA does not cover health benefits, but former federal employees who were enrolled in the Federal Employees Health Benefits program for five years can receive benefits after their time in office is over. (Carter, who served one term as president and held no other federal role, therefore doesn't qualify.)
The Huffington Post reports that Obama will also receive "$383,535 from the Illinois state pension he earned in eight years as a state lawmaker" once he retires.