The Best Bubbly for Your Buck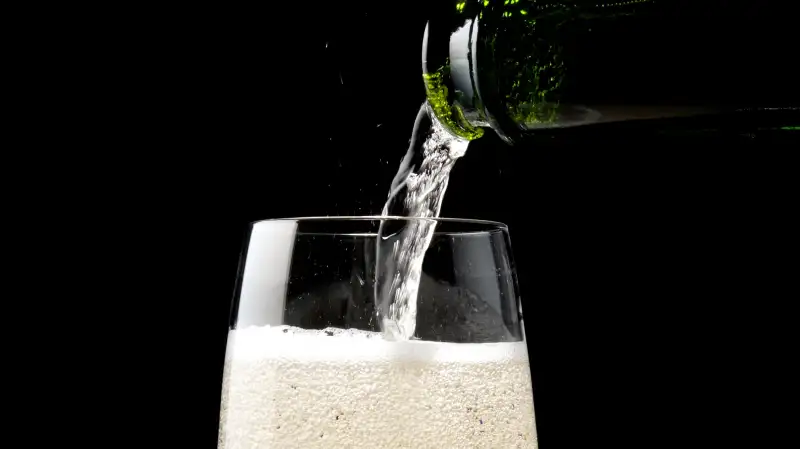 Today is the day to spring for some bubbly. Two-thirds of all Champagne is purchased for a special occasion, and 22% of all Champagne sales are in the month of December, according to the Guild of Sommeliers.
Of course, part of the reason Americans save Champagne for New Year's is because it's so pricey. A retail bottle of Champagne sells for $44 on average, the Guild of Sommeliers found. Order Champagne at a restaurant and you can expect to pay a whopping $117 a bottle.
But you don't need to spend over $100 to raise a good glass of sparkling wine. For a New Year's toast that won't break your budget, try these excellent sparklers instead.
Cheap Tricks: Prosecco and Cava
When it comes to sparkling wines, there's only so low you can go. It's tough to get quality for under $15, says Muser, general manager and wine director at Grace in Chicago. "Below that, the pickings are pretty slim."
But it's not impossible.
"Nothing is ever going to be as good as Champagne," says Michael Muser, who was also one of Food & Wine's top sommeliers of 2014. "But there is a whole world of incredible sparkling wine out there."
Cava and prosecco, for instance, tend to be easier on the wallet while still satisfying the pickiest of partygoers. Some even prefer it.
"Prosecco and cava are easier to drink than champagne for most people," said Max Working, sales manager at Astor Wines and Spirits in New York. Champagne is recognized for its high acidity, he explains, and since prosecco and cava come from warmer climates -- Italy and Spain, respectively -- they offer a fruitier taste.
While the two share similar flavor profiles and price points, prosecco is often a little sweeter than cava. However, Ceri Smith, owner of Biondivino Wine Boutique in San Francisco and another of F&W's sommeliers of the year, has noticed a trend away from sweeter sparkling wines towards brut proseccos or ones that have been fermented in the bottle with sediment, or col fundo.
Regardless of how it's labeled, if you're looking to avoid sweet, she recommends steering clear of the mass marketed brands, which tend to be cloyingly sweet.
However, there are a lot of great small producers out there, like Sorelle Bronca and Drusian, that still fall in the $15 to $20 price range.
If cava is more your style, Muser says you'll be hard pressed to find a sommelier that highly recommends anything besides the ones made by Gramona, which run $15 to $20 a bottle.
Middle ground: Cremánt
If you're looking for a Champagne experience without the Champagne price tag, consider a French sparkling wines from outside the region.
"When I'm shopping for bubbles outside of Champagne but inside of France, I love the Loire Valley and Alsace," said Muser. One of his top picks from Alsace, Lucien Albrecht Cremánt d'Alsace, hovers around $20 a bottle.
When scanning labels, Working advises that you be on the lookout for Cremánt, which is the term used to identify non-Champagne French sparkling wines.
"In many ways, it's fairly similar to champagne, but comes from a different place," Working said. "It's still French, but significantly less expensive."
Outside of France, both Muser and Smith highlighted Ferrari in Trento, Italy. Muser recommends Ferrari Perlé, which offers a flavor profile that is very similar to champagne but costs only $20 to $26 a bottle.
The high end: Champagne
If you decide you want to go the traditional route and pick up an official bottle of bubbly from the Champagne region of France, expect to spend at least $40, says Working.
The dividing line these days, he continued, has more to do with whether you want to support a large, well-established brand or a smaller producer.
When you pay for recognizable brand, a large part of the price you pay is going to business costs like multinational marketing campaigns. However, those companies tend to put out a more consistent product, and if you're trying to score some coolness points at your New Year's Eve party, a recognizable, guaranteed product is arguably the way to go. Working suggests Champagne Pol Roger as a solid entry-level brand that will enable you to dip your toes in the Champagne pool for about $42.
When you buy from a smaller producer, on the other hand, "more of the cost of the bottle is going into the wine," Working says. The product, however, may be less consistent, and at upwards of $40 a pop, you might not be in the mood to gamble. If you're willing to give it a go, Working suggests L. Aubry Fils Brut, which runs just under $40.
For any bottle: Tips and tricks
If you want to spray wine all over the place at the stroke of midnight, have fun. But if you're really looking to get the most bang for your buck, you don't want to be mopping spilled liquid up from the floor.
Working advises a slow and firm approach to popping a cork, and, when you start to feel the pressure building up behind it, you can actually push against it to get an unobtrusive, quiet whisper instead of a loud pop: Much more sophisticated.
Chilling the champagne also helps avoid an overflow, but you don't necessarily want to drink sparkling wine when it's ice cold.
"As wine warms up, it becomes much more expressive," says Muser. If you shell out the big bucks for an expensive bottle, give it a little bit of time to warm up so you can get the best experience.
And here's one last cost-saving secret from sommeliers in-the-know: Even if you splurge on the bubbly, save on the glass. Experts agree that sparkling wine tastes just as good -- if not better -- in a white wine glass as it does in a Champagne flute. "A white wine tulip is by far a better glass to be drinking it from, because it allows the wine to be more expressive," says Muser. "And you get more out of the wine when you smell it."